| | |
| --- | --- |
| Iron Maiden - The Book Of Souls | Published September 15 2015 |

*=Staff's pick

CD 1:
If Eternity Should Fail
Speed Of Light
The Great Unknown*
The Red And The Black*
When The River Runs Deep
The Book Of Souls*

CD 2:
Death Or Glory
Shadows Of The Valley*
Tears Of A Clown
The Man Of Sorrows
Empire Of The Clouds
Genre
Heavy Metal

Bruce Dickinson

Vocals

Tracks
11

Dave Murray

Guitar

Running time
92 Min.

Adrian Smith

Guitar

Label
Parlophone

Janick Gers

Guitar

Release
September 04, 2015

Steve Harris

Bass

Country
England

Nicko McBrain

Drums

Producer
Kevin Shirley w/ Steve Harris

Keyboard

Similar artists
---

Iron Maiden's releases through the years have commonly been highly appreciated and most valid, and it's obviously the reason to why they have cemented their position at the top in the metal scene, even if their last record, The Final Frontier, was, and still is, a letdown to me and perhaps their least acceptable record ever. The Book Of Souls however shows that the last effort was just a temporary drop and it takes the band back on track again and it seems like the 5-year break from recording activities has served the band well.
Somehow it feels kind of unnecessary to try to explain what this huge band is about and what they do sonically, because if someone at this point doesn't already find the band's music attractive, it's highly unlikely that this album will make any difference to what that person thinks, because the songs overall aren't especially different from what has been brought to light in the past. Add to that, that this album contains over 92 minutes of playing time and it will definitely take a large amount of perseverance and appetite to get to know it really well.
Most of Iron Maiden's patented attributes are naturally present; such as the characteristic tempo changes, Steve Harris' manifested bass play and the way they elaborate their heavy metal with a comprehensive and detailed mindset to come out quite distinguishing from the rest of the pack in this business. They certainly know, and has known for a long time of course, how to build the structures and arrangements of their performances into something that people wanna listen to a repeated number of times.
I think, simply because the band has the possibility and freedom to do it, that they sometimes overextend the songs a little and some valuable action is lost in a maze of different tricky parts. On the contrary, the long and nice guitar plays in the bridges of the songs are what I find most striking with this record, so sometimes I don't which foot to place my weight on. Bruce Dickinson doesn't have all his strength left in his vocal performance, but since he started out on a high level, I think that his efforts are nevertheless adequate. It seems a little bit strained, but at the same time, the tone of his voice is still quite similar to his previous work.
The album comprises 11 tracks and since it's immensely long, each and every time that I listen to it from start to finish, I find new stuff that I think is awesome and it's really difficult to pick a couple of songs to be my favorites. It's much easier to name the 2 sole songs that I don't think are as great as the rest though; Speed Of Light and Death Or Glory. Anyway, I think it's quite safe to say that this unit has once again managed to produce another great heavy metal album to add to the collections.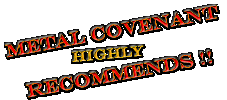 See also review of: The Final Frontier , A Matter Of Life And Death , Death On The Road , Dance Of Death , Rock In Rio , Seventh Son Of A Seventh Son , Maiden Japan , Killers , Iron Maiden

Performance

Originality

Production

Vocals

Songwriting

Summary





9 chalices of 10 - Tobbe