Iron Maiden - Seventh Son Of A Seventh Son

*=Staff's pick

Moonchild
Infinite Dreams*
Can I Play With Madness
The Evil That Men Do*
Seventh Son Of A Seventh Son*
The Prophecy*
The Clairvoyant*
Only The Good Die Young*
Genre
NWOBHM

Bruce Dickinson

Vocals

Tracks
10

Dave Murray

Guitar

Runningtime
45 Min.

Adrian Smith

Guitar

Label
EMI

Steve Harris

Bass

Release
1988

Nicko McBrain

Drums

Country
England

-

Keyboards

Similar artists
---

Seven deadly sins
Seven ways to win
Seven holy paths to hell
And your trip begins
That is how it starts, the mightiest album of all times that has a very special meaning to me as I consider it to be the best album ever made and seriously doubt that there will another album made that is as great as this one. This was also the first album from Iron Maiden I bought directly after its release in the year I was turning thirteen in a time were I had recently discovered metal in general and Maiden in particular. Perhaps that can explain my strong affection towards Seventh Son.
Seventh Son Of A Seventh Son feels like a natural progression from the predecessor Somewhere In Time (1986), the use of keyboards is intensified and the music has become more progressive in its nature. The classic Iron Maiden elements are still there with the galloping from the bass of Steve Harris as well as the blending unmistakable twin-guitar parts from Dave Murray and Adrian Smith. The sound on the album is softer than earlier albums with the keyboards integrated as much as it is in the music, something that might not be seen as the right way to go for Iron Maiden but it helps giving the album a epic touch.
This is an album that feels entirely complete from the start of Moonchild to the end of Only The Good Die Young, and specifically with Infinite Dreams. That song is to me the greatest song ever written, starts calmly and is built up to get more and more powerful and mighty before it takes off and the guitars-lines and the mighty voice from Dickinson is simply indescribably great. And it even doesn't have that typical verse chorus construction, a thing that I usually tends to prefer.
Halfway through the title track appears, and it is one of those long epic tracks that Steve Harris at times serves, not as mighty as Rime Of The Ancient Mariner but still magnificent and one of the most progressive songs done by Iron Maiden up to that date.
The artwork also deserves to be mentioned, done by the classic Eddie painter, Derek Riggs who did all the Iron Maiden covers from 1980 until 1990. A mind triggering beautiful arctic landscape with Eddie holding his heart in his hand and with a burning head. There are lots of details to discover if you look for them not least all the Eddie carachters that are trapped in the ice.
Seven downwards slopes
Seven bloodied hopes
Seven are your burning fires
Seven your desires…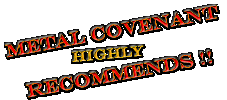 See also review of: The Book Of Souls , The Final Frontier , A Matter Of Life And Death , Death On The Road , Dance Of Death , Rock In Rio , Iron Maiden , Maiden Japan , Killers

Production

Vocals

Compositions

Nostalgiafactor

10

Summary





10 chalices of 10 - Thomas
Related links: