Iron Maiden - Killers

*=Staff's pick

The Ides Of March*
Wrathchild*
Murders In The Rue Morgue*
Another Life
Genghis Khan*
Innocent Exile*
Killers*
Prodigal Son
Purgatory*
Drifter*
Genre
Heavy Metal

Paul Di´Anno

Vocals

Tracks
10

Dave Murray

Guitar

Runningtime
44 Min.

Adrian Smith

Guitar

Label
EMI

Steve Harris

Bass

Release
1983

Clive Burr

Drums

Country
England

-

Keyboards

Similar artists
---

Well, what to say about Iron Maidens second full-length album? I could get a bit personal and tell you that this album was my first contact with "heavy music". Remembering how I bought "Killers" on a commercial tape from my friends older brother, at the age of six at the "pre-school". I also remember the "cool" cover with this "scary" man standing with an axe, covered in blood!! I was totally lost...Well enough about that - over to the music!
"Killers" is produced and recorded by Martin Birch at Battery studios, London -81. The album starts with "The Ides Of March", a instrumental "intro" song. The second one "Wrathchild" is a real killer! Nice bass parts in the beginning and with the singer Paul Di´Anno in a hysteric form. Not to fast, not to slow and with a really good refrain. "Murders in the rue morgue", a song that leaves no one untouched. Superb musician skills. Awesome catchy verse and chorus. "Another Life" and the heavy instrumental "Genghis Khan". The later of these are a really good one. Booth slow and fast parts, with instruments "duelling", excellent.
"Innocent Exile" passes before its time for the title song, "Killers". This song is one of my favorites with Maiden, ever. It is not a wild guess that the guitar works from Smith and Murray have been of great inspiration to musicians when it comes to guitarscaled based metal..The slow and accoustic "Prodigal Son" shows how important it is to have a good mix in the tracklist, after the heavy and faster (well a bit..) "Killers", "Prodigal son" drags the tempo to a very low point before its time for the fast and catchy "Purgatory". A bit genius if you think about the hole album as a unit. And again Di´anno shows his capacity. Last but not least, "Drifter". Great riffs and solo parts mixed with traditional rock scales.
My comments? "Murders In The Rue Morgue", "Genghis Khan", "Killers" and "Purgatory" are the ones who stands out most in this excellent set list. The best Iron Maiden record up to date, if you ask me! This is Iron Maiden with heart and soul, an album full of songs that have stand up well over all the years that have passed. Steve Harris shows who is the "mastermind" behind this band. Being the songwriter to every song except "Killers", wich he wrote together with Paul Di´Anno..
One of the Greatest albums in the history of heavy metal.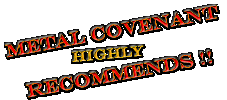 See also review of: The Book Of Souls , The Final Frontier , A Matter Of Life And Death , Death On The Road , Dance Of Death , Rock In Rio , Seventh Son Of A Seventh Son , Iron Maiden , Maiden Japan
Production

Vocals

Compositions

Nostalgiafactor

10

Summary





10 chalices of 10 - Tim
Related links: