Iron Savior - Condition Red

*=Staff's pick

Titans Of Our Time*
Protector
Ironbound
Condition Red*
Warrior
Mindfeeder*
Walls Of Fire
Tales Of The Bold*
I Will Be There (Ltd. Edition Bonus Track)
No Heroes
Paradies*
Thunderbird
Crazy (Ltd. Edition Bonus Track)
Genre
Heavy Metal

Piet Sielck

Vocals

Tracks
13

Piet Sielck

Guitar

Runningtime
66 Min.

Joachim Küstner

Guitar

Label
Noise Records

Jan- S. Eckert

Bass

Release
03 June 2002

Thomas Nack

Drums

Country
Germany

Andreas Kück

Keyboards

Similar artists
---

Damn! I can't start this review in any other way to fully let you know how I feel - and you will be feeling - after listening to Iron Saviors newest effort in the world of melodic Power Metal. This is amazingly good, and I always think after every new album from Iron Savior that the limit is reached when it comes to composing those marvellous bridges, refrains, stunning riffs, leads and solos - but it just keep getting better and better. I have no idea how Mr. Sielck does it, but he always does in the end.
The opening track Titans Of Our Time is not only an outstanding powerblast, but also a suitable description of the band, cause this is about as good as it gets and probably the best that has come from Iron Savior - so far, I might add. With an energy of seldom seen manner, driven by a and double bassdrums it carries you towards what can almost be described as a heavenly chorus, and that's it - you're in love again: in Iron Savior. After Protector that in perfect midtempo lets you get your breath back after the heavenly opener, we are being smashed back down to the ground again by Ironbound, that has very strong similarities to the song Forces Of Rage on an earlier album in the bridge, but a bit speedier built on a furious riff and with a godsend chorus.
The titletrack Condition Red doesn't give much space for relaxation - we are here being plunged into one of the most cathiest tunes on this album (and that says a lot when it comes to an Iron Savior album). What is Mr. Sielck really on? Cause this can't be normal.....where does all this come from? I can name many, many bands that should consider themselves lucky if they could compose only 2 songs that are as good as an average song of Iron Savior. I think that Iron Savior sounds like nothing else in metal, neither present nor past bands. If I should name what comes nearest, I would have to say Judas Priest - when it comes to the riffs, and than only when it comes to the slower parts.
Warrior that follows is a bit more slower and heavier midtemposong in a marching beat that must be considered the "weakest" song on the album - but that tells more of the brilliance of the whole album than that actual song. Because even if it's still the least good - I still love it. Mindfeeder follows in the veins of the midtempo style, but this one has a damn smashing chorus that hits you in the face. Very catchy, and perhaps it is a good thing to have two slower songs in the middle like this to not stress our hearts too much, and wear us out - we have to be able to stand the whole listeningsession out.
Walls Of Fire - hey, what a surprise: a great track! Fast, with an average riff, but the bridge and the even better chorus bring this to the heigths were we are used to hear it. Tales Of The Bold that follows are together with the opening track the best one on this album - fast, filled to the limit with amazing bridges, riffs, solos, and a chorus with a marvellous twist that makes your hair stand. No Heroes starts with a catchy riff in true Hammerfallstyle, and the verse in uptempo brings us in to a wonderful journey up to a very strong chorus that sticks like glue. Paradise - read the description to the song prior to this one + add a slightly better chorus. Thunderbird - a very worthy 7-minute closer in a for Iron Savior characteristic galopping style, good riffing and a mighty chorus.
A true masterpiece. Buy!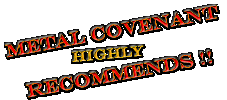 See also review of: Reforged: Riding On Fire , Titancraft , Live At The Final Frontier , Rise Of The Hero , The Landing , Megatropolis , Battering Ram , Dark Assault

Production

Vocals

Compositions

Summary





10 chalices of 10 - Tommy
Related links: