Iron Savior - Dark Assault

*=Staff's pick

Never Say Die*
Seek And Destroy*
Solar Wings
I've Been to Hell
Dragons Rising
Predators
Made Of Metal*
Firing The Guns*
Eye Of The World*
Back Into The Light
After The War
Delivering The Goods
Genre
Power Metal

Piet Sielck

Vocals

Tracks
11

Piet Sielck

Guitar

Runningtime
61 Min.

Kai Hansen

Guitar

Label
Noise Records

Joachim "Piesel" Küstner

Guitar

Release
08 Jan. 2001

Jan- S. Eckert

Bass

Country
Germany

Thomas Nack

Drums

Andreas Kück

Keyboards

Similar artists
---

The uncrowned master of science fiction based power metal Mr Piet Sielck and his companions have done it again. They have given us a bombastically powerful album full of all the stuff that makes a fantastic release. The story that began with their first album, Iron Savior, continues and Dark Assault follows on where Unification ended. Once again Mother Earth is under attack and this time the descendants from Atlantis, Terranians and Calderans, must face a dark assault from the Shadow.
The band's also got a new member in the guitarist Joachim Küstner who formerly was the guitar technician, sound engineer and tour assistant to both Iron Savior and Gamma Ray. The reason to bring yet another guitar guy to the band might be a result of the fact that Dark Assault is Kai Hansen's last album with Iron Savior. So there's a future void to fill and why not bring in a new guy at an earlier state to start breaking him in, but again, that's just speculation from my side.
And then what do I think about the album itself? Dark Assault is according to me the very best Iron Savior album up to this point and how fantastically amazing it really is would be impossible to express in the written word. Every track just blows you away with really awesome guitars, intros, verses, solos and choruses. Piet Sielck's singing is as usual just cut for the music and the vocals of Jan S. Eckert on the final metal ballad After the War are nearly as great.
Killer songs on the album is everyone of them but the ones I especially like are the sovereign opener Never Say Die, the outstanding Seek and Destroy, the more epic Made of Metal, the pounding Firing the Guns and the amazing Eye of the World. Piet Sielck and Iron Savior have done it again and given us an album that only has one equal of the year 2001 and that's Gamma Ray's No World Order. So this will be one of the rare occasions when I feel obligated to allot the highest mark possible.
Dark Assault is really made of metal and on solar wings riding back into the light and the very top of the power metal genre where Iron Savior has come to stay. There's no chance what so ever that fans or other brothers and sister of metal will be the slightest disappointed. So open up your wallets and never say die!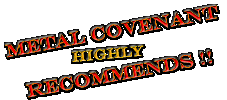 See also review of: Reforged: Riding On Fire , Titancraft , Live At The Final Frontier , Rise Of The Hero , The Landing , Megatropolis , Battering Ram , Condition Red
Production

Vocals

Compositions

Summary





10 chalices of 10 - Mat
Related links: