| | |
| --- | --- |
| Behemoth - Evangelion | Published October 25 2009 |

*=Staff's pick

Daimonos
Shemhamforash*
Ov Fire And The Void*
Transmigrating Beyond Realms Ov Amenti*
He who Breeds Pestilence*
The Seed Of I*
Alas, The Lord Is Upon Me*
Defiling Morality Of Black God*
Lucifer
Genre
Death Metal

Nergal

Vocals

Tracks
9

Nergal

Guitar

Runningtime
42 Min.

Seth (session)

Guitar

Label
Nuclear Blast

Orion

Bass

Release
07 August 2009

Inferno

Drums

Country
Poland

-

Keyboard

Similar artists
Decapitated, Vader, Arsis, Nile

I'm going to go out on a limb and say that Behemoth's "Evangelion" is the album of the year. This is the closest you're going to get when it comes to perfection in many a good years. Behemoth is responsible for pushing the envelope in regards to extreme death metal with their latest releases "Demigod" and "The Apostasy" so I wasn't surprised when "Evangelion" came and yet again proved that this band is nothing but sheer quality in every aspect of the word.
The songwriting has reached such levels that I'm left stupefied with what these guys churn out. Although I have some personal favourites on the album there aren't any weak tracks on this album. From the opening Daimonos to the closing Lucifer we're treated to a feast of pure metal.
The abilities of the musicians on this album are just stunning. Individually spotless, each member of the band is playing his heart out on this album, but on a much bigger scale Behemoth is an entity defining tightness in such a way that I'm blown away. As a drummer I can say that Infernos' playing on "Evangelion" is just mind blowing and can easily be put into the category "How did he do that?". He is the focal point of this album, binding together the songs and forming and tighter than hell rhythmsection with Orion's bass work on which Nergal and Seth can basically do whatever they want with their guitars.
Nergal is singing with such conviction, and his hotter than a furnace growling abilities are just so evident on "Evangelion". This is a very strong album that's going to be very hard to surpass, even for Behemoth.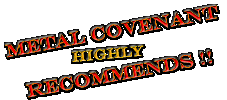 See also review of: The Satanist , Demigod , Evangelia Heretika

Performance

Originality

Production

Vocals

Songwriting

Summary





10 chalices of 10 - Martin
| | |
| --- | --- |
| Related links: | |