| | |
| --- | --- |
| Behemoth - Evangelia Heretika | Published November 25 2010 |

*=Staff's pick

Disc I:
Live In Warsaw 2009
Live In Paris 2008

Disc II:
- Documentaries:
Evangelia Nova
De Arte Heretika
- Videos:
Decade Ov Therion
As Above So Below
Conquer All
Slaves Shall Serve
Prometherion
At The Left Hand Ov God
Inner Sanctum
Ov Fire And The Void
Alas, Lord Is Upon Me
Genre
Death Metal

Nergal

Vocals

Tracks
64

Nergal

Guitar

Runningtime
234 Min.

Seth

Guitar

Label
Nuclear Blast

Orion

Bass

Release
05 November 2010

Inferno

Drums

Country
Poland

-

Keyboard

Similar artists
---

In 2008 Behemoth released a live album, At The Arena Ov Aion - Live Apostasy, that served as a good example of how the band sounded for the fans that hadn't seen the band live. This DVD is, as you probably understand, far more ambitious and a guaranteed must have if you're into the band.
Behemoth is to me a band I'll always think about in terms of such words as strength, but above all perfection in terms of talking musical achievements and performances. This is why, I must admit, a bit anxiety-provoking to see an episode in the backgroundmaterial where the intro to the concert is playing but Nergal's guitar isn't working. The guitartech is working frenetically, and the stress is completely showing in Nergal's eyes.
To me it's very brave to have such a episode included - but it also says a great deal about what a great confidence this band has. With their magnificent album Evangelion the band embarked on a lengthy tour that saw Behemoth draw bigger crowds than ever to their concert, and performances oozing of quality death metal. Evangelia Heretika is a mighty testament to how good Behemoth is on stage.
We get two whole concerts on this DVD - one from Poland (2009) where the audience really gives it all its got alongside the band, and one from Paris (2008). Checking out the setlist from this show it's easy to be impressed, because in spite of not having released Evangelion there are, to put it mildly, some kick ass songs in the band's catalogue: Conquer All, From The Pagan Vastlands, As Above So Below and Christians To The Lions are just four fantastic songs that are played with such force that the TV almost explodes.
But it's the Warsaw-concert that's the best, in much because of the material played off Evangelion; Ov Fire And The Void, Shemhamforash, Alas, Lord Is Upon Me and Lucifer represents this album just beautifully. And then you get Nergal that, it spite of what has later been revealed about his health, just owns. That man is pure dedication, force and balls on stage.
The extramaterial is equally impressive; two documentaries depicting the band's life on the road where Seth displays a great amount of humor during cuddling with a microphone, you get all the videos the band has made. This fact is very pleasing as you can see just how much Behemoth has developed in this department.
Evangelia Heretika is a very well-produced DVD that you really should have if you're at all interested in Behemoth.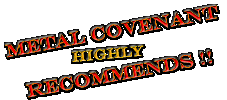 See also review of: The Satanist , Evangelion , Demigod

Production

Vocals

Compositions

Extra material

8

Summary





9 chalices of 10 - Martin
| | |
| --- | --- |
| Related links: | |