| | |
| --- | --- |
| Grave - Endless Procession Of Souls | Published September 06 2012 |

*=Staff's pick

Dystopia
Amongst Marble And The Dead*
Disembodied Steps*
Flesh Epistle*
Passion Of The Weak
Winds Of Chains
Encountering The Divine
Perimortem*
Plague Of Nations
Epos
Genre
Death Metal

Ola Lindgren

Vocals

Tracks
10

Ola Lindgren

Guitar

Running time
45 Min.

Mika Lagrén

Guitar

Label
Century Media

Tobias Christiansson

Bass

Release
27 August 2012

Ronnie Bergerståhl

Drums

Country
Sweden

-

Keyboard

Producer
Ola Lindgren
Similar artists
Dismember, Entombed

While Dismember have disbanded, Unleashed is uninteresting and Entombed never release anything new, it's a relief that the guys in Grave keep being productive and are holding the banner of Swedish death metal high. Main man Ola Lindgren has done an impressive job keeping the band alive throughout the years, being the only remaining founding member of the band, and he has gathered a solid team of heavy hitters.
After the short opening track Dystopia the album kicks off with Amongst Marble And The Dead and Disembodied Steps, two strong songs with ferocious riffs and brutal choruses. The production is spot on, with the guitar tone sounding just right. The icing on the cake though, for me, is really Ronnie Bergerståhl's drumming. With the band having banished blastbeats for all eternity he does an amazing job, playing with a fierce groove fitting the music perfectly. I, for one, am extremely tired of the excessive use of blastbeats among death-metal bands - hopefully more bands follow this example.
The albums proceeds with one great song after another, such as the slower Flesh Epistle, the future live classic Passion Of The Weak and the fantastic, Slayer-sounding Perimortem. I've always been impressed with the consistent quality of Grave's releases but this album takes it to another level. Endless Procession Of Souls is definitely one of Grave's best albums to date, up there with Into The Grave and You'll Never See, and probably one of the best death-metal albums of the last decade. With Asphyx and Grave releasing such amazing albums, 2012 seems to be a fantastic year for death metal.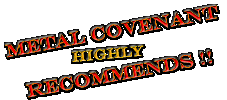 See also review of: Out Of Respect For The Dead , Morbid Ascent

Performance

Originality

Production

Vocals

Songwriting

Summary





9 chalices of 10 - Bjorn