| | |
| --- | --- |
| Grave - Out Of Respect For The Dead | Published October 29 2015 |

*=Staff's pick

Intro / Mass Grave Mass*
Flesh Before My Eyes*
Plain Pine Box
Out Of Respect For The Dead
The Ominous "They"
Redeemed Through Hate
Deified
Trail Of Ungodly Trades*
Grotesque Glory*
Genre
Death Metal

Ola Lindgren

Vocals

Tracks
9

Ola Lindgren

Guitar

Running time
48 Min.

Mika Lagrén

Guitar

Label
Century Media

Tobias Cristiansson

Bass

Release
October 16, 2015

Ronnie Bergerståhl

Drums

Country
Sweden

-

Keyboard

Producer
Ola Lindgren
Similar artists
Dismember, Bloodbath

Swedish death metal legends Grave has once again been kind enough as to release an album, their eleventh one so far. Being one of the strongest forces to be reckoned with in the genre today, my expectations have been sky high and with high expectations come risks of disappointment.
Just a few seconds into the album, however, it is clear there is no need to worry about being disappointed by Out Of Respect For The Dead. The first few songs - Mass Grave Mass, Flesh Before My Eyes and Plain Pine Box - are all instant classics which once again show that Grave is without a doubt one of the most consistently great bands in the genre today. The sound is without remarks, Ola's vocals is as guttural and haunting as ever and Ronnie's drumming is absolutely flawless.
Trying to describe this album in a few sentences, it has many similarities with Endless Procession Of Souls - such as the brutal production and phenomenal sound - and some differences. I get the impression that it actually sounds a little more American than usual, as if they've been listening a lot to Autopsy's latest albums when writing this one.
One of the things I appreciate most is how dynamic the album is, with regards to the song writing - it's obvious that the band members haven't become comfortable and starting taking shortcuts. Every song sounds distinctly unique, memorable and ambitious without being even close to pretentious. Easily one of the best songs of the album is Trail Of Ungodly Trades, which ends with a rock passage which is incorporated brilliantly, without feeling out of place - and I write this well aware of how easy it is for death metal to sound silly and tasteless when incorporating rock elements.
Initially I had my doubts whether this album actually could be as good as Endless Procession Of Souls but Out Of Respect For The Dead is easily on par with its predecessor. What I find most impressive is while many of the classic death metal bands have their finest moments in the past, this particular line up of Grave has produced nothing short of fantastic music since its cementation in 2011 - with Endless Procession Of Souls, the Morbid Ascent EP and Out Of Respect For The Dead definitely being some of the best music created under the Grave banner.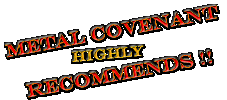 See also review of: Morbid Ascent , Endless Procession Of Souls

Performance

Originality

Production

Vocals

Songwriting

Summary





9 chalices of 10 - Blidmark