Freedom Call - Crystal Empire

*=Staff's pick

The King Of The Crystal Empire
Freedom Call*
Rise Up*
Farewell
Pharao*
Call Of Fame*
Heart Of The Rainbow*
The Quest
Ocean*
Palace Of Fantasy
The Wanderer
Genre
Power Metal

Chris Bay

Vocals

Tracks
11

Chris Bay

Guitar

Runningtime
49 Min.

Sascha Gerstner

Guitar

Label
SPV

Ilker Ersin

Bass

Release
29 Jan. 2001

Daniel Zimmerman

Drums

Country
Germany

-

Keyboards

Similar artists
Edguy, Helloween, Heavenly, Gamma Ray

As good as every metal fan must have heard or at least heard of Gamma Ray. But not every one of them knows that the drummer Dan Zimmermann's also involved in Freedom Call. Then some of you might think that this is just another half-hearted solo-project but nothing could be more wrong. Freedom Call is just a fantastic band, which they proved already on their first release Stairway to Fairyland. And yet Crystal Empire is better. Much better.
The characteristic sound from the previous Stairway remains but the songs are another matter. I can't say that they are harder, faster or even heavier but they're just, if possible, more melodic, symphonic and pompous than before. If you also add the word "happy" you begin to get a picture of what Freedom Call sound like. The band's ambition is that every song shall have a catchy sing-along feeling over it and all I can say is that they have done this with a vengeance. Dan Zimmermann is a great songwriter, which he has proved more than once in Gamma Ray and in Freedom Call history keeps repeating itself. The duo Chris Bay and Zimmermann has simply composed a power metal masterpiece in eleven parts.
On Crystal Empire you can hear music of highest quality and impeccable production. Extremely melodic songs that make Freedom Call one of the most melodic bands in the genre can be found here. All this of course means that every lover of this sort of band has no other choice than to open up the wallets in this case 'cause Crystal Empire is worth every single penny spent. And if you're feeling really down on a really bad day a few minutes of listening to this album will change your mood to the better.
So if you want to buy something that makes you a happier person I strongly suggest you follow the doctor's orders in this matter and give Freedom Call a well deserved chance. It's a vitamin injection for sure and a very joyous way to kill some time!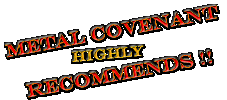 See also review of: Master Of Light , Beyond , Ages Of Light 1998-2013 , Land Of The Crimson Dawn , Legend Of The Shadowking , The Circle Of Life , Eternity
Production

Vocals

Compositions

Summary





9 chalices of 10 - Mat
Related links: