| | |
| --- | --- |
| Paradise Lost - Tragic Idol | Published April 20 2012 |

*=Staff's pick

Solitary One
Crucify
Fear Of Impending Hell
Honesty In Death
Theories From Another World
In This We Dwell
To The Darkness
Tragic Idol
Worth Fighting For
The Glorious End
Genre
Gothic Metal

Nick Holmes

Vocals

Tracks
10

Greg Mackintosh

Guitar

Running time
46 Min.

Aaron Aedy

Guitar

Label
Century Media

Steve Edmondson

Bass

Release
23 April 2012

Adrian Erlandsson

Drums

Country
England

-

Keyboard

Producer
Jens Bogren
Similar artists
---

13th full length studio release from British quintet Paradise Lost. They started their career as a death metal band over two decades ago and then established their name with the epic goth metal albums Icon and Draconian Times. After some electronic and less metal experiments, they returned ten years later to what they do best with their self titled album in 2005.
The three latest releases, above mentioned self titled album, In Requiem and Faith Divides Us…Death Unites Us have all been somewhat of a reversion to the mid-nineties and to the sound most people associates with Paradise Lost. Tragic Idol follows this path and takes it even one step further and should have been the natural follow up to Draconian Times. The album has parts similar to all their work from Shades Of God up to One Second and I wonder if they regret their choice to completely change the direction of the band fifteen years ago, and by that losing almost their entire fan base.
Lead vocalist Nick Holmes is as melancholic, depressing and convincing as ever. Lead guitarist Greg Mackintosh has returned to his patented and magnificent chords, riffs and tones, making me feel that this is Paradise Lost resurrected from an early grave. The beats from Swedish drummer Adrian Erlandsson are deep and feels alive. The programmed piano is there as well and its importance will not go unnoticed, as it had and still is a major part of their sound from time to time.
The songs are hard to split up, as almost every single part of the songs are great. It's not a catchy chorus here and there, a great verse now and then, or whatever to catch the listener's attention, as there are almost no time for deep breaths through the whole record. One great part is followed by another; chorus, verse, bridges, intro etc... It's all good. Just listen and enjoy.
If I must bring out one song, I would go for In This We Dwell, which made me feel like being hit by a freight train the first time I heard it. A total killer track with strong influences and elements from earlier work, with heavy riffs, aggressive vocals and blasting drums. I have however decided to not pick any songs for Staff's pick, because it would indeed be a ridiculous amount of red stars on the top of this page. This is by far the best album I have heard in 2012 and it will probably be a future classic as well. Paradise Lost is back!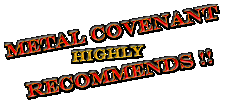 See also review of: Medusa , Symphony For The Lost , The Plague Within , Tragic Illusion 25 (The Rarities) , In Requiem

Performance

Originality

Production

Vocals

Songwriting

Summary





10 chalices of 10 - Tobbe