Interview conducted August 03 2010
Interview published August 18 2010
Metal Covenant regulars are well aware that Sister Sin just released their new album - 'True Sound Of The Underground'. Since they are the opening act for the MSG and Lynch Mob Tour, Wendy and I were given a chance to sit down with the twisted sister of 'Switchblade Serenades' herself - Lady Liv. Believe me, this maiden of outrage lives for Metal!
We discussed the love-hate female fronted Metal Milieu, her 24/7 dedication to the band, and her past as Sinderella in Sweden's own - "Women Of War" - Hysterica. After witnessing them nail it live, tour by tour, I have become a big supporter of this rockin' act. Come join us for an eye to eye, and mettle heart to heart discussion, all systems go!

MettleAngel: Hello Liv, it is great to make your acquaintance. I have not seen you live yet, so I am looking forward to see what you can offer to Cleveland. Sister Sin has been to America before, you came here on a brief tour with Otep, right?
Liv: That was two years ago, last year we came with Faster Pussycat and Bulletboys.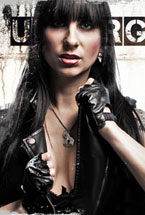 MettleAngel: That is right! You came to Cincinnati. My friend told me to check you out, but honestly, I was not too impressed with your debut album for Victory Records.
MettleAngel: Yeah, it seemed like generic female fronted rock fluff. I am digging the new album though.
Liv: That is good to hear. We are very proud of it ourselves.
MettleAngel: The Big Hair Tour was a good promotion for you. How about the Otep gig, they are a label mate of yours?
Liv: Our label mates Ill Niño were booked for that tour, then we were asked to join, too.
MettleAngel: I have always been a fan of female fronted Traditional Metal like Doro, Lee Aaron (The Metal Queen), Hellion, Bitch, Black Widow USA, Benedictum, etc., then Nightwish changed everything, and suddenly, Gothic female fronted femme fatales dominated the scene.
Liv: Yeah, I do not like that too much. I like the bands you mentioned.
MettleAngel: I admire several of the epic "Beauty And The Beast" acts, but many once great bands have become so weak, like Within Temptation, Tristania, or the now defunct Theatre Of Tragedy.
MettleAngel: I prefer the The Classic rockers like The Runaways, Rock Goddess, and Wendy O' Williams, they are all so deserving of props. We will see Pat Benetar later this month with REO Speedwagon. I love her, Joan Jett, Heart, and Stevie Nicks, too.
Liv: I also appreciate the more Classic rock sound.
MettleMaiden: Your vocal style is more like Ann Boelyn of Hellion or Doro Pesch, instead of being the obligatory operatic expectation. (MettleAngel): I agree, and I would include Girlschool or Joan Jett. There is definitely that biker rock vibe too. It is really good to see that Victory Records are distributing your albums in the US, and they have given you a lot of promotion for the 'True Sound Of The Underground' release. Although, I did not care too much for the new video for "Outrage".
MettleAngel: I love the song with its heavy reference to the song "Teenage Rampage" by The Sweet, but the video was too modern, and it just did not make any sense with all those bodies hanging around, tattoed and bruised.
Liv: Yeah it was edited strange, from just our performance parts.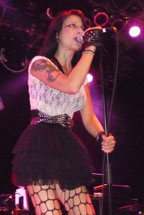 MettleAngel: Sometimes the finished product is not what one expects. It basically did not fit the music or lyrics for that song. I do really like your video for "On Parole". It was more conceptual, and you had those red streaks in your hair. Also, I am envious of Jimmy's Lizzy Borden shirt.
Liv: I appreciate your opinion. We have also done one for the song "Sound Of The Underground", but it has not been released yet.
MettleAngel: I hope that the new video has a more rockin' theme, and not something horrific or disturbing. The "Outrage" video does not fairly represent the band. Besides, your ex-bassist looks like the Joker for Christsakes!
Liv: I can not argue with that!
MettleAngel: What does Udo think of your cover of "24/7"?
Liv: I am not sure. We just sort of chose to do the cover. I know people thought it was a strange song to attempt because it is U.D.O., and not the better known Accept.
MettleAngel: That new Accept album sounds very promising, as does new Maiden. You will have to let Mr. Udo Dirkschneider hear it for himself, or even contact Stefan Kaufmann.
Liv: When we heard that song off of 'Mission X', we played around with it, and decided to cover it. It is a fun cut to sing live, as well. We decided a while ago, that if we are going to do a cover, then we are going to do this song. It does not matter if people know it, or not.
MettleAngel: I am sure U.D.O. would be cool with that. Every time I hear the song "Love/Hate", I am reminded of the song "I Hate School Rules" by Exciter, off their album 'Unveiling The Wicked'. Were either you or Jimmy influenced by this song, or inspired by it, when you wrote "Love/Hate"?
Liv: No, I am not. I do not even know that song.
MettleAngel: It figures, here I am showing my age again. I guess it is just a coincidence, since "Love/Hate" even shares similar guitar riffs. I assumed that perhaps Jimmy heard the song, and the riff and chorus stuck in his head. Both of you should really listen to it, because you will be amazed at the similarities between the two songs.
Liv: I suppose it could have been a song we heard, but were not aware of who the artist was. Perhaps the music just lingered in our head. Until you mentioned this, I thought the song was all our own.
MettleAngel: That happens, when I was growing up I heard the song by Journey' called "Where Were You". Then later on I finally heard Led Zeppelin's "Kashmir" and thought to myself how those riffs were so similar.
MettleAngel: I began to wonder if Neal Schon was inspired by Jimmy Page, or if it was just a coincidence.The same thing happened when I heard "The Odyssey" by Symphony X. Michael Romeo denies it, but I swear he is paraphrasing Ritchie Blackmore's Rainbow; because, all I hear is "Street Of Dreams". Either way Sister Sin songs have a very catchy vibe.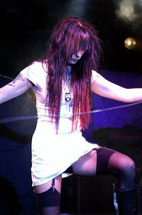 MettleAngel: Kindly tell me a bit about your background.
Liv: Originally, I was not a singer, but a guitarist.
MettleAngel: Oh really!
Liv: Playing guitar is my first love. When I played guitar, it was really more of a Black Sabbath sound, with a heavier, slower, more brooding dark vibe.
MettleAngel: I take it you were really into Doom Metal, then?
Liv: Sort of, actually, I was in a band inspired by Dream Theater. Over the years, I played in different types of bands, then when I moved to Gothenberg I did not have a band.
MettleAngel: Did you decide to form your own?
Liv: No, I put an advertisement in the paper, and our former guitarist answered the ad. He asked if I was familiar with acts like W.A.S.P., Twisted Sister, and Mötley Crüe. I explained to him that I preferred heavier music like Pantera. At the time I linked Mötley Crüe in with all those glam bands.
MettleAngel: I guess you have come full circle, since last year you toured with the Bullet Boys!
Liv: If I had heard that music back then I would have thrown up. We all have our favourite time periods, and we all progress.
MettleAngel: I agree, I still do not like the Bullet Boys, but I do remember how MTV overplayed their video for "Smooth Up". I think they have some sort of connection with King Kobra. You should ask Carmine Appice.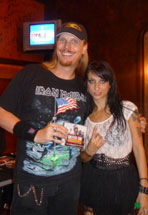 MettleAngel: My point is that, I too once dismissed some great '80s hair bands, because I thought they were too glam. Have you ever seen Penelope Spheeris' - "The Decline Of The Western Civilation Part II: The Metal Years"? That movie represents the L.A. glam scence back then, from the '80s, but it also has Megadeth, Vixen, and Odin in the documentary film, and Rigor Mortis and Metal Church are on the soundtrack. (MettleMaiden): I just flash backed to Poison in their ultra-glam days. (MettleAngel): It is weird since neither Metal Church nor Seduce are even from L.A. Seduce is from Detroit, and Metal Church are from Seattle.
Liv: I have heard of that film, and that scene with Chris Holmes from W.A.S.P.
MettleAngel: That whole scene with him in the pool drinking vodka is faked. I do not doubt he was drunk at the time, but the vodka bottle was just filled with water. I am so surprised that it is still not out on DVD in the US!
Liv: You mean it is not? When I was contacted about this dude's band, he was not looking for a chick, but he offered me a fair chance, if I agreed to sing. I had to rehearse "Live Wire". He loved my performance, and asked me to join immediately afterward.
MettleAngel: The rest is history, or her story, right. He should have had you try some Skid Row, The Cult, or Accept, because that is what the band sounds like.
Liv: We had a more glam style when I started in the band. We had a different guitarist, and a different outlook. Throughout the years the band has developed, eventually we decided we wanted to do something heavier.
MettleAngel: Are you at all familiar with Hellion from California?, Ann Boleyn (Anne Hull) - the owner of New Renaissance Records - started that band in '82. They had a strong Priest vibe, but a rugged singer, as did Détente and Sentinel Beast, but they were more thrashing.
Liv: Maybe? I hear many female metal singers, but sometimes I forgot their names.
MettleAngel: Ann Boleyn, who is now a bonifide lawyer, helped to promote bands like Prong, Bloodfeast, Necrophagia, Deadly Blessing, Amulence, Wehrmacht, At War, Indestroy, etc. She gave all these underground thrash bands a big boost..
Liv: I recognize a few of those. Like her, Sister Sin wants to champion the bands of the past. That is what we want to try to bring back.
MettleAngel: Doro, has been doing this for over 25 years, as has Sabine Classen of Holy Moses.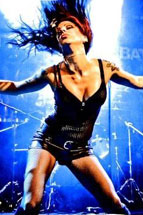 MettleAngel: There was all this bullshit back in the '80s where women were not encouraged to play metal, not even guitar. The Great Kat stood her ground to change that, as did Lita Ford, and the women of Vixen!
MettleAngel: These biased male chauvinist assholes did not think women could sing. If they did concede that women could, they only promoted the masculine type singers, or rough rider chicks.
Liv: Not too much has changed, there.
MettleAngel: Women were viewed as inferior and mere sex objects.
MettleAngel: You mentioned your origins in Sweden. The Gothenberg scene sure has changed over the years. In the '90s it was all Death and Thrash, then it became Melodic Death Metal with In Flames and Dark Tranquillity, and now it seems to be more of the Traditional Metal bands flooding the scene.
Liv: Yes, that is very observant of you. Many of the heavier Death bands, are now playing in a more Traditional style.
MettleAngel: It is good to see that the Classics are coming back, one of my favorite bands is Enforcer. I just reviewed the new Steelwing too.
Liv: Yeah, they are cool. Have you heard Bullet?
MettleAngel: Of course, they sound dead on AC/DC. My one friend played his Bullet CD for a buddy, and fooled him into thinking it was the new AC/DC.
Liv: I can see that, but Bullet are what AC/DC once were.
MettleAngel: I know, and Hellfueled are what we wish Ozzy still was.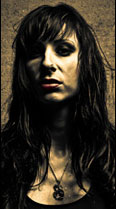 MettleAngel: Enforcer just embody all that vintage Swedish Metal sound like Heavy Load and Overdrive, a band which includes one of Metal Covenant's own fellow writers - Janne Stark.
MettleAngel: I am also glad that a lot more of these bands are getting recognized in the states. Have you heard some of the Italian female fronted bands that are coming out like Nasty Tendency? What about Crystal Viper from Poland?
MettleAngel: Nasty Tendency do a mean Grim Reaper cover of "When Heaven Comes Down". Crystal Viper cover anything from Manilla Road or Virgin Steele, to Agent Steel. Another excellent Italian band to consider are Mastercastle which Wendy just reviewed. (MettleMaiden): Yes, that was my first CD review for the site. I am curious though, Liv, how is the hunt for a new bass player coming along?
Liv: Yeah, we have had bad luck with bass players, like the dreaded Spinal Tap curse.
MettleAngel: That was with drummers, though. and you are in Cleveland tonight, so make sure you say "Hello, Cleveland"!
Liv: (Laughs) The search is going good. We have a couple of names. It is difficult while we are on tour, to pursue this. The prospects sound good, and seem nice on the phone. We are just not sure if they are going to fit. We do have a few names and are pretty sure we will have our final decision made soon. Hopefully, we will opt for one who will fit with the band, and stay with us for the long run...
MettleAngel: Your touring bassist plays in Babylon Bombs. I know he is friends with the dudes is Steelwing. I think he may be related to one of the chicks in Crucified Barbara.
Liv: Oh, you know about Crucified Barbara too? We have a great deal in common with them.
MettleAngel: I can see that! Since you love to play guitar, do you help write any of the music for Sister Sin?
Liv: No, not for this band, I only focus on my vocals.
MettleAngel: Do you ever contribute to the lyrics?
Liv: No, but I did for my former Swedish female band. Are you at all familiar with Hysterica?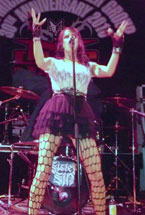 MettleAngel: Get out! You were in Hysterica!
Liv: I wrote some songs on their album.
MettleAngel: Did you record with them?
Liv: No, I did not play on the album because I quit just before they went into the studio.
MettleAngel: I love Hysterica! Why did you decide to leave?
Liv: Mostly because Sister Sin had just signed the deal with Victory Records and we were going to tour in the States. I had to make a decision, because I could not be in both of the bands.
MettleAngel: Sister Sin was the right choice for your career. I had no idea you were in this band, because all of the hot chicks have stage names, no one uses their real names. I love Hysterica!
Liv: I enjoyed composing for them.
MettleAngel: What songs did you write?
Liv: I wrote "Heavy Metal Man" and "The Bitch Is Back", those were my songs.
MettleAngel: I reviewed the Hysterica album 'Metalwar' at Metal Covenant. I dubbed them the "Women Of War", since they sound so much like Manowar.
MettleAngel: Which one were you? I always corresponded with Bitchie.
Liv: I am Sinderella. I loved being in Hysterica, but both bands had heavy demands, and I have been with Sister Sin much longer. I am loyal to them because they are like my family. I miss playing with Hysterica, but I think I made the right decision. I love Manowar, and I loved to play this type of Metal!
MettleAngel: I cannot wait to tell my friends about this. Both songs which you wrote are awesome.
Liv: "Heavy Metal Man" is my anthem.
MettleAngel: Have you met anyone else in America that is familiar with Hysterica?
Liv: No, I think it is more popular in Europe. I do not think the album is even out here.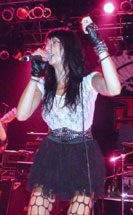 MettleAngel: I contacted them through MySpace, and asked if they would like for me to review their album. They sent the music to me digitally and I loved it. To be honest, I think I like Hysterica better than Sister Sin. After all, Sister Sin is a lot more like Classic Rock; whereas, Hysterica embodies the essence of what Manowar once created, but whose inspiration has sadly faded.
MettleAngel: Does Manowar and Magic Circle Music really need to do a Tribute to Ronnie James Dio? Of all the songs, does Manowar seriously have to cover "Heaven And Hell"! With Sister Sin, the music is more guitar based, and not really bass driven like with Maiden, Motörhead, or Overkill.
Liv: Yes, you are right, it is very much guitar oriented. We are also very inspired by Motörhead. We even cover a song live, taken from the '1916' album.
MettleAngel: This street rock vibe is a good choice for you; especially, with "The Runaways" movie out and Joan Jett and Lita Ford making their comeback.
Liv: Yeah, that is how I feel.
MettleAngel: Plus, you are getting good promotion, and cool tours like this one with Lynch Mob and MSG. I am sure some women went wild seeing you with Bullet Boys and Faster Pussycat. Michael Schenker diehards should appreciate you tonight too. (MettleMaiden): How is this current tour going compared to the other ones; since on this tour you are playing with two bands known for their guitar heroes, namely Michael and George Lynch?
Liv: It has been much better than I thought. The crowd are older than on the other tours. I have noticed that they seem to be very loyal to MSG and Lynch Mob, and they enjoy it very much.
MettleAngel: A bill like this is going to bring out a few of the grey hairs, as did Y&T. I can so relate to my peers and elders, more so than the new generation of these Metal kids.
Liv: This scene might be better than when we played with Ill Niño, because they were very different. On that tour we had a bit more trouble with the audience, but here, on this tour more people like what we are doing. After this, we are going to play with Black Label Society, which will also be a good audience for us.
MettleMaiden: I can see how emoheads and metalcore rats who follow Ill Niño may not dig your sound. Us '80s enthusiasts totally appreciate it though. (MettleAngel): I am sure BLS fans will also really get into you. Did Zak book you for the whole Bezerker Tour? Their new album ' Order Of The Black' is due out in a few weeks.
Liv: No, we are going to perform for five or seven dates before that all starts. I think it will be a really good for us to warm up the audience, and spread the buzz.
MettleAngel: I would not mind attending that. I have not seen Children Of Bodom in years. (MettleMaiden): Neither have I, and I like them more than you. (MettleAngel): This is true, judging by your enormous COB T-shirt collection! Liv, thank you for your time. If you want to learn about some other excellent female fronted bands, or all girl acts of the past check out Acid from Belgium, Znöwhite from Chicago, The Cycle Sluts From Hell, Phantom Blue, Sinergy, and Meanstreak from New York.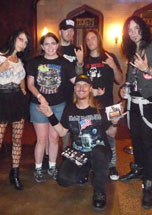 MettleAngel: I will leave you with a little bit of trivia to consider. Meanstreak were an awesome all girl thrash act who only released one killer, and impossible to locate album on Mercenary Records in 1988 called 'Roadkill'. They are all now married to the men in Dream Theater.
MettleAngel: Yes, this is absolutely true! Lead guitarist Rena Sands is married to John Petrucci, rhythm guitarist Marlene Apuzzo is married to Mike Portnoy, and bassist Lisa Martens Pace is still madly married to John Myung. (MettleMaiden): Their husbands, then all play the same instruments, I wondered who learned from whom? (MettleAngel): Marlene did not play drums like Mike, that was some chick named Diane Keyser. There is no doubt, though, that Mike Portnoy is multi-talented. He just laid down all drum tracks for the new Avenged Sevenfold album - 'Nightmare'. Now that he is finished with the Iron Maiden US Tour, he will head out with Avenged Sevenfold for Rockstar Uproar.
Liv: You mentioned Phantom Blue, Michelle Meldrum lived for a while in Sweden. Her sudden death still haunts me.
MettleAngel: Me too, Phantom Blue are my favourite all female Metal band. Well, Sinderella, I suppose you best go don your Metal gear, so you can rock our socks off.
Liv: Michael and Wendy, this has been so much fun. We were late getting to the gig, and I was nervous about having to do this interview, with little time to rehearse, or warm up. You have really helped me to relax and get excited for the show.
MettleAngel: That is good news to hear. We are very excited to see you live, tonight. I just had a great conversation with Michael Schenker, so my night is on fire, see you on the stage, we will be in the front!


See also: review of the album True Sound Of The Underground
Related links:

www.sistersin.com
www.myspace.com/sistersin