Interview conducted November 04 2011
Interview published November 20 2011
Now entering their third decade, Mat Sinner and the boys are back in town, and back to the bullsh*t of dealing with mixed reviews for their new album - 'One Bullet Left' - which I think is a solid album and worthy of any Sinner fans' appreciation.
The bottom line, is that you really have to respect the Man, who for over thirty years has consistently faced the nature of evil, and created some amazing music in one fashion or another, annually; whether it be with his own band Sinner, Primal Fear, or any of the number of upcoming, promising new acts, whom he is producing.
Mr. Sinner will always come out fighting, even willing to crash & burn. You can bet that with this self-proclaimed "Bad Ass" there will always be an executive, fast decision, and no more alibis. I am used to the truth, which is why I was so honoured to ask him pertinent questions, and speak with him about the new Sinner album, the forthcoming new release by Primal Fear, and a number of other fascinating topics.
So join us in the line of fire....and wake me when I am sober!

MettleAngel: Hey Brother, it is so cool to catch up with you again. I met and spoke with you in person when you toured with Primal Fear and came to Louisville, Kentucky last year.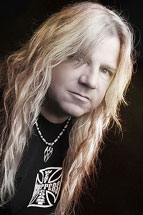 MettleAngel: I did not see you live there, but I do have the DVD. I really am digging the new Sinner album, despite all the Thin Lizzy references, which tends to annoy some reviewers.
MettleAngel: Well, in all fairness, your voice is similar to Phil Lynott, and the music does have that edge. Also, Thin Lizzy's music is so much more accessible now, than when they were actually a band who had a unique sound.
MettleAngel: I must admit that I barely heard any of their music growing up, save what the radio would play like "Boys Are Back In Town", "Jailbreak", or "Dancing In The Moonlight". It was not until I heard all these European acts covering them that I really became a fan. Once I heard Sodom perform "Cold Sweat", I sought out 'Thunder & Lightning'.
MettleAngel: Helloween do a mean version, as well. When a band like Soundbarrier or Pretty Maids covered Thin Lizzy back in the day, I assumed the songs were originals. Anyway, I really like the new Sinner album, and want to discuss that.
MettleAngel: When I first met you, you were very proud of the album 'Crash & Burn', which you claimed was your best work, and your finest achievement, so far. I have played this album since then, and I still like the new one more, as the songs flow better. Overall though, my favourite era of Sinner would be the Nuclear Blast years.
Mat: The problem with those times was that being in Primal Fear, also on the same label, the music and sound was too similar. I want these musical acts to be two separate bands, entirely, which is why each one is on a separate label. Although, Ralph does really like the album 'The Nature Of Evil', and so the next Sinner album will be called 'The Nature Of Evil II', that is an exclusive for you.
MettleAngel: Awesome! That is my favourite Sinner release!
Mat: Well there you go! The thing I want people to understand is that every album I write is created for certain reasons, with a definite plan. It frustrates me to see all this bitching on the Internet where they think I just released a Sinner album, without putting too much thought into it.
MettleAngel: I would not let it bother you. Look at what MetaLouCa have done by releasing the 'Lulu' crap. I have yet to see one positive account, but then again it is not necessarily a Metallica album, but the label has marketed it as such.
Mat: I gave that 20 seconds, and then moved on back to the 'Black' album. I do not waste energy worrying about what other people think. I make music that I like, and that is what matters most.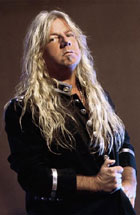 MettleAngel: Well obviously you are doing something right, as the band has now been in existence in one form or another for over thirty years.
MettleAngel: I always wondered if back when you were signed to Noise Records and before if you named the band Sinner after a Judas Priest song, which so many acts like Rage, Running Wild, Exciter, etc. were doing then.
MettleAngel: That surprises me, as I can definitely hear what I assumed was their influence in the songs. You even had a song called "Runnin' Wild' on 'Fast Decision'. I assume Mat Sinner is not your birth name, so why did you choose this appellative?
Mat: No it is not my actual name, but the name is copyrighted, and I just feel that it is a fun, simple, sweet, name which is easy to say and spell, and recognize.
MettleAngel: I agree with all but the "sweet" part, but then Sinner is such a Metal name, and the logo is so abrasive. You are primarily known as Mr. Sinner, and now that I have been able to obtain so many of the more rare releases, I can honestly say that I appreciate the evolution of the sound. Some of the '90s stuff was very commercial. On the new album you have three guitarists, like you did on 'No More Alibis'.
Mat: Yes, this is what I refer to as the "Wall Of Sound". I am very much looking forward to taking the current line-up out live, and playing most of the new album.
MettleAngel: Will you play any of the Nuclear Blast era songs?
Mat: Maybe we will attempt "Nature Of Evil", otherwise it will be half newer songs, and the other half classics from the '80s.
MettleAngel: I guess being a label boss for eight years with Nuclear Blast Records has really burned you out, and you just want to put those days on a shelf.
Mat: Yes, I wanted a break from all that, so I did not go too crazy. I want to enjoy life, and that means touring, making records, and producing new bands in the studio.
MettleAngel: I am glad that you are following your bliss. I noticed that lately you have been putting out classic covers on the last few Sinner albums. I have always appreciated the variety of renditions you have performed from Sammy Hagar, to Midnight Oil, to Billy Idol, and of course, Thin Lizzy. What made you want to cover Steve Steven's "Atomic Playboys"?
Mat: Well, we played it in the studio and all of us were really proud of how it sounded. We thought about doing it and making it a bonus track, but then chose to put in on the normal version.
MettleAngel: There are still two more bonus tracks on the special edition, which I have not heard, but I am glad you decided to put "Atomic Playboys" on the main one.
Mat: So are we! When André Hilgers showed up in the studio, he really had his act together, and this version just fit the feel of the album.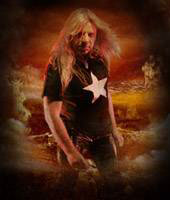 MettleAngel: I really like it, and it does flow well with the other tracks. I assume André was very busy, as he is also working on the new Rage album tentatively titled '21', as it will be their twenty-first studio release, which is hard to believe. Peavey, like you, is an endless vessel of inspiration.
Mat: Actually I think he has completed all his drumming requirements for the new Rage, because he is coming out on tour with us, and we are very excited to have him!
MettleAngel: Man, I would love to see that! I guess you are about ready to release the new Primal Fear album upon us!
Mat: I am just putting the final touches on a few more tracks which we are currently reworking in the studio. We have a set date for January 27, 2012, so I guess I had better get that done, right?
MettleAngel: I assumed that you would be sending promos to Frontiers soon?
MettleAngel: I know you already filmed a video for that Chuck Norris song, right?
MettleAngel: Yeah, what is the Chuck Norris movie, "Good Guys Wear Black"?
Mat: I think so...Yes we had a scheduled time for making that video, and we were not going to postpone it, even if the album was not complete.
MettleAngel: This is your third studio album for Frontiers, fourth if you count the Live CD/DVD, I assume you are very pleased working with them?
MettleAngel: Thanks to the current success of "That Metal Show", their artists are getting together and forming new bands, like Veronica Freeman of Benedictum working with Graham Bonnett.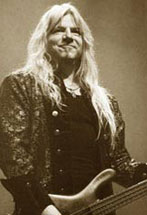 MettleAngel: I still think you may be their only European Power Metal Band though. They did just sign Trillium with Amanda Somerville.
MettleAngel: The new Night Ranger and Whitesnake were killer, but I was not thrilled with new Sebastian Bach. I am so excited to hear the new Primal Fear, as I really loved '16.6', and I have been a Primal Fear fan ever since their debut. Ralph is such an amazing singer. You even made a guest appearance on his solo effort that was released earlier this year.
Mat: Yes, I love those guys, and I love the boys in my band, Sinner. I just want to continue to create music, and get it out there for the fans to appreciate.
MettleAngel: Well, as a fan of all your work, I am always honoured to speak with you. I recently acquired your solo album 'Back To The Bullet' where you cover the same Osmonds song which the British act Tank did. You sure do like the use of the term "bullet", but then again I guess listening to Sinner is like being hit with a shotgun blast.
MettleAngel: Well, I want to thank you again for taking the time to speak to a fan, such as myself.
MettleAngel: Maybe our paths will cross again soon, when you are out there promoting the new Primal Fear?
MettleAngel: I am excited to hear about those, and I do have my hunches, I wish you all the best.

See also: review of the album One Bullet Left
Related links:

www.matsinner.com
www.myspace.com/sinnerofficial