Before Nevermore got up on stage to play on Klubben in Stockholm on the 9th of October 2005, Niklas and Michael took the chance to ask the band's bass player, Jim Sheppard, a few questions.
Interview conducted by Michael Finnermark and Niklas Lundqvist

Metal Covenant: You had a concert in Gothenburg last night? Are you pleased with it?
Jim: Really good, actually. The attendance was a little smaller than what we have been used to on this tour, but the fans were really enthusiastic. I believe we had a lot of competition from the Swedish soccer game (against Croatia), as well as Nile playing just down the street.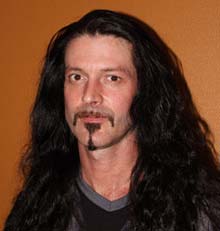 Metal Covenant: A venue like Klubben must be pretty really small compared to the ones you play in the States, though?
Jim: Well, for a long time we played smaller venues over there, with attendances around 300-600 usually. But then we played at Headbanger's Ball which was a huge break for us. After that we normally play for more than a thousand people each concert. But it also has a lot to do with heave metal making such a big comeback in America.

Metal Covenant: What do you prefer, small or big venues?
Jim: I appreciate them both, really. Our last tour in America was the Gigantour (a summer festival formed by Dave Mustaine, of Megadeth), and it was great to play in front of all these people. But I think that I prefer the intimate setting, and I definitely prefer to play in Europe rather in America. Over here, all the fans are more true to it and have been into metal all the time. But in the US people basically started embracing it when MTV said that metal was cool again. You can never be sure how long it's going to last in the States.

Metal Covenant: The most popular metal bands in the US today are either playing metal core, like Killswitch Engage, or nu-metal like for example Disturbed. Do you think that Nevermore will be able to compete against these guys?
Jim: Disturbed is definitely more of a band playing theatres and arenas in the US, while Killswitch Engage normally plays big clubs. I would say that Nevermore is a step down from those acts when it comes to attendance, but we do manage to draw big crowds when we're touring with a good package, like on the Dimmu Borgir-tour. We haven't really attempted a headliner-tour in America yet, but we hope that with our new album we'll be able to do it when the time is right.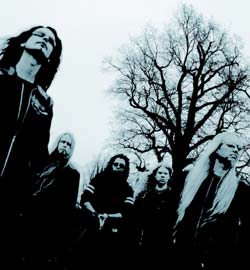 Metal Covenant: Speaking of which, can you tell us a bit about your new album, The Godless Endeavour?
Jim: We're extremely pleased with it. It's our first album on our new deal with out record label. On our last record, Enemies Of Reality, the production values suffered a bit since we didn't want to resign. That's why they weren't as generous with the budget as with the earlier releases. It was strictly by the contract. But on The Godless Endeavour we've had a much bigger budget, and we've been able to work in a great studio and a producer that we really admire, Andy Sneap. We actually worked so hard that in the end, we had 85 minutes of music! We had to chop it down, of course. But we're really proud of the album.
Metal Covenant: : Do you prefer to alter your set lists during the tours?
Jim: It depends on the amount of stage time, basically. On the Gigantour we only played for half an hour each time, so we used to rotate songs every day. But now we actually play 90 minutes for the first time, so we basically go with all the songs that we've rehearsed. We might change one or two songs some nights, but we don't rotate.
Metal Covenant: You've toured with many bands over the years. Do you have a particular favourite band that you get along with extra well?
Jim: Any band from Scandinavia, really. We've toured with so many of them, like Soilwork and Dimmu Borgir. We just get along very well, and we appreciate each others music. It actually happens when we're walking down the streets in our hometown Seattle, and Nevermore-fans who recognizes us says: "Hey, what are you doing here?!" And we say: "But we live here." And they go; "No, you're from Sweden!" (laughs) So you might say that we're the first Scandinavian metal band from America.
Metal Covenant: It's difficult to put a label on your style of metal. Someone described it to me like death/thrash-metal with power metal vocals. How would you describe it?
Jim: We are kind of different, yeah. Since we've been touring with so many bands, which are all inspiration sources to us in a way. It's hard to describe it, but it's definitely a mix of everything we enjoy in metal.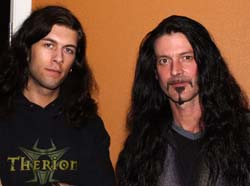 Metal Covenant: Do you have a favourite Nevermore-song?
Jim: I really like "Sentient 6" off our new album. It's one of the songs we play tonight, actually. It pretty much sums up what Nevermore is all about.
Metal Covenant: What kind of music do you listen to, personally?
Jim: As much as I enjoy metal, I try to stay off it when I'm at home. I feel that I get enough of that when on the road. It's good to listen to many different styles of music, since it broadens your perspective. Personally, I like contemporary rock and jazz.
Metal Covenant: Would you say that Nevermore is a political band?
Jim: If we're political, it's unintentional. We don't like to preach and want people to think for themselves. That said, we do have a song on the new album called "Medicated Nation" where we talk about how the Medical Society in the US get people addicted to drugs even though they don't need it. That is something that really upsets us.
Metal Covenant: : On this European tour you share the stage with Dew-Scented and Mercenary. Had you heard about these bands before?
Jim: No, I hadn't. Some years ago I was actually involved in the whole tour-department, but not anymore. As much as I like these guys, I would probably have picked more well-known acts for this European tour. A stronger package would have made this tour more attractive to the fans.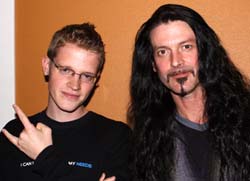 Metal Covenant: Describe a typical Nevermore-concert!
Jim: As we're spanning our careers, the shows just keeps getting better and better. The fans are always very active, with big sing-alongs and mosh-pits. And as we've been cutting back on our drinking, it's safe to say that we perform better. We actually have a saying that we have to stop drinking, or it won't be anything left for the bands we share the stage with! (laughs)
Metal Covenant: What does the future hold for Nevermore?
Jim: We will complete this tour, then we will tour some in South America. We aim to come back to Scandinavia next year to do more shows, and we'd love to do festivals as well. The fans can definitely expect to see more of Nevermore in the future.
Metal Covenant: : Finally, which is the one question that you have never been asked during an interview, but you wished you had?
Jim: Hmm… (long, silent pause) I'm afraid that the best one I can come up with is: "Which one on this tour gets the most pussy?"
Metal Covenant: : …And the answer to that question?
-------------------------------------------------------------------
And with these well-chosen words, we thank Mr. Sheppard for his time. But before he lets us go, he wants to tell us an anecdote about when he was at a karaoke bar where a certain Abbath (from the split-up black metal-band Immortal) showed his singing skills. Jim asks us if we've heard about the rumours that Immortal would re-unite next year (we hadn't) and then says that he is crossing his fingers. Finally, he spits out his "snus" (a form of tobacco that you put under your lip - very popular in Scandinavia) in the trashcan in front of two clearly chocked interviewers. Apparently, it's a bad habit he picked up on the road while touring with In Flames. After this unexpected exposure, Jim and his band mates put on another great show, and hopefully they will come back soon.
-------------------------------------------------------------------

See also: the review and the photos from the gig the same night.

Related links:
www.nevermore.tv