Interview conducted November 23 2008
Interview published December 10 2008
I was so excited to hear that Lordi would be doing a small US tour in November. I was even more exalted to hear that Lizzy Borden would be the opening axe. The show was an awesome display of blood and gorgeous passion. After the carnage, Wendy and I were invited backstage to hang with the Dr. Sin and his band of Supermonstars.
I was also blessed with opportunity to converse with drummer Sampsa Astala whom fans know as Kita. We briefly discussed the new album - Deadache. In this paradise, we let loose our beast intentions and made ready the arockalypse. Now tell me, who's your Daddy!

MettleAngel: Man, talk about the Texas switch, I was all set to speak with Mr. Lordi, and he had to cancel, so he could get out of his sweltering costume. I guess he was a bit ill this evening. I noticed his voice waning and becoming more hoarse toward the end of the show.
MettleAngel: You play New York tomorrow, and I understand that will be a very important show with a special guest from Twisted Sister.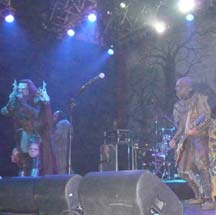 MettleAngel: Well, I am just as pleased to speak with you Kita, it's just that I have to abandon about seven or so questions which I had reserved for him about his restaurant, and what not. Thank You, Kita for stepping in at the last minute. Explain to me how did Lordi get Lizzy Borden to do this US Tour?
MettleAngel: I spoke with Lizzy backstage and he confirmed that both bands shared the same booking agent.



Kita: Yeah, and a band like Lizzy Borden, and even Stolen Babies, who opened the show, really fit in with our style and form.
MettleAngel: Musically, Stolen Babies sound like Siouxsie & The Banshees meets Babes In Toyland. I can see how their appearance and theatrics fit in, though. Lizzy is the original man with the axe, of course. I was bumming that they did not plat 'Give 'Em The Axe', but at least they did play 'Notorious', 'Master Of Disguise', 'We Got The Power' and 'Me Against the World', making use of the TV on stage.
Kita: For me personally, I was not as familiar with Lizzy Borden, as say Mr. Lordi, but we have become friends, and we enjoy having them on tour. Like us, they are influenced by Kiss and Alice Cooper.
MettleAngel: Tell me about it! Lizzy looked like Gene Simmons with his Kubuki style hair, and those enourmous boots. I miss the '80s glam look, which they have not substituted for a more Hot Topic based image. I know Lizzy Borden, like King Diamond, pays homage to the Generation Landslide of psychodrama. They are also influenced by dystopic movies like Clockwork Orange, Blade Runner, & Death Wish 3.
MettleAngel: Check out their Murderous Metal Road Show DVD, to get an idea of what they initiated in the '80s. What is it like visiting the smaller club circuit in America. Venues like The House Of Blues can't compare to your arenas in Europe. Shows of this caliber do not provide for all your pyrotechnic effects.
Kita: Well, for me the music always come first, then the monsters. We don't just want to be associated with the fireworks. Just before we came here, we held a record release party in Finland. There we played the whole new album Deadache, and included a couple of older hits. We did not employ any special effects, not even our backdrop. Everything was stripped down, save the costumes; which is our trademark. The overall impression by everyone in attendance was that we are a tight outfit, who can really play our songs.
MettleAngel: Speaking of tight, I notice you have newer, more updated costumes, do they allow you to breathe better?
Kita: A little, but it still feels like a full body condom. When we tour Europe first of next year, we will have even newer stage costumes. Mr. Lordi will have a cool Dr. Sin costume, and more efficient bat wings. I would prefer to play the drums simply, as the song structure is basic timing; but since I'm a monster, I have to act like a caged beast on stage. This causes me to perspire more quickly.
MettleAngel: Like the drummer from the summer movie The Rocker. Rainn Wilson's character was steeped in sweat after each show. Speaking of the beast, you did not play 'Beast Loose In Paradise', and it is only a bonus track on the Japanese CD. I have the digipak version of Deadache with the bonus track - 'Hate At First Sight'. I would have preferred 'Beast Loose'. I purchased the CD single for that from The End Records. With just two songs in a slim jewel case, I felt like it was the '90s all over again.
Kita: We are actually very proud of all the songs, even the bonus tracks we wrote. 'Beast' is reserved for the movie. We played it a few times at festivals. We want to make room for newer material. We are feeling out the crowd to see what new songs they prefer. If they really demand 'Beast', we'll put it back in the set.
MettleAngel: My five year old son's favourite song is 'Chainsaw Buffet', then 'Blood Red Sandman', which was originally called 'Blood Red Santa', right?
Kita: Yeah, the record company had issues with that, as Christmas songs are more seasonal. 'Chainsaw' is the least succesful song in Lordi's history. We would have dropped that from the album, but we had J.J. French's solo, so we kept it.
MettleAngel: I noticed you did not have any guest stars on the new album, was this intentional?
Kita: On this album, we decided to go at it all on our own. We did not want to rely upon the use of celebrities. Actually, that was a happy accident on the Arockalypse, anyway. We were supposed to have Robert England do the intro on Deadache, but it never panned out.
MettleAngel: That may because he is too busy promoting the DVD for Zombie Strippers or working with F.K.Ü. (Freddie Kreuger's Underwear). These underwearwolves just released a new 7" split CD with Hirax called: 'Twitch Of The Thrash Nerve'.
MettleAngel: F.K.Ü is a Swedish thrash horror amusing band who sound like S.O.D. Zombie Strippers is a new horror/comedy movie with Robert Englund and Jenna Jamison. You should check them both out.
MettleAngel: Well, at least he has declined doing the ludicrous remake of the Elmstreet movie due out next year. So, Lordi has proven that they can play a quality show without all the pyrotechnics. What about all the other comparisons with other bands like GWAR?
Kita: When we started in Finland, everyone though that we were a Death Metal band, because of the costumes. Once they heard the music, they were blown away. As for GWAR, or other comparisons, there are several monster bands on the planet. We each do our own thing, and we all fit in.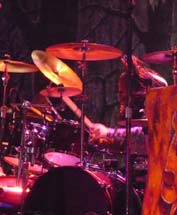 MettleAngel: Yeah, here in Cleveland, Mushroomhead is quite popular. They often get compared to Slipknot. I'm not a fan of their music, but the show is definitely entertaining. Perhaps Lordi should team up and tour with GWAR. Billy Joel is touring with Elton John.
MettleAngel: I did not think Lordi ever did. It's usually press and fans who blow everything out of proportion. What about the production on Deadache, it seemed more modern in tone.
Kita: On every Lordi album we go with a different producer. The songs are pretty much the same formula, so we rely upon the producer to add his special touch. This time we chose Nini Laurenne. He has his own band Thunderstone, so he knows how Lordi should sound.
MettleAngel: I always considered Thunderstone to be Stratovarius clones. The new Lordi songs seem more modern than newer Power/Prog. Metal from Finland.
Kita: Well, the main thing is we did not want to release an Arockalypse Part II. We always strive to move forward, and learn from our short-comings.
MettleAngel: I get it, like with newer Edguy or Avantasia, the production values are beefed up, the songs are heavier; but the basic songwriting formula remains in tact.
MettleAngel: I noticed that with Deadache, the horror elements are definitely in tow. Each Universal Horror theme remains, with a more pronounced vision; less tongue in cheek.
MettleAngel: I relished the moment tonight, when he donned his Dr. Butcher meets Texas Chainsaw Massacre costume while performing 'Dr. Sin'. I was surprised the chainsaw splattered water, and not blood in the classic Blackie Lawless W.A.S.P. fashion.
Kita: Well, with certain clubs, we have to be careful. Anyway, Lizzy already covered the crowd in blood smears during his live set. So we use water to wash off the blood. (chuckles).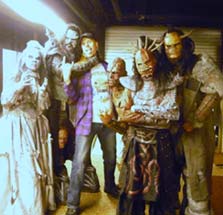 MettleAngel: Lizzy definitely spread the blood around earlier,, when they played 'There Will Be Blood Tonight', he came up to me, slapped my hands together, and smudged fake blood all over my fingers and palms. I still have cherries jubilee hands. (MettleMaiden): Yeah, Michael could not hold onto anything, his hands were covered in red sticky syrup. He immediately rushed to the restroom after the set, to wash off the blood; but to little avail. I so celebrated seeing you on the Ozzfest Tour summer of 2007. Did that expand your audience and fan base here in the States?
Kita: Of course, until then, other than the internet, we were relatively unknown here. After Ozzfest, we established a strong fan base. Once we returned with Type O Negative, we solidified our crowd attendance. Now, many fans older, and young, really appreciate the music, and the monsters.
MettleAngel: That is awesome to hear!
Kita: We are still taking baby steps here. We are not an overnight sensation, but we are steadily building up a loyal fan base in America. We so love to play here, and the region is so vast.
MettleAngel: The show tonight really exemplifies this. You really played a variety of new material. What are you favourite new songs?
Kita: For me personally, I really like 'Man Skin Boots' and 'Dr. Sin'. However, I really love to play all Lordi songs live. We each have our own songs we most prefer. I think 'Hard Rock Hallelujah' is a bit overrated, but it is our most famous song, and one of the key reasons for our success.
MettleAngel: All the songs Lordi writes are killer. I so rejoice in that strong '80's vibe. The Twisted Sister, Accept, Mötley Crüe, Skid Row, Kiss sound is so infectious and fun.
Kita: We play the music we like to hear. We sound like those bands, because they are our influences, and we are proud to declare that.
MettleAngel: Kita, thank you for taking the time to indulge my curiosity. I'm sure you are burning up in that costume, so go get refreshed, and thank the band on our behalf. I gave your Tour Manager Rikk a printout of the CD review for Deadache, so feel free to peruse that as well.
Kita: No problem, you are obviously a fan, and we always love getting to know our fans. We especially, apprecaite it when they are in the media, or endeavour to promote us in any way.
MettleAngel: That I definitely will do, and have done. I tell everyone, it is my cause to champion the presence of Lordi in America. You are the band I recommend to the older generation, and the young alike.

See also: review of the album Deadache
Related links:
www.lordi.fi
www.myspace.com/lordi
www.ozzfest.com/profile/lordi