I knew I had achieved my victory when I spoke with Thomas Christian Hansen after Gaia Epicus had just performed their amazing live set on their first ever visit to the states. Thomas and the rest of the band were exhausted after the show in Minneapolis; so we decided it would be better to do an e-mail interview after he returned home and got himself settled. Wendy & I searched our heavy metal hearts, and chose to seize the day, follow the sign, and give in to the hand of fate; so that we may awaken the Norwegian monster of mettle who crushes the fortress of solitude. I turn us into inquisitive minds musing over miracles and melodies; as we dive inside the storm of Thomas' symphony of glory, and his surprise of the empire Star Wars toys, which we bought for him and Joakim. Their new CD still has no release date; but once Gaia Epicus is signed these megapower thrashers will bring deth in their wake!

MettleAngel: How well did you enjoy your first trip to America? what was the best part of your visit?
Thomas: We enjoyed our trip very much, and we all had a blast. The best part? Well, it's hard to say, because there was alot of good parts; but playing for the American audience would be the best, I think. We enjoyed meeting alot of great metal friends, bands, and of course journalists that brings toys :) he he.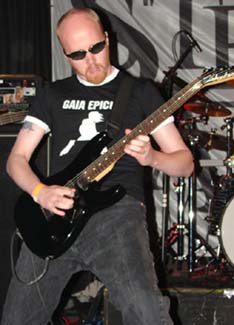 MettleAngel: Besides the obvious technical problems when you performed live, how did you like the concert, overall? Do you feel that you received a decent crowd response? What band were you most excited about seeing perform in Minneapolis?
Thomas: Yeah, we had problems with both guitars and our playing was affected by this. The band has done much better concerts than what we did in the US, but I think no one else noticed that; because we have been getting great live reviews, and the people we spoke to said we were great. In fact many have said that we were the best band on the festival, and that means much to us. While playing I did my best to connect with the audience and I think we did well. The only band I was looking forward to see was Tankard, and they delivered the goods, but there were alot of great bands playing at the festival.


MettleAngel: Is the line-up you currently have the definitive assemblage for the music which you are now creating? How long has this line-up been together?

Thomas: Yes, I think we are playing great together and with some more live shows we will become a great band, for sure. Hans (bass) joined last summer and Ole (drums) joined the band last fall, so this line-up has been together for one year now.

MettleAngel: How did you find Hans & Ole? Do you think they truly add to the Gaia Epicus sound? Hans is quite a bassist...how long has he been playing? What about Ole, I just received his other black metal band Tremor which I'm excited to hear; well once he sends me some English translations?
Thomas: I got contacted by Hans through an e-mail where he asked if we were still looking for a bass player. At that time I didn't know who he was, but he also sent me a link to a bass solo he had played live many years ago. After seeing that video I was totally amazed by his playing skills and he got the job very quick. I can't remember how long he has been playing, but it's been a few years I think. We now had to find a drummer and Hans gave me some names of drummers, I could check out. We ended up with trying out Ole, and it worked great so we took him aboard. Ole actually has many bands/projects so it's hard to keep track of all of them... hehe

MettleAngel: Briefly explain the frustrations you had with Sound Riot Records. What exactly are you searching for in a new label?
Thomas: To put it short: they have screwed every band that has been signed to their label. This time they screwed the wrong band, and it backfired at them. A new label should first of all be honest, and then know how to run a record company. They should understand that to sell albums (make money) you have to spend money. You must promote an album to let people know it exists, and if the company is having some trouble or whatever, let the bands know about it. Good comunication is important!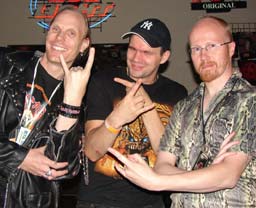 MettleAngel: Why do you feel that so many labels like Nuclear Blast & Dockyard1 have turned you down? You are so much better than so many bands being signed these days? Why can't these labels think of the fans and not their bank accounts?
Thomas: Hmm... this is hard to answer! All I know is that as long as we have made music and played the music for people, they all like it! Even people that don't like the music style we play think our music is great; so we must be doing something right I guess :) hehe If you take other bands in the power metal style like Stratovarius and so on...they are, of course, great, super bands and it's not strange that they get signed at all. But, we are not a super band and we are not as great musicians, and like I always say, "I am not a great guitar player, but I know how to play guitar, and I am not a great vocalist, but I know how to sing, I am a great song maker and that is what it's all about, music! at least it should be." I do believe that with a great label and good promotion we could become a much bigger band.
MettleAngel: I totally agree with you on this account. Did you and Joakim form the band? Were you both in the other bands like Theater of Pain or Eternal Flame? How long have each of you been playing guitar and keyboards?
Thomas: I formed the band back in 1992 and Joakim first joined in 1996. In 1998 he left the band and didn't return until a year later. So, yes, he was a band member during Theater of Pain and also Eternal Flame, but not as active as before. We did some shows where he didn't play; but ever since 2001 when we changed name to Gaia Epicus he has been big part of the band. I started playing drums some years before I started this band, and my plan was to become a drummer. So, when I started this band I was going to be the drummer, but since our guitar player never came to practice, I took over as guitarist. In other words, I have been playing guitar since 1992, when the band was formed. I play a little keyboard too, but I am not very good at it. I think Joakim started playing one or two years after me.
MettleAngel: What made you decide on such a cool name like Gaia Epicus?
Thomas: We had changed band names a few times before, and sometimes we changed because the music style changed, and a few times we had to change because we found out there were bands using the same name, already. So when we had to change the name in 2001, I wanted to make sure that no other band would have the same name. I also wanted to have a name that was different from other band names, and I wanted it to be a little mystical too.
MettleAngel: Tell your fans what Gaia Epicus means and what the name symbolizes for the band, in general.
Thomas: Gaia Epicus is put together by one Latin word and one Greek word. The word "Gaia" (in Greek) means "earth", and the word "Epicus" (in Latin) means epoch. So to us, the meaning of Gaia Epicus is "New World Epoch".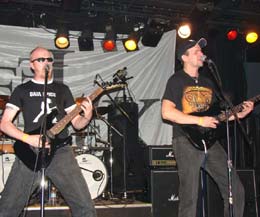 MettleAngel: That's why I so love your name. I'm a scholar of Antiquity, and I love the way you combined the etymology of Greek and Latin terms together. Why did you finally decide to play power metal when the other band incarnations leaned more toward thrash?
Thomas: Well... as you might know we started by playing punk music. At that time we wanted to play something that rocks; but since we didn't really know how to play our instruments, we ended up playing punk music with Norwegian lyrics. As we got better in playing, our music changed and got better too. We now play power metal because that's the music we most like to listen to, but I still think we have some elements of thrash and other styles in our music.
MettleAngel: Absolutely, there is definite thrash and speed metal elements to be found in the music which you have written. Besides Gamma Ray, Blind Guardian, Megadeth, & Tankard what other bands influneced the Gaia Epicus sound? I hear early Angra,Viper, as well as Heaven's Gate in the mix.
Thomas: The bands that have influenced the way I make music are Megadeth, Iron Maiden, Gamma Ray, Helloween, Metallica, Rhapsody, and Stratovarius. I think these are the main bands that have affected my music.
MettleAngel: I just reviewed the new Maiden, and it's my favorite release of the year next to new Tankard, whom I just interviewed. Gamma Ray's Majestic was my favorite CD last year. I still need to play new Rhapsody of Fire, and I'm very excited for the new Megadeth CD coming out next month. I'll be seeing them this weekend at GiganTour 2. I find it a bit risible that Redkey who are members of Heaven's Gate, were signed by Dockyard1, but they denied your talent. What is Piet Sielck thinking? What label would you really like to be signed to in, say a perfect world?
Thomas: Hehe yeah it's a funny world :) Well... I would like to be signed on a Major label that would really put alot of work in promoting our music and gives us totally artistic freedom. If that is possible I don't really care what the name of the label would be. (You should call this Piet and let him have it! hehe).
MettleAngel: If I had gone to ProgPower in Atlanta this week to see Savage Circus, I would have confronted him over this; but sadly I was too sick. We all know you are serious Star Wars fans..those DVD versions of the originals just came out. My three year old son wanted us to buy "Empire Strikes Back" for him; somehow we could not explain to him that we already had it; but our version was the other one from 2004 with the added footage, and different cover art. We ended up purchasing the "Empire Strikes Back" from Wal-Mart with the collectors comic; and the tin box set of all three movies from Best Buy. My son is becoming a big fan. I even got him a Darth Vader mask for Halloween. Now on Satrap the song you wrote called Star Wars is amazing! For the Victory CD, you have written another Star Wars song, called Rise Of The Empire. Briefly tell fans what the new song is all about.
Thomas: The first song Star Wars on the Satrap album is more about the old movies, and the time where Luke Skywalker learns the way of the force and ends up fighting his father Darth Vader. This new song "Rise Of The Empire" was inspired by the three last movies of the fantastic Star Wars saga.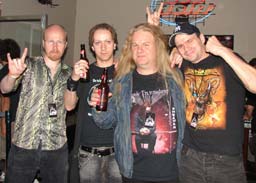 MettleAngel: What's your all time favorite Star Wars toy? Have you seen the interactive talking Yoda which predicts the future like a Magic 8 Ball and still has moving eyes and ears. Next time you are in the states we'll have to get you one.
Thomas: An interactive talking Yoda which predicts the future like a Magic 8 Ball and still has moving eyes and ears, Oh man!!! I must have one :) "Next time you are in the states we'll have to get you one", damn... I am flying over there tomorrow! My favourite thing of my collection would be the light sabers and my Darth Vader helmet. ( Oh yeah, and the new Darth Vader transformer, hehe).
MettleAngel: We'll keep an eye out for the Yoda for you. Did I forget to mention that it also talks and regails stories from all six Star Wars sagas? This is an awesome toy for my son. Back to the band, who did the artwork for the new Victory CD. What does the cover art symbolize for the band? It seems we are moving away from Gamma Ray style into Iced Earth & Running Wild territory, given the imagery.
Thomas: J.P Fournier who also did our first album cover "Satrap" made this fantastic picture. Like our previous albums, we try to have a picture that symbolises the album and what it's about. This time the album, it's very personal, and full of aggression, and the main theme of the cover is that we should all stand together and fight for justice. A quote from the lyrics of the title track Victory is "Brothers of Metal unite, It's time to stand up and fight!!!".
MettleAngel: What can Gaia Epicus fans expect in the future. Any big tours coming up, soon?
Thomas: Expect a new album which will rock your brains out!!! We had a one week tour in the UK lined up in November; but sadly it got cancelled. Next week we start a Norwegian tour, and after that we hope to take on the world! It's hard to make things like this happen, so we must just be patient.
MettleAngel: What is your favorite metal website..and why? If it's not Metal Covenant..you can still answer the question...but we know how much Joakim love's us right?
Thomas: My favorite website would be Blabbermouth, because it has news updates several times a day. Besides that I enjoy Metal Covenant, and also a few Norwegian metal sites, alot. But you are correct, Joakim has Metal Covenant as number one!
MettleAngel: My favorite metal site is Metal Covenant; but perhaps I'm a bit biased. Any questions which you may have for me?
MettleAngel: Alright then I want to thank you so much for taking the time to indulge me, and stay mettle...may the force be with you too...

See also: review of the album Victory »»
Related links: