Interview conducted August 06 2010
Interview published August 13 2010
Fleshwrought's debut album Dementia/Dyslexia is a juggernaut of technical death metal, grind coupled with an intense effort by singer Jonny Davy. Metal Covenant got a hold of the project's mastermind Navene Koperweis to explain why, among other things, he was happy that the album took so long time to write and record.

Martin: Coming from a death metal/grindcore environment"Dementia/Dyslexia" sure does show that you know this stuff, but it also shows some very different influences from all over the place. How did you think about what kind of material you wanted to write for this record?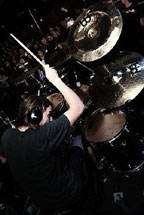 Martin: I'm very much impressed by just how good everything is sounding on the record playingwise. Did you ever think about bringing in any other musicians to play, or did you just think "fuck it - I'm going to play every goddamn note on this record" from the start?
Martin: Writingwise it took quite some time to get the material for this record done. Looking back on this process, did you feel frustrated by this or was it a good thing to take as much time as you did writing the stuff?
Navene: It was a great thing because nothing was ever forced or rushed. It also allowed my to really hone in on what my vision truly was for the cd. When I first started recording the album I didn't have much experience in that field. It's a good thing it didn't come out for a while because I had to learn how to record a full length album!
Martin: Jonny Davy; what made you pick this guy to lay down the vocals? He is doing some fairly crazy shit on this record!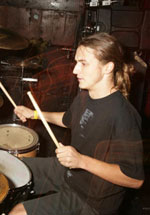 Martin: Being a two man effort touring might get a bit difficult. Are you even going to do this at all?
Martin: "Dementia/Dyslexia" is getting some good reviews. How are you looking at the future chances of us getting more Fleshwrought material, because I sure would like to have some more!
Martin: Once again, thanks for doing this, and thanks for "Dementia/Dyslexia" - it will doubtless be high up on this year's best of list for me!

See also: review of the album Dementia/Dyslexia
Related links:

www.myspace.com/fleshwrought