Interview conducted August 20 2008
Interview published September 02 2008
Swedish Folk legends Falconer have a new album out, and it is really impressive, sure to satisfy old and new fans alike.. There is a strong blend of the traditional Falconer sound, mixed with a bit of older Mithotyn elements. I recently spoke with founding memeber - "Man Of The Hour" - Stefan Weinerhall about weilding the sceptre of introspection, Among Beggars And Thieves, his former band Mithotyn, and the grime and grandeur of producing the chapters, revealed forlorn, through the fields of sorrow, and glades of glory.

MettleAngel: Hello there Stefan, how are you today?
MettleAngel: Well, I'm a bit tired, because I just saw Mötley Crüe last night with my wife and son. His fifth birthday is this Saturday. We also just witnessed the Metal Masters Tour with Judas Priest, Heaven & Hell, Motörhead, & Testament over the weekend; and, I'll be seeing Def Leppard tomorrow, and Alice Cooper on Sunday. After this, I'll be all rocked out!
MettleAngel: Definitely, I am really getting back in to the whole 80's arena rock vibe. I'm more excited about the classic bands, than all these new releases forthcoming, present company excluded.
MettleAngel: I'm really having the time of my life, getting to do so much that I could not do when I was younger, either because of cost, or time constraints. Honestly, I love celebrating metal! This is why I am so excited to speak with you. I want to go on the record, that I have been a Falconer fan since the very beginning. I also followed your former band - Mithotyn. I discovered them on a Black Metal compilation, but the music stood out as being better than most cliche' acts. Your music and songwriting have always inspired me.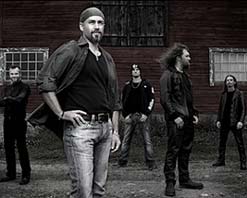 MettleAngel: Back in the day, I paid for all those exspensive and overpriced Mithotyn imports like King Of A Distant Forest, special digipack version. I really loved Gathered Around The Oaken Table too. I bought the Metal Blade licensed edition of In The Sign Of The Ravens, but the packaging was horrible. I've always wondered where you came up with the Mithotyn name?
Stefan: We saw it inscribed on an ancient book about a necromancer, who invoked the name of Odin. We did not want to name ourselves after a Viking God, so we chose the name of the sorcerer. We really like the name, even if it was always being mispelt by reviewers.
MettleAngel: That is easy to do, as it does appear to be a combination of "Mythos" & "Tin". "Mythos" meaning story, or legend, and "Tin" being a medieval reference for time. I thought you deliberately mixed the two up in an anagram to make it more archaic. Speaking of early Mithotyn, I hear aspects of this pagan folk band appearing on the new Falconer album; especially, on the Traditional Swedish tracks.
Stefan: This I will not deny, although, this was not our initial intention. Some songs like "Field Of Sorrow" do lean in that direction. Falconer is an altogether different band, though.
MettleAngel: Yes, I know. On your second CD - Chapters From A Vale Forlorn, you had the song: "We Sold Our Homesteads", which was an adaptation of a Traditional Swedish song. On Northwind there were two more, and you had the bonus disc of Swedish heritage. Now on Among Beggars And Thieves, you have three (four, if you include the bonus track, Swedish songs written in the native tongue). Is this a deliberate choice to maintain the Swedish experience? I know the theme of the new album is the impoverished tradition of dark medieval times in Sweden.
Stefan: I never set out to write three songs in Swedish. I always write the music first. After the positive response of the last album, it felt right to continue with our Swedish ancestral nature. Mathias feels strongly about this, as well.
MettleAngel: The songs sung in the Swedish tongue emphasize the overall essence of the album. As the inviting 'concept' concentrates on the hardships of Medieval Sweden, this makes sense. Sweden is your land, your nation, your history. It is noble how you chose to honor it.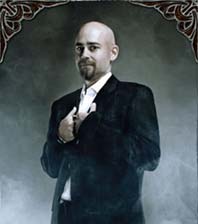 MettleAngel: I know, and I want to tell you, Sceptre Of Deception was also a great album. I appreciate the struggle you underwent to tell such a compelling story. Even if critics, and fans were disappointed, I enjoy it. I also really love Grime Vs. Grandeur! I had no problem with Kristoffer Göbel on vocals.
Stefan: I spent so much time writing the lyrics to Sceptre, that the music suffered. I am also very pleased with Grime. Had I not released that as a Falconer album, I think fans would have received it better. I should have used another name.



MettleAngel: I agree, you could have made it into a side project, or something. Hell, you could have called the band Grime Vs. Grandeur, even. That was a solid metal album, not as folk based. I really like the songs structure on that one, which is why it is my favorite. I love all the Falconer albums, though; and the new one is excellent. I guess some Falconer fans just want all the folk and pagan elements, while others prefer the speed and intensity. I enjoy the mix of both styles. I feel Falconer stands above so many other bands, in this subgenre. You, Unleashed, and Amon Amarth were among the early Swedish bands championing your pagan roots.
Stefan: I do strive to keep the metal in the music. There is more speed on Among Beggars And Thieves, than Northwind, but the folk elements are there as well. We don't want to be another Finntroll. We want a much more melodic approach.
MettleAngel: Well you have achieved that! It's not like with the new Týr, where too many songs are sung in Faroese, and the listener tends to lose interest. Your writing style is definitely melodic, and infectious. Even with Mithotyn, you transcended the traditional Death/Black Metal stereotypes, while incorporating Power Metal riffs akin to early Blind Guardian, Running Wild, & Pretty Maids. Would you ever consider reuniting with the members of Mithotyn, for say a festival appearance?
Stefan: No, I see no reason to bother with that.
MettleAngel: Fair enough, as a fan, I had to ask, given all the recent re-unions like Sabbat, Carcass, At The Gates, etc. I'll stop asking about Mithotyn. Let's discuss the new album. There is such light and shade. I'm drawn to the lyrics, the music, and the passion. I really like the last song, "Dreams And Pyres", with the female vocals, and operatic elements.
MettleAngel: "Dreams And Pyres" seems to deal with Church corruption, but in a majestic manner.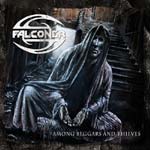 MettleAngel: I've invested a great deal in Falconer albums over the years, as well. Even when I thought I had procured the ultimate edition, along comes the Japanese pressing! I know the European version of Among Beggars will have the bonus track, as opposed to the Japanese special editions in the past. I know you re-recorded "Child Of The Wild" with Mathias on vocals, and you did the split with Nocturnal Rites for the song, "Rock 'N' Roll Devil". Do you ever plan to release those and other rare tracks as bonus editions?


Stefan: Unfortunately, the Japanese companies own the rights to the bonus tracks. This is why I made the bonus track for the European market.
MettleAngel: I'm glad you did so, even if it's another Swedish song (which I have not heard, yet). Northwind did not come out in the US, but the new one will be released here in early September. I encourage fans to get this as a CD, as the packaging is nice, and the historical lyrics are so expressive. In your only trip to the States, you played the BW&BK Sixpack Weekend in Cleveland in 2003. Any plans to return to America in the near future? I assume with Mathias' vocal career, and full-time job, this would be quite a task?

Stefan: Yes it would be a challenge, but we'd be up for something like Prog. Power, I suppose.
MettleAngel: That makes sense, as they have Elvenking playing this year. I want to emphasize how drawn I am to the lyrical base of Among Beggars And Thieves. Like with new Judas Priest, say what you will about the music, and Rob Halford's live performance; the concept is sound. While listening to Nostradamus, I'm compelled by the life and challenges of this man. When I play Among Beggars, I can identify with the plight of the past. I revert to a time when religion and royalty reigned supreme, and Mankind suffered the frail indignity of everyday life. We take so much for granted these days. Back then, it was a real wrestle to endure the realities of poverty, chastation, and disobedience.
Stefan: Exactly, you get where I'm coming from. That is a clever way of putting it.I know it was the same all over Europe, at the time, but this is my tradition, and I'm proud to write about it.
MettleAngel: As usual, the artwork reflects the overall vibe as well. Every Falconer cover so enhances the listening experience.

Stefan: We have always been pleased with Jan Meininghaus' art direction. Somehow, he just attends to the overall theme of the message which I've expressed lyrically. He is able to capture the mood and tone with a single portrait.
MettleAngel: Every Falconer depiction is so suggestive and unique, pallid, ashen, and morose; but, still envisioning the overall essence. Each is immediately recognizable. Will you finally print up T-shirts for the new album?

Stefan: Yes, we have plans to make shirts with the Among Beggars artwork. We will begin with 300, and see how that goes. I don't have as much time to focus on T-shirts, as I would like.
MettleAngel: Well, that sounds great. Stefan, thank you for taking the time to discuss Falconer, and even Mithotyn with a fan.

Stefan: Thank you Michael for all the support, enjoy!

See also: review of the album Among Beggars And Thieves


See also: Song By Song Commentary of the album Among Beggars And Thieves

Related links: