Since I recently reviewed their soul scarred CD, and since Estuary was interviewed last year at Live4Metal.com; where I'm now also a contributing wrtiter; my own flesh and blood dilemma felt it befitting to give fans an update concerning the silence and mind of Estuary, when I saw them open for Cannibal Corpse on July 6th.

MettleAngel: How is the new CD coming along? I know you debuted the new track "Creation Damnation" this evening.
MettleAngel: How did the European tour go?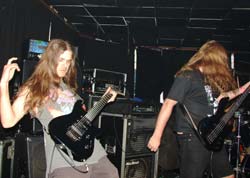 MettleAngel: You used to be known as Estuary of Calamity a few years ago, but after the departure of your bassist and female keyboardist and the arrival of Zdenka as the brutal female vocalist, you just now call yourselves Estuary. Besides the textbook definition, what does the name Estuary mean to you personally?
MettleAngel: Is this why you dropped the "Calamity", which carries a more negative connotation?
MettleAngel: In a sense, the innocence of Estuary suggests equanamity and homeostasis depending on ones perception.
MettleAngel: Quite literally given your talent for writing all the music and your incredible guitar playing. So, who are some of your main influences?
Ash: Well there's so many, but definitely Kreator, Slayer, Metallica, Iron Maiden, Judas Priest, Twisted Sister, Forbidden, Sindrome, etc.
MettleAngel: Oh yeah, Sindrome is highly underrated and their drummer now plays for Speed\Kill/Hate. They even allow fans to download their demos, absolutely free from their website. I'm psyched to hear the new Maiden this fall.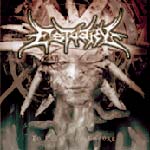 MettleAngel: Those mega-melodic stylings remind me of Running Wild, Blind Guardian, Gamma Ray, and Helloween.
Ash: I love all those bands too, and I listened to them later on, but in my early teens I was into all the death & thrash.
MettleAngel: Hell yeah, me too. Now explain to me how you met Zdenka when she was with Garden Of Shadows?
MettleAngel: What message is Estuary's music trying to express?
MettleAngel: It has to be a difficult strain for Zdenka to perform all those baritone growls, especially given the way she smokes so much.
Ash: Yeah, it was so hot tonight, so her gut-wrenching approach sometimes caused her to run out of breath. This is why I tend to sing the fast lyrics so that she can stop and catch her breath again.
MettleAngel: Well, she sure incited the crowd tonight, what a response!

See also: review of the gig the same night »»
Related links: