Amon Amarth - With Oden On Our Side

*=Staff's pick

Valhall Awaits Me*
Runes To My Memory*
Asator*
Hermod's Ride To Hel (Lokes Treachery Part 1)
Gods Of War Arise
With Oden On Our Side*
Cry Of The Black Birds
Under The Northern Star
Prediction Of Warfare*
Genre
Death Metal

Johan Hegg

Vocals

Tracks
9

Olavi Mikkonen

Guitar

Runningtime
42 Min.

Johan Söderberg

Guitar

Label
Metal Blade

Ted Lundström

Bass

Release
25 Sept. 2006

Fredrik Andersson

Drums

Country
Sweden

-

Keyboards

Similar artists
---

With this release, Amon Amarth marks the absolute highlight of their career so far, and it surpasses the up until now "best album" Vs. The World with several nothes. The general style is basically the same as before and there is no risk mistaking this for any other band than Amon Amarth.

However, the difference this time is that a) The groovy parts are even groovier without losing anything of their heaviness, quite the contrary actually b) It is very melodic, probably as melodic as they can take it at this point without going overboard and be accused of playing power metal, and the riffs and leads are just brilliant c) The vocals are incredibly good and this is Johan Heggs best performance by far. A deep and powerful growl, yet very articulate. d) The production is very fat, clear and juicy and very good in all aspects (except for the guitars, as usual, which I always think are just a tiny, tiny bit too thin) e) The refrains and bridges are without exceptions very catchy.

The only fallbacks on this album are one song (Hermod's Ride To Hel) which never really takes off and does not reach all the way and is "just good", and the simple fact that it is kind of short. Or at least feels short, because it is actually 42 minutes but it feels way shorter. Apart from that, this is a splendid exhibition of melodic metal of the finest school. You have always before been able to rightfully accuse Amon Amarth of being a bit monotone, but even that area has improved and apart from a few short passages here and there that follow the Amon Amarth trademark, and hence "we have heard it before" is a justified expression, it sounds surprisingly fresh and they try out some new angles.

Compared to the previous album Fate Of Norns this is a huge improvement and will most likely, barring any unforseen circumstances, end up on my top-3 list for the year of 2006. This is in fact one of the better albums in the past years and Amon Amarth must now be considered one of Sweden's absolute best bands ever and that says a lot since the competition is razorsharp, to say the least.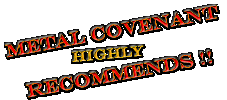 See also review of: Jomsviking , Deceiver Of The Gods , Surtur Rising , Twilight Of The Thunder God , Fate Of Norns

Production

Vocals

Compositions

Summary





9 chalices of 10 - Tommy
Related links: