| | |
| --- | --- |
| Orden Ogan - To The End | Published November 26 2012 |

*=Staff's pick

The Frozen Few*
To The End*
The Things We Believe In
Land Of The Dead*
The Ice Kings
Till The Stars Cry Out
This World Of Ice
Dying Paradise*
Mystic Symphony
Angels War
Take This Light
Genre
Power Metal

Seeb Levermann

Vocals

Tracks
11

Seeb Levermann

Guitar

Running time
55 Min.

Tobin Kersting

Guitar

Label
AFM Records

Niels Löffler

Bass

Release
26 October 2012

Dirk Mever-Berhorn

Drums

Country
Germany

-

Keyboard

Producer
Seeb Levermann
Similar artists
Blind Guardian, Mob Rules

Third album from German power metal quartet Orden Ogan. They play melodic, epic and speedy power metal. It's catchy with heavy riffs, a fast drumplay, massive quires and most important, To The End has strong songs throughout most of the album. Even if the songs are within the same concept, a distinct diversity is present.
The intro, The Frozen Few, is similar to what pirate metallers Running Wild created in the past and forms a positive atmosphere and I feel instant excitement. The six minute thunderous monster and title track To The End and the first single off the album, The Things We Believe In with its epic and catchy chorus, raise the flag immediately. Land Of The Dead is fast and totally crushes with its kind of Blind Guardian meets DragonForce sound.
With the ballad, The Ice Kings, things slow down and to be honest, ballads like this one apparently aren't what this band will build any potential future success on. It fills it purpose as a breather though, before they launch another triple of songs who rule. Fast track Till The Stars Cry Out, heavy and partially epic This World Of Ice and speedy Dying Paradise takes us back to what Orden Ogan do best. Yet again strong songs within their margins and the more I listen to these songs, the better they become.
Fast track Mystic Symphony and heavier and darker Angels War have been part of Orden Ogan's live sets for a long time and by massive demand from their fans, the band eventually decided to now record and officially release them. Both indeed great songs. The last song, Take This Light, is a rather neat ballad, way better than the first one and could probably do somewhat well in a live set.
This is by far the best power metal album I've heard in a long time. I bow myself before their razor-sharp precision to create fast, epic, heavy and yet catchy songs that bury themselves deep within my body. 9 chalices isn't something that is reached too easily. I truly love To The End and I think that this is one of 2012's best metal achievements.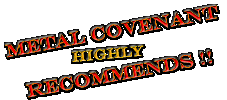 See also review of: Gunmen , Ravenhead , Testimonium A.D.

Performance

Originality

Production

Vocals

Songwriting

Summary





9 chalices of 10 - Tobbe