| | |
| --- | --- |
| Adrenaline Mob - Omertà | Published March 12 2012 |

*=Staff's pick

Undaunted*
Psychosane
Indifferent
All On The Line
Hit The Wall*
Feelin' Me
Come Undone*
Believe Me*
Down To The Floor
Angel Sky
Freight Train
Genre
Heavy Metal

Russell Allen

Vocals

Tracks
11

Mike Orlando

Guitar

Running time
50 Min.

Rich Ward

Guitar

Label
Century Media

Paul DiLeo

Bass

Release
16 March 2012

Mike Portnoy

Drums

Country
USA

-

Keyboard

Producer
Adrenaline Mob
Similar artists
---

Another supergroup. Singer Russell Allen and drummer Mike Portnoy, who both come from well known progressive metal bands, together with multi-guitarist and Sonic Stomp's Mike Orlando as well as Fozzy's guitarist Rich Ward and bassist Paul DiLeo, completes the lineup on Omertà. The latter two has left the band due to other obligations and bassist John Moyer of, the now on hiatus metal band, Disturbed have joined this band about a month ago and from now on they work as a foursome.
This album is much more aggressive and straightforward heavy metal than I would have ever expected, so if you're looking for a progressive album like the ones with Portnoy's former band Dream Theater, go find it somewhere else. The musical performance is near flawless with Allen's powerful voice, Portnoy's blasting drumming with fills and the guitar shredding by Orlando, whose freedom on this release is significant with his riffs, licks and solos.
Omertà opens with Undaunted, one of the best songs on the album, with a melody, rhythms and riffs which could have been on any Disturbed album and I wonder if this was the song that got the bassist hooked. I'm stunned by this song, which also has a ferocious solo and an aggressive chorus. As we rush through this album, it continues with the same heaviness in Psychosane and with melodic tune Indifferent, before it's time for semi-ballad All On The Line, which is well placed as it works as a breather.
With faster and angrier song Hit The Wall and the heavy monster Feelin' Me, this record continues just as great as it started. Come Undone is a wonderful interpretation of popband Duran Duran's old song with guest vocalist Halestorm's Lzzy Hale fabulous performance. I had never heard the original version before, so I checked it out and I must say that Adrenaline Mob's version is about 1000 times better. Perhaps I'm disqualified though, since I prefer heavy metal over popmusic.
Believe Me and Down To The Floor are two songs that really sticks with their heavy verses and catchy choruses. Ballad number two, Angel Sky, is a pretty tune with its acoustic guitar and Russell's captivating voice. Last song on the album, Freight Train, is another heavy track and just as good as the rest.
Unfortunately I only get to pick four songs for Staff's pick, as most of the songs totally rule and when I sum up 2012's best albums, this one will definitely be up there fighting for one of the top spots. If I was in charge, I would tell these guys to stop any activity with other bands and go full throttle with Adrenaline Mob, because this is one hell of a record and one hell of a band.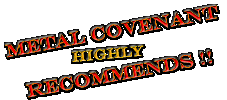 See also review of: Men Of Honor

Performance

Originality

Production

Vocals

Songwriting

Summary





9 chalices of 10 - Tobbe
| | |
| --- | --- |
| Related links: | |