| | |
| --- | --- |
| Hell - Human Remains | Published April 21 2011 |

*=Staff's pick

Overture: Themes From 'Deathsquad'
On Earth As It Is In Hell*
Plague And Fyre*
The Oppressors
Blasphemy And The Master
Let Battle Commence*
The Devil's Deadly Weapon
The Quest
Macbeth
Save Us From Those Who Would Save Us
No Martyr's Cage*
Genre
Heavy Metal

David Bower

Vocals

Tracks
11

Kevin Bower

Guitar

Runningtime
66 Min.

Andy Sneap

Guitar

Label
Nuclear Blast

Tony Speakman

Bass

Release
13 May 2011

Tim Bowler

Drums

Country
England

Kevin Bower

Keyboard

Producer
Andy Sneap
Similar artists
Angel Witch, Grim Reaper, Tygers of Pan Tang

Although Human Remains is the so-to-say debut album of British heavy metal band Hell, their story begins a lot earlier than that. About 30 years from now, to be specific. Formed in 1982, they toured heavily during the early '80s and eventually split up in 1987 following the tragic suicide of their singer, Dave Halliday, and never actually got to record an album. Some 20 years later they reformed and today they feature renowned guitarist/producer Andy Sneap and vocalist David Bower, the brother of guitarist Kevin Bower, in their ranks.
There are no newly-written songs on Human Remains but a selection of revamped song from the '80s which never got to be recorded on a full-length album. After a short, orchestral track, the album kicks off with the amazing On Earth As It Is In Hell, which actually is one of the best heavy metal songs I've heard in a long, long time and without a doubt a future live classic (once again!). The guitar sound is incredible and the overall sound is great - which is a relief since I have some mixed feelings regarding Andy Sneap in this matter.
Next song is the majestic Plague And Fyre, where David Bower really comes into his right. Apart from how well he sings the higher tones, he has an incredibly theatrical voice that adds a lot to the songs and brings an extra dimension to the music.
The album continues in the same spirit with the slower and heavier The Oppressors, the epic Blasphemy And The Master, the old concert-opener Let Battle Commence and the more experimental The Devil's Deadly Weapons. Great songs, all of them.
To say something remotely critical about this album: I don't really care for The Quest or Macbeth. They are good songs - more than just "good" songs, even - but I just don't feel that they are at the same level as the rest of the songs. Save Us From Those Who Would Save Us, however,is a great song that definitely will get stuck in your head for a long time and when the last tones echo out after the epic, heavy composition No Martyr's Cage, I can't help but want more.
Apart from the overall pure quality of all the riffs and vocals, one of the biggest strengths of Human Remains is the attention to detail - small variations and nuances here and there which make every song stand out; and the songs just keep getting better and better every time I listen to them.Hopefully their debut album, after almost 30 years, will finally gain Hell the acknowledgement they deserve.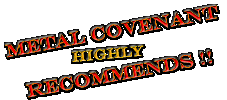 See also review of: Curse & Chapter


See also: interview with Andy Sneap

Performance

Originality

Production

Vocals

Songwriting

Summary





9 chalices of 10 - Bjorn
| | |
| --- | --- |
| Related links: | |