Interview conducted May 02 2011
Interview published May 06 2011
Best of enemies and Metalheads of History, time has come, your dreams, we've heard, and answered. Hell is here! Highly acclaimed Metal producer and masterful musician - Andy "Undie" Sneap - returns from the sabbatical of playing live, and unearths - 'Human Remains' - the long awaited album by his influential UK act. Indeed, dark forces do dream, and deliver upon request.
I hold such high regard for this guitarist who I met a few years in Chicago. Even though I was a bit dumbstruck, his humane, often awesome, scary tales remain close to my heart; even if I am mourning and broken over the exodus of Martin Walkyier.
Andy checked in with me, while waiting for his flight to depart from L.A., after having witnessed the "Big Four" perform, and thus spent some quality time hanging about with his friends Chris Jericho and Kerry King. We discussed the masterful production of the new Accept, and some other matters of blasphemy; since the new Hell album is universally receiving choice, bizarre, and a stranger than bitchin' response.
Fukin' Hell...save us from those who enslave us! Even the mighty have fallen in lust with the Devil's deadly weapon. No matters gauged will plague us from feeling the wildfyre of Hell. Let the battle commence....

MettleAngel: Hey brother, I guess you just finished your Nuclear Blast online fan chat, and now you are calling me?
Andy: Yeah, my flight does not leave for a few hours, so I decided to contact some journalists to chat about the new Hell album.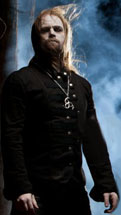 MettleAngel: We actually met in Chicago while you were touring with Sabbat a few years back.
MettleAngel: Yes, if you recall, you had my wife Wendy sitting in your lap, while I was talking to Giz of English Dogs in search of a sharpie to sign my shit.
Andy: Ahh, yes, you were more concerned with having a chat with him, than your wife. You know it was all a bit of fun, and there were no worries.
MettleAngel: Oh I know, and she was so excited after seeing Sabbat. I had interviewed Martin Walkyier earlier that day, and we were so high on the mettle moment.
Andy: Yes, it was a small crowd, but they were totally into it. The after party was a good time too.
MettleAngel: I actually spoke with Martin about him working with you in Hell. I was surprised when I saw the video last month for 'On Earth As It Is In Hell', only to discover that Martin was no longer your vocalist, having been replaced by David Bower.
MettleAngel: So did Martin work on the new Hell album at all?
MettleAngel: Then what happened?
MettleAngel: Although, some of the songs still do...
Andy: Well maybe my guitar playing does, since I was influenced by Hell, but not David's vocals. You know how Martin sings, and we did not want that sound.
MettleAngel: I assume you are referring to his trademark lisp, "The clerical conspiracy begins-ah...we shall wash away your sins-ya...we have come to purify-ahh!
Andy: Yes, you know! We truly wanted to honour the late David Halliday with a vocalist closer to his style, and attitude.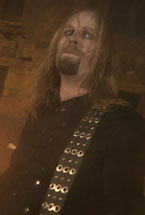 MettleAngel: I never had a chance to hear those original demos. I read reviews that claimed Dave H. had a unique voice, almost erratic at times like Jello Biafra of Dead Kennedys.
Andy: I have read that too. If you have never heard the demos, then you will for sure want to get the digipak version of the album. It will come with two discs: the entire new album, with a booklet explaining the history of the band, and a bonus disc with all the demos re-mastered.
MettleAngel: No way! This is a true Metal History whose time has come! I did not know that! I will for sure want to get that one! I have been playing the album every day for well over two weeks. I love it! I have been reading some extremely favourable reviews.
Andy: Yes, the press response has been excellent. We knew we were going to replace Martin, once Kev Bower's brother Dave came into the studio and sang back-up vocals for "Pagan Fyre".
MettleAngel: So it was then that you realized that he was more suited for the job?
Andy: Yeah! I love Martin, and it was a tough decision to let him go. We just knew what we wanted to be in the best interest of the band. This was a painful choice, because Martin had already recorded the whole album with us.
MettleAngel: I am sure it was a costly decision as well.
Andy: It is not about ego, or anything. We all wanted to do what we knew was best for the future of this band. Dave (Beckford) Bower comes from the entertainment industry, and he has a very unique vocal approach, and stage persona. He is like Geddy Lee meets...
MettleAngel: King Diamond!
MettleAngel: I assume that there are some punk influences in the music as well. When I hear a song like "No Martyr's Cage", I am amazed how much it sounds like Voi Vod, but I know it came before 'Killing Technology'. I also hear early Satan, Paralex, Pariah, Early Satan's Host, and of course Mercyful Fate.
MettleAngel: Oh, because Anihilated, Virus, and Onslaught all came from that era. Speaking of bands in that Metal milieu, I imagine the only non-Metal band you ever produced was English Dogs. As you know from my stalking of Giz, I am a big English Dogs fan.
Andy: Giz is a great guy. I have known him ever since '87. Yeah, English Dogs might be the only "Punk" band which I have produced, come to think of it. I just became Godfather to Giz' new lad, not too long ago.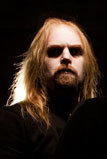 MettleAngel: I wanted to ask you if all the songs on 'Human Remains' are originals, or if you wrote one or two new ones. I love the lyrical message of "The Quest".
MettleAngel: I remember when I first saw the video for "On Earth As It Is In Hell" at You Tube. I love it, but I laughed at all the unfounded responses which mocked the band in ignorance claiming that you were too much like Cradle Of Filth or Dimmu Borgir.
MettleAngel: Save us from those who enslave us!
Andy: (Laughs) We actually influenced so many bands like that. They proudly admit that, and know that these kids are ignorant, and it is essentially the other way around.
MettleAngel: Oh I know, and I was pleased to see one response that set the record straight. I did not even know about the band, until we were on the road to Sabbat in Chicago, and my friend wore the Hell shirt. I know he has a few original demos on tape.
MettleAngel: I have to admit, back in the day, the stupid band names did discourage me from discovering some stellar masters! I would not listen to Satan, for example, just because the name was so banal. Now I love them, and would have enjoyed seeing them play at "Keep It True".
MettleAngel: Now Satan's Host have just released their new album called - 'By The Hands Of The Devil' with Harry "Tyrant" Conklin back on vocals giving the Metal Hell!
MettleAngel: Thank You! What is even funnier is that they took The Beatles song "Norwegian Wood", kept the music, sped it up faster than Realm's cover of "Eleanor Rigby", and made the lyrics about Church burnings.
Andy: Funny you should mention silly names, because while I was in L.A., I just saw "The Big Four" play, and Slayer nailed it.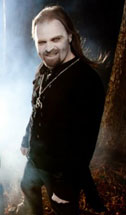 MettleAngel: I know a number of people who went to that. While we are also on the topic of The Beatles, Have you read Chris Jericho's new book?
MettleAngel: I read his first book - A Lion's Tale: Around The World In Spandex. I have encouraged my wife to read it as well. She is really enjoying it, and neither of us are even wrestling fans.
MettleAngel: I know! I am almost done with his reading his new book - Undisputed - which is quite the tome. His allusions to obscure Metal references, even when discussing wrestling, are incredible. This fuzzy little storm giant, though, has a very interesting tale about you, Paul G. from "Metal Edge", and him all having a wild night on the town.
MettleAngel: I love his Danny Devito references; because his knowledge of television and movies is also infinite. He refers to Louie De Palma from "Taxi", as well as Danny's characters in both "Twins" & "Romancing The Stone", just to allude to that diminutive little man at the door.
MettleAngel: His favourite band is the Beatles, and not Maiden, though...
Andy: Yeah, and he will literally bore Adrian Smith to death, telling about tales of old; most of which Adrian himself cannot recall.
MettleAngel: However, Adrian's son is a huge wrestle fan, and he loves Chris Jericho, which allows Chris an in with Adrian. If you have not read the book, I highly recommend it. I am sure you get asked about your producing quite often, but I want to congratulate you on your work on the new Accept.
MettleAngel: That was my favourite album last year! I just recently heard the Japanese bonus track called "Land Of The Free". That song is amazing; I am surprised that you chose to make it a bonus track.
Andy: Well, Wolf, Peter, and I did not feel it was just up to par with the rest, and you have to give the Japanese something special.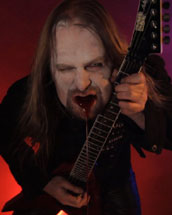 MettleAngel: I agree, but that song is better than "Bucket Full Of Hate", which they play live in lieu of "TV War". I spoke with Wolf last year, and he claimed that you really forced him to revisit the past catalogue when it came to writing the new songs.
Andy: Yeah, I had to sit Wolf and Peter down like two school boys and scold them, in order to get them to realize how important certain parts of old Accept were, and how vital they are to recapturing that Classic sound.
MettleAngel: Well, I commend you on your work!
MettleAngel: I recognize that name from Chris Jericho's book. He refers to him as "Fozzy's visual timekeeper".
Andy: Ed Aborn assists Chris with his website. He also worked with Wolf on his photography site. I was amazed when we were talking one day, and he was wearing a 'Metal Heart' shirt. He told me about Accept being back, and put me in touch with Wolf.
MettleAngel: That is so damn cool.
Andy: I received this signed 'Breaker' poster in the post which said, "To the best producer, who I have never worked with". This got the ball rolling. I even funded their recording time. I met with Gaby and the band in Nashville. I figured we would work on the album, and they could shop for a record deal.
MettleAngel: I am so grateful that you both ended up with Nuclear Blast. How do you find the time to produce so many great bands? Do you get to pick the ones with whom you desire to work?
Andy: I try to be selective, and decide what I can do for the different bands. I have to scrutinize even more now with booking studio time, and focusing on Hell.
MettleAngel: How did you get started doing all of this? Before I noticed you being credited as producer for some excellent albums in the '90s, I just remember you being in Sabbat, even after Martin's departure to join Skyclad. I will admit that I do like 'Mourning Has Broken'. That is a solid album.
MettleAngel: I heard it the same time as I heard 'The Human Factor' By Metal Church, so I noticed musical similarities there.
Andy: Hmnm, I can see that. After Sabbat came to an end, I was selling guitars in Nottingham. Then in '96 I met up with Colin Richardson. From there everything took off.
MettleAngel: I have a friend who refers to you as the "Rick Rubin" of Metal.
Andy: Oh really? I just do what I can for a band. Once I made my contacts with Century Media and Roadrunner, I began to get some great offers. Me, Peter Tägtgren, Fredrik Nordström, and other famous producers all began to learn from one another.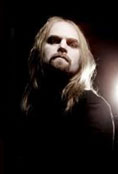 MettleAngel: I do not know a great deal about Machine Head, but my one friend claims that your production saved the 'Through The Ashes Of Empires' album. He also told me about a dude who picked up Pissing Razors, simply because the production was so good.
MettleAngel: Personally I love your work with Exodus, Kreator, Cradle of Filth, & Blaze Bayley. Will you still be producing albums, now that you want to focus on Hell?
Andy: Well, Yes, and No. I definitely have to decide if the band is right for me, and then factor in all my scheduling conflicts.
MettleAngel: What it is like working with Mr. Mustaine in the studio?
MettleAngel: Uh-oh, did Dave take umbrage to you being in a band called Hell?
MettleAngel: It is a shame, because 25 years ago Megadeth would have cited a band like Hell as a reference. Now, Dave will not even play "Go To Hell", which is from a "Bill And Ted" sequel. I cannot believe they are making another one of those movies, either!
Andy: I know, and I do not want to get on Dave's bad side or anything, so I just told him I could not do the next album.
MettleAngel: Speaking of touring, are you planning anything for the U.S.? The Sabbat tour was only four shows!
Andy: If we tour the States, it will have to be a big package deal. In Europe and abroad we are booked for several festivals. From late May, in a few weeks, all the way through August, we are going to be performing at many big venues.
MettleAngel: Well Brother, it is always a delight to speak with you, and I am so grateful that the new Hell album is almost out. I will encourage everyone to get the digipak or vinyl version. Thank You for everything!

See also: review of the album Human Remains
Related links:

www.hell-metal.com
www.myspace.com/hell
www.andysneap.com