Astral Doors - Evil Is Forever

*=Staff's pick

Bride Of Christ*
Time To Rock*
Evil Is Forever
Lionheart
Praise The Bones*
Pull The Break*
Fear In Their Eyes
Stalingrad*
From The Cradle To The Grave*
The Flame
Path To Delirium
Genre
Heavy Metal

Nils Patrik Johansson

Vocals

Tracks
11

Joachim Nordlund

Guitar

Runningtime
49 Min.

Martin Haglund

Guitar

Label
Locomotive Music

Mika Itäranta

Bass

Release
09 Feb. 2005

Johan Lindstedt

Drums

Country
Sweden

Jocke Roberg

Keyboards

Similar artists
Dio, Black Sabbath

The new effort from Astral Doors continues where the last, critically acclaimed one, left us. For those of you that are not yet acquainted with the band, they can best be described as being a hybrid of riffs from for example Dio (Time To Rock, Pull The Break)/Black Sabbath (Praise The Bones), with awesome vocals resembling Tony Martin/Dio, with emphasis on the first mentioned, but much more powerful.
This time they sound a bit more "on their toes", so to say, with a bit sharper guitars and more distinct riffs, and especially way better choruses (Bride Of Christ, Time To Rock and Lionheart, to name a few, are honestly to die for). At the first encounter with this album, it felt like a bit more of a "grower" than the last, which was more straight on, but after a few spins it sinks in and the magnificence reveal itself, and you realize that this is heavy metal in it's noblest form. This is still very basic and mainly uptempo, and with quite a few refrains that are so simple in its structure that it's genius. Just what have proven so many times to make a great song or album. As before, many of the songs as clearly made directly out from the blueprint of the succesful bands of the 70's and early 80's: Dio, Sabbath, Rainbow to name a few. Even more now than on the last album, but better done this time.
The opener Bride Of Christ is an uptempo, straight to the point song, with a monster chorus that immediatly sticks to your brain. It is followed by a more midtempo and charming tune with very, very strong Dio vibes in the chorus. The following Evil Is Forever starts with an organ bit that makes me think of If God Was One Of Us with Joan Osbourne, but soon transform in an epic tune, backed by heavy riffs and a very mighty Sabbath oozing refrain. The rest of the album goes on in a very determined manner, in a good tempo. Lionheart, Praise The Bones and Pull The Break is a awesome trio, and the album here reach one of its absolute peaks, and I am close to being ecstatic. The only song that ends up in the category average is Stalingrad, and it immediatly after that picks up again with the uptempo and semi epic From The Cradle To The Grave, followed by an even faster The Flame where they drop another great chorus on us. It is all rounded off with a slower epic bit, containg an equal dose of Sabbath/Dio.
As earlier mentioned this is made with more self confidence and pondus than last time, and that is clearly reflected in the music. The refrains are very strong this time, there are a lot of sharp and delicious riffs, and they really nail some great choruses on this one. The vocals by Johansson (also vocalist in Wuthering Heigths) is of course a very big part of the success. He is truly awesome, and here also shows in a few songs that he master the art of singing clean, as well as so powerful as we have heard him before, and he's really amazing. In my eyes perhaps the world's best at the moment for this style of heavy metal.
The production is very thick and heavy (produced by the band themselves, and mixed by renowed Peter Tägtgren in Abyss Studios), and it is a much fuller sound picture this time, and during the more epic parts (Raise The Bones, Evil Is Forever) this is spine chilling. Once again Astral Doors have created a solid buy for you who long for the good, old times when giants like Black Sabbath and Dio created masterpieces. I once again stress the fact that this is better than anything the legends have ever done, and it's presented in a very delightful, modern shape that make it sound very fresh. This is how I have waited for type of metal to sound, and if it's done this good, I could not care less about all references and comparisions to the old classic bands. Astral Doors was certainly not just a one hit wonder - this really rocks!

See also: Song By Song Commentary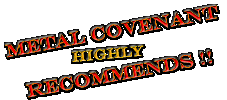 See also review of: Notes From The Shadows , Requiem Of Time , Astralism , Of The Son And The Father , Raiders Of The Ark

Production

Vocals

Compositions

Summary





9 chalices of 10 - Tommy
Related links: