In Flames - Come Clarity

*=Staff's pick

Take This Life*
Leeches*
Reflect The Storm
Dead End*
Scream
Come Clarity*
Vacuum*
Pacing Death's Trail*
Crawl Through Knives*
Versus Terminus
Our Infiinte Struggle
Vanishing Light
Your Bedtime Story Is Scaring Everyone
Genre
Melodic Death Metal

Anders Fridén

Vocals

Tracks
13

Jesper Strömblad

Guitar

Runningtime
48 Min.

Björn Gelotte

Guitar

Label
Nuclear Blast

Peter Iwers

Bass

Release
03 Feb. 2006

Daniel Svensson

Drums

Country
Sweden

-

Keyboards

Similar artists
Soilwork, The Haunted

In 1994 In Flames released their very first album Lunar Strain, and with every new release since then their fanbase have growned in size. However, it wasn't until their two latest albums Reroute To Remain (2002) and Soundtrack To Your Escape (2004) that they really got the recogniziton they deserved, both in the media and on the sales. But how do you follow up two succesful albums like these without repeating yourself? Well, with Come Clarity, In Flames have gone back to their roots and yet managed to develop their sound. It gained them a #1 spot on the Swedish album chart.
Take This Lifeis a bit more challenging than the first singles (Cloud Connected and The Quiet Place) from the two previous In Flames-albums. The verses are pure death metal in the vein of old masters At The Gates, while the melodic chorus has shades of Soilwork's older stuff. Definitely one of the best pieces the flames have created, and the top song of the album. It also immediately strikes you how sharp the production (done in both Dug Out Studio and The Room) has become. In Flames' albums have always had great sound, but this is nothing short of immaculate.
It would also seem that Anders Fridén have taken singing lessons, given that his clean vocals are so damn impressive. On the song Leeches he mixes brief, angry outbursts with a chorus that is so catchy that it glues to the listeners mind. It is during the more sophisticated tracks that he really shines, though. Reflect The Storm is definitely inspired by the current emo-wave that is going on in the metal world, and the title track is a ballad that he wrote to his one year old daughter. Here he sings about how she has changed his life to the better and made it more meaningful. A very emotional song that definitely has commercial value too, which is probably why it will be the next single.
Another track that deserves mentioning is Dead End, which is a duet with the Swedish pop singer Lisa Miskovsky, who surprised everyone when she revealed that she used to sneak in to Meshuggah- and Refused-gigs when she was a minor. The collaboration with In Flames should mean that she will get the respect she deserves from all the rockers over the world. Especially as the song is such a succesful fusion of Evanescence-goth and guitar solos that echoes of Iron Maiden. One has to ask himself if this means that In Flames will do a guest apperance on the next Miskovsky-album?
In Flames have always been reliable live-performers, and Come Clarity definitely contains a few gems that will gild their set lists for many years to come. Vacuum is an enormous arena-beast, that contains a segment in the middle that will make everyone in the crowds clap their hands. Crawl Through Knives was originally going to be the title track, and it's easy to see why. The apocalyptic feeling that the song brings should make it perfect as a set closer. I was a bit skeptical towards the track Scream at first, but now I realize that it has huge live-potential. But why does it sound like Anders sings about ice cream in the chorus?
There isn't a single weak track on Come Clarity, and the material is just as strong as on the masterpiece Clayman (2000). It contains hit singles, ballads, killers and must be considered as one of their best albums so far. Perhaps even the greatest. One thing is for sure; it establishes In Flames as the front runners of Swedish metal.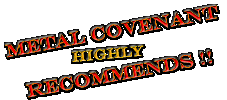 See also review of: Battles , Siren Charms , Sounds Of A Playground Fading , Soundtrack To Your Escape

Production

Vocals

Compositions

Summary





10 chalices of 10 - Niklas

A decent album but really nothing out the ordinary. I am of the opinion that In Flames' music has become too messy and unstructured the past years and this album does not give me any reason to change opinion. There is a slight step back toward the earlier and melodic days combined with the sound of the past and modern years, but the result ends up in no mans land for me. Apart from a couple of killer songs (Dead End, Crawl Through Knives) there are not much that I find especially interesting, only acceptable. Enjoyable for the moment but the music is too pretentious and I am also starting to become really fed up with the screaming, distorted vocals now which I think most of the times are just annoying. //Tommy (6 of 10)
Related links: