| | |
| --- | --- |
| Cannibal Corpse - A Skeletal Domain | Published September 13 2014 |

*=Staff's pick

High Velocity Impact Splatter
Sadistic Embodiment*
Kill Or Become*
A Skeletal Domain
Headlong Into Carnage
The Murderer's Pact
Funeral Cremation
Icepick Lobotomy*
Vector Of Cruelty
Bloodstained Cement
Asphyxiate To Resuscitate*
Hollowed Bodies
Genre
Death Metal

George Fisher

Vocals

Tracks
12

Rob Barrett

Guitar

Running time
44 Min.

Pet O'Brien

Guitar

Label
Metal Blade

Alex Webster

Bass

Release
16 September 2014

Paul Mazurkiewicz

Drums

Country
USA

-

Keyboard

Producer
Mark Lewis
Similar artists
---

My main question before the release of 'A Skeletal Domain', Cannibal Corpse's 13th full-length, was if they could come even close to its monstrous predecessor 'Torture'? The 2012 effort showed the band reaching its peak in the Corpsegrinder-era after a few flicks in the beginning before reaching a consistent quality, slowly evolving their sound in a slightly more technical direction. Are the Floridians up to the task of matching their late-era highlight? The answer is simple: Cannibal Corpse has fired up their chainsaws to cut your f**king head of and chow their gore, horror and filth directly down your throat!
As a fan of the band you know very well what to expect of a new Cannibal Corpse album and 'A Skeletal Domain' comes with no big surprises, brutality and technicality the classical Cannibal Corpse way being the agenda here along with some latter-era catchiness in 'Kill or Become'. Mazurkiewicz's drumming flows as easy as always between tempo changes, hooks and twists with the occasional oddly placed hits. Webster rumbles on with bass lines that tend to live a life of its own, coherent with the other instruments, but out of a different world at the same time. The bass has been given an exemplary audible position in the mix, anything else for the top bass player in death metal would have been close to punishable.
It does however suffer from a poor production job being way too hollow for my taste and deserves better. Apart from this flaw, which is the only main flaw of the album really, the mix and production is great. Unmistakeably modern in its clarity it puts the brutality forth in a stripped way resembling the bands earliest efforts. Many of their contemporaries fall in the easy wall-of-sound-trap to achieve this brutal feeling, the intrinsic brutality of 'A Skeletal Domain' comes to life on its own.
O'Brien's and Barrett's guitar work follow their usual intense yet catchy and technical style with deadly riffs intertwined with contagious twists and hooks. A few tremolo lines here topped with an arpeggio pick there and a varied selection of solos, some being screaming Slayer-esque and some being upright Autopsy-eerie, does the trick as many times before to balance the brutal and technical. The technical twists and turns in 'Asphyxiate to Resuscitate' are simply mind-blowing.
The cherry on the cake of gore, Corpsegrinder's vocals, follow their usual guttural and well-pronounced style as if he was still recording 'Vile'. So, business as usual in the Cannibal Corpse-camp? Yes, but also no. The foundation of 'A Skeletal Domain' is firmly rooted in the bands past, but some new tricks have slipped out of their collective sleeves. Some tunes, most notably the title track, has an eerie horror-flick feeling to them rather than the classic all gore in your face feeling. Think a less epic version of Vader's 'Tibi Et Igni' meets Autopsy and you get the picture.
Some tunes on the other hand bears a distinct thrash garb, for instance 'Sadistic Embodiment', that makes the bands 1990 debut 'Eaten Back to Life' spring to mind. These grips give an extra dimension of variation to an otherwise dynamic and well-flowing album.
The album cover signed Vincent Locke, who else, reflects those feelings of horror from the first time you snuck away to your mate to see that movie your parents banned you from watching until you turned 45. The lyrics follow the usual gory theme, but the cover art has moved a long way from the upfront gore and filth of the early days. Cannibal Corpse no longer wants to stick blood, zombies and censorship fuel right up your face, they want to get under your skin and deliver horror, pain and bodily fluids from within.
Closing track 'Hollowed Bodies' builds up that album cover feeling of being trapped in a field of ravenous undead eager to tear you apart, then simply implodes leaving you desolate, helpless and eager for another round. Cannibal Corpse has fired up their chainsaws, gives no quarter and delivers 'album of the year' material.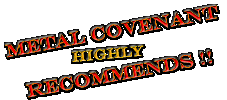 See also review of: Torture , Evisceration Plague , Kill

Performance

Originality

Production

Vocals

Songwriting

Summary





9 chalices of 10 - Tengan