Anvil - Still Going Strong
Written by Wendy the MettleMaiden, June 2009

The highly acclaimed docu-movie: "Anvil - The Story Of Anvil" - is bringing metal back into the minds, and hearts of everyone. Our highly misconstrued metal milieu is finally being recognized, and appreciated for what is truly is. Metal is a vibrant genre characterized by profound intellect, devotion, and a sincere sound, mettle attitude. The stereotypical, judgmental mindset of sex, drugs, rebellion, and loud music, is being viewed from a more personal aspect, as a portrait of merciful fate, all thanks to Anvil.
The challenges of everyday life which we face, its struggles, its addictions, and most of all it realm of joy and more abundance, are remarkably envisioned through the souls of two Canadians who never surrender, and finally triumph. Hail Anvil!



he story on screen, or rather account of the two main protagonists: Lips & Robb seems almost too manufactured, as if they have some ploy for the viewer to sympathize. In effect, they are the 'everyman' in us, two middle age losers, whose talent, and creativity have fallen astray, as their lackluster lives clearly remonstrate and demonstrate. This dramatic, emotional roller coaster is an honest, non-scripted account of the very lives and compassion which two endearing souls have endured, in the hope to one day attain a modicum of success.

he documentary that plays out like a movie, is genuine, honest, visceral, and most of all identifiable with the everyday bullshit we all dish out, and find ourselves sinking in, all too often. This documentary has it all. If you are a fan of Anvil, or even if you have never heard of them, this will touch you way deep down inside.



n many secular reviews of the film, the uninitiated often compare Anvil to Spinal Tap or Metallica out of pure ignorance. Many may not be familiar with the band, who only had one video ever played on Headbanger's Ball in the '80s. The fact is, as Robb himself states, "Anvil is the real Spinal Tap, and there can only be one real Robb Reiner, and that is me!"

ife long fan - Sascha Gervasi - a British Anvil enthusiast, who wrote the screenplay for: The Terminal, starring Tom Hanks, follows Steve and Robb around with his camera, encouraging them to act natural. He assiduously accompanies them to work, and gets to know their friends and family. He accompanies them in the studio while they record - This Is Thirteen. He even joins them on a tragic European tour (while they take vacation from work). During this catastrophic sojourn through Eastern Europe, the brothers quarrel over financial concerns, and poor planning, and they almost disband. All throughout the drama, the daily vicissitudes become more pronounced.

s the audience becomes more involved in the world of these two larger than life characters, their private home life vision, and their personal experiences, all the poles of existence become explored, and the viewer attends to a more solicitous union of mind, heart, and spirit. As Sascha pursues these two key members of Anvil over the course of four years, this allows the spectator to vicariously experience an up close, candid, in your face, glance at the wear and tear of the "Rock 'N' Roll" lifestyle.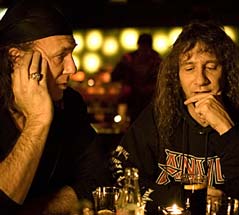 s you ride on this journey with them in this heartwarming documentary, you realize just how close these two friends are. You feel their frustration as they continuously try to self distribute their own music out to their loyal fans. You feel the painful aggravation when they return home, back to their jobs, after the unsuccessful tour. Then, you witness the support they receive from their families, when others want them to just give up, and call it quits.




o let's step back in time and see where it all began. The year is 1973, the place is Toronto, Canada. A 14 year old rocker named Steve Kudlow is walking down the street when, while passing a house on the corner, he hears what he determines to be really incredible drumming, or a loud racket, unlike anything he had heard from his music idols. That is the day when he met Rob Reiner, and the day Anvil was forged in fire and passion.

he two have remained been best friends, band mates, and metal brothers ever since. Five years later they formed their first band with Steve on vocals / guitar, and Rob on drums. Dave Allison played rhythm guitar, and Ian Dickson was their bassist. This band became known as: Lips.

ips played a late '70s rock sound, influenced by The Scorpions, UFO, Kiss, & AC/DC. To avoid a law suit with the Disco outfit: Lipps Inc.,who brought us the classic - "Funky Town", they changed their name to Anvil, in keeping with a more metal style movement, emanating from Europe, championed by the likes of Iron Maiden, Saxon, Judas Priest, Def Leppard, & Motörhead.



teve, to this day is known as "Lips", as an homage to their original appellative. The next step was to re-release their debut album - Hard 'N Heavy - and to start on the path to what should have been rock stardom. Unfortunately, they signed with the corrupt Attic Records, who would thus be one of the many assholes in the music business who would f*ck over such amazing talent.



hey followed a common trend, by writing many songs dealing about what they knew, namely sex. As far as Lips, himself was concerned, most metal fans are men, and it sure worked for Kiss! Lips even began using the famous onstage gimmick of playing his guitar, with a vibrator (that is right, he made use of a ladies' sex toy, and it made an odd grinding, but rippin' sound). One would surely assume a unique metal act, as such would go far in the early 80's.



heir sophomore outing - Metal On Metal - slightly divorced itself from the more sex type lyrical thrust, and began to deal with true metal based themes. Anvil will always have a penchant for sex, drugs, and metal messages in all the music they write, but this album set a new precedent which inspired many around the globe.

n the Metal underground, Anvil, along with fellow Canadians: Exciter, and England's Raven are considered to be the progenitors of Speed Metal. Many may not be aware, but Metallica, Anthrax, Slayer, and many successful bands have been influenced by Anvil. This is evidenced by the personal accounts of key musicians at the introduction of the movie. Although, I'm not quite sure why Slash from Guns 'N Roses fame is included. However, Velvet Revolver's guitarist: Mr. Saul Hudson did write the introduction for the - Anvil: The Story Of Anvil - book, which has been released through Bantam Publishing in the UK. The fact is clear, Robb Reiner is one of the first Speed Metal Drummers, and Steve "Lips" Kudlow is one of the first Speed Metal shredders.



y the time Forged In Fire was released, everyone in the metal community felt Anvil would be the next big thing! The implementation of an anvil on every album cover became a staple trend, still practiced to this day, as well as the fervent use of alliteration in the album titles. So what happened, what went wrong?

nvil even shared the stage at the Japanese Expo in 1984 with bands like: The Scorpions, Bon Jovi, Whitesnake. So, why did the other bands prosper, and leave Anvil behind sifting through the dust?

lthough, there is no sincere or concise explanation for this, there are a couple of theories circulating. I've noticed that most bands blame the labels for their shortcomings.This is somewhat justified, and Attic Records were total crooks. They even screwed over another Canadian act - Razor - who also set the standard for early '80s speed and thrash.



here is always "the right place, right time", argument. Although, after all, we all create our own destiny, and we are all responsible for our own actions. I'm certainly not one to judge, but Anvil like most bands, love to party. I've personally witnessed other musicians reminisce with Lips about his chequered past, and he has little recall...too much smoking green or white rhino, I'd assert.



ould it then be that Anvil's songs were not "radio friendly"? Surprisingly, their song - "Metal On Metal" is well known in the metal community as an influential anthem, and it's chorus is quite catchy.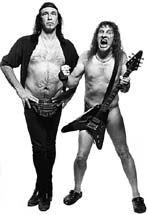 erhaps some would suggest that their live performance was lacking? That is totally bogus, because, Anvil's stage theatrics are extremely entertaining, not only was there Lips parading around with his vibrator; but this multi-talented front man, also sauntered across the stage adorned in full red and black leather, chains, and bondage gear.

t is a well-known fact that Anvil love to interact with their faithful fans. They definitely have a very dedicated fan base with the Local Union 666 Fan club still going strong. These die-hards buy the music, merch, and everything else,then, as Lips often asks in his lyrics, "Where Does All The Money Go...?"



nvil is well known in most metal circles. So, then it must be that Anvil didn't promote themselves properly, or receive substantial marketing? This is suspect, as Anvil later was signed to the renown Metal Blade Records label in the mid '80s. They toured, relentlessly, and continuously, all the while consistently releasing new material.

ven in the '90s on the smaller Hypnotic label, they continued to create amazing speed metal masterpieces. This is why Anvil are still together to this day, having only suffered minor line-up alterations. They have issued, thirteen studio albums, and are finalizing their next creation - Juggernaut of Justice. When budgets permitted, they still toured whenever possible.

he truth is quite apparent, there is not one logical reason for why Anvil are not now superstars, that is except the choices one makes in life, with no one to ultimately blame, but himself. Life is about change,and progress. Lips, Rob, and mainstay bassist: Glen 5 have continued to create quality music. In fact, Glen Five, was an Anvil fan himself before joining the ranks. He has chosen to remain loyal to the trio, even after the departure of Ivan Hurd.

verything has come full circle. Anvil - The Story Of Anvil has now been in theaters for quite some time. Anvil themselves have been touring the cinemas, playing a short set afterward. Quite often, they will hang out with the fans for a meet and greet session. It looks like their moment in the spotlight has finally come, but will it be only 15 minutes long? I suppose that depends if the Academy Awards acknowlege the buzz circumnavigating among critics.



f the success of this documentary does earn Anvil and Sacha Gervasi, dare I say, an Oscar? I for one, will definitely watch the award ceremony just to see Anvil play live, and of course win (yeah right!). I have not been loyal to an award show since Metallica was first nominated for a grammy in '89, played their song - One - and subsequently lost to Jethro Tull.

'm pleased to hear that the members of Anvil are reportedly no longer working their "day jobs" of catering delivery, and construction / demolition. They are now able to focus on the band full time. They are thrilled to meet celebreties, and new fans of their music, and movie. They are in negotiations with a major label for distribution of their new album, and a big tour will soon be announced. Finally, these virtual unknown cannucks, who have truly influenced all aspects of Heavy Metal music, are realizing their heartfelt dreams.



hey have made appearances on several radio and TV shows including Jimmy Kimmel. On this broadcast, Lips was highly excitable, and Rob calmly discussed the succes of the film. When asked about one of the arguements in the film, in which Lips is apologizing to Rob, expletives deleted, of course, Kimmel is assured that there have only been a few major blow ups in their life, and two of those are captured on film. Jimmy Kimmel also inserts some canned humour, when alluding to the alliteration in the albums titles by saying, "You have recorded: Pound For Pound,...Charles In Charge..", the audience laughs, accordingly. I'm sure that was not spontaneous, and Mr. Kimmel had rehearsed what to say to Anvil, unlike the casual display of life as we know it, which is so evidently verified in the film.



o, if you are an old school Anvil fan, new to the hype, or perhaps just curious about all the ruckus, make sure you not only watch this movie, with no agenda, but also be sure to support them on their road to rock stardom. Oh, and one more thing, please buy their cool merchandise too; because, the dudes still need to pay back Lips' sister for the 25 thousand US dollar loan, they borrowed to record T.I.T. with Chris Tsangarides!
Wendy the MettleMaiden - June 2009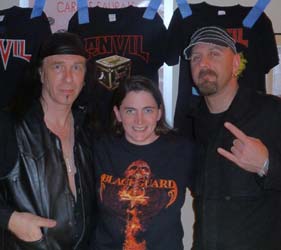 See also: review/article of the screening of Anvil! The Story Of Anvil
Related links:
www.anvilmovie.com
www.anvilmetal.tk