Screening of Anvil! The Story of Anvil, London Film Festival
Written by Mozzy, January 2009

City: London
Venue: Odeon West End
Date: October 21, 2008
Future screenings and release dates: see www.anvilmovie.com.

It is not every day your favourite metal webzine attends a happening starring Hollywood stars. However, this was precisely the case when the annual London Film Festival took place. While waiting for the doors to open, celebrities such as Keanu Reeves and Penelope Cruz arrived, to much commotion. Despite the latter's striking beauty, yours truly diverted his attention to something completely different: a much anticipated documentary about a Canadian cult heavy metal band. After gracing the red carpet (well, at least stepping on it on the way to the door) the time had come to take my seat in one of the theatres to watch the screening of Anvil! The Story of Anvil.


orn in London to American and Canadian parents, director Sacha Gervasi met Anvil in the English capital in the eighties. The 15-year-old was intrigued by the band from the start, and was to tour and become friends with the Canadians. After having gone separate ways after a few years, contact was lost. However, Gervasi got in touch with the band a couple of years back, and was fascinated to hear that they were still active. Gervasi, now a successful screenwriter - The Terminal with Tom Hanks is one film on his CV - decided that the story about Anvil deserved to be told.

he film kicks off with great footage from a massive festival in Japan in 1984. The bill consists of Whitesnake, Scorpions, BonJovi… and Anvil. Obviously, the first three went on to be superstars, selling vast amounts of records, performing to millions and earning a fortune. As for Anvil, nothing happened in terms of commercial success. Prominent faces such as Lars Ulrich, Lemmy, Slash and Scott Ian talk fondly of Anvil, citing them as a large influence, but no one can really pinpoint why the Canadians´ career didn't take off. Despite not getting the well-deserved break the band, with its front figures Steve ´Lips´ Kudrow (guitar/vocals) and Robb Reiner (drums), soldiers on.

e get to follow Anvil on a European tour which gives fascinating insight into the endeavours and experiences of being on the road, in this case not so glamorous ones. Setbacks appear on a frequent basis, with missed trains, non-existent gig promotion, tiny crowds in shitty venues and non-payment from unscrupulous promoters. Still, the band put all their effort into their shows, Lips admitting that he simply loves to entertain. The tour is nothing but a fiasco, but the Lips tries to see the positives - such as there at least was a tour. There are moments of joy as well, though: the frontman's sparkling excitement when he chases down idols such as Michael Schenker and Tommy Aldridge backstage at Sweden Rock Festival is just priceless.

he relationship between Lips and Reiner, friends since high school, is central in the film. The former is a vastly energetic, talkative and enthusiastic character who most often sports a grin on his face; the latter is more laid-back, composed and admits that he rarely smiles. While they both are very likable persons with great sense of humour, clashes appear between the two in times of despair. Just like brothers, which their wives describe them as resembling, they have heated arguments. But they quickly reconcile and decide to keep on fighting. Some scenes with Lips and Reiner are tremendously touching; even sweet, in lack of a better word.

he duo toil away at their daily, ordinary jobs to put money on the table for their families, but the dream of making it as rock stars is always alive. Because of bad management, or no management at all, they don't make much progress, however. The veteran rockers´ family members express their doubts, and Lips' aged mother gives a frank answer to the question of what her son has had to give up in life: "to make money". Still, the duo's families support them wholeheartedly since they want to see them succeed and fulfil their dreams; some moments of this kind in the film are very moving.

ll the serious matters aside, Anvil! The Story of Anvil is also highly entertaining. There are numerous scenes which are absolutely hilarious and makes you laugh in tears, not just because of Lips and Reiner's wittiness and refreshing self-distance but because of the sheer madness and silliness which is on display. Undoubtedly, parallels will be drawn to the classic Spinal Tap. Yet, unlike that spoof documentary, this is the real deal. With this I do not mean that the Anvil guys are unintelligent; although they come across as rather naïve at times, their passion and determination and integrity is a sight to behold. If they have to make a fool of themselves in order to achieve their goal, then so be it.

ervasi and his crew must be credited for the way they have created a portrayal of the life of Anvil which could not possibly be more honest. Gervasi's long-time relationship with the band surely helped in getting the band to expose even their most intimate thoughts and gaining access to all of their activities, no matter how embarrassing. There are some instants in the film which incite a feeling of awkwardness as well as pity, making one feel almost ill at ease. But this contributes to a remarkable authenticity which is without doubt one of the strengths of the film.

nvil! The story of Anvil is not only an amazing, entertaining documentary as such; it moved me greatly as a human being (and certainly also as a metal fan). It is tremendously touching, at times sad, making you teary-eyed, but at the same time it is very warm and inspiring. Apart from being a story about friendship and relationships, a message which can be attributed to the film is to fight for what you believe in, no matter what obstacles you may encounter.. Whether one likes the music or not, this is a story which anyone will find compelling, I dare to say. The large acclaim and numerous awards which has accompanied the film is most well-deserved. Just magnificent.
- 10 chalices of 10

To say that the spectators at the Odeon West End - not only consisting of metal fans, quite the opposite - were enthusiastic is an understatement; there was a standing ovation, amid loud cheers, as the film ended. Before the screening, Sacha Gervasi hinted that there would be a surprise afterwards. Indeed, we were in for a treat as the band stepped onto the stage and performed two of their classic numbers, 666 and Metal on Metal. The crowd was ecstatic and Lips, in his characteristic manner, was like a child on Christmas Eve, running up to spectators in the front seats and rocking out with a huge, excited grin.
After this brilliant spectacle, the viewers got the chance to ask questions to the band and the director. Not unexpectedly, Lips and Reiner gave some amusing answers to various queries. But the last question, from a gentleman in suit and glasses, was more serious and well-founded: "what is it that keeps you going despite all these setbacks; most artists would have given up a long time ago?" Thoughtfully contemplating his answer, Lips replied: "an inner belief that what I do is worthy". Indeed, a sensible and admirable attitude. These chaps do what they believe in and refuse to give up their dream; may they rock on ´til the grave - not that anyone who attended this utterly wonderful event would have any doubts…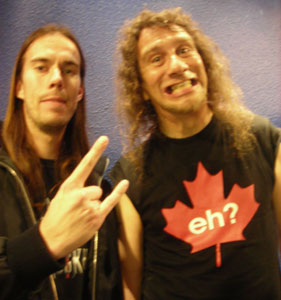 Metal on Metal: Metal Covenant and Anvil frontman Lips

Related links:

www.anvilmovie.com
www.anvilmetal.tk

Mozzy - January 2009