| | |
| --- | --- |
| Hate - Tremendum | Published May 27 2017 |

*=Staff's pick

Asuric Being*
Indestructible Pillar*
Svarog's Mountain
Numinosum
Fidelis Ad Mortem
Into Burning Gehenna*
Sea Of Rubble
Ghostforce*
Walk Through Fire*
Genre
Blackened Death Metal

Adam Buszko

Vocals

Tracks
9

Adam Buszko

Guitar

Running time
45 Min.

-

Guitar

Label
Napalm Records

-

Bass

Release
May 5, 2017

Pawel Jaroszewicz

Drums

Country
Poland

-

Keyboard

Producer
Arek Malczewski
Similar bands
Behemoth, Vader

Session members on this album: Dominik Prykiel (guitar), Pawel Michalowski (bass).
Hate has been putting out quality albums for 20 years now, and in my ears they have been growing better for almost every album but with Tremendum they hit a quality peak. When speaking about Polish giants and media spearheads like Behemoth and Vader, Hate should definitely no longer stand in their shadows as something of their little brother. At this point they are above and beyond, with this being a close to perfect mix of the best elements from the two aforementioned bands.
This is instantly recognisable as Hate, but with all trademark elements now fine tuned to a massive monster. Fast and furious, yet with plenty of space for atmospheric parts and great variation in tempo which makes the album as a whole feel like a dramatic play with twists and turns and creates a great flow from start to finish. Everything topped with Adam Buszko's monstrous vocals. One of the absolut best in the genre.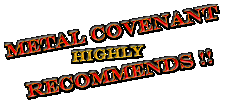 Performance

Originality

Production

Vocals

Songwriting

Summary





9 chalices of 10 - Tommy