Interview conducted May 18 2011
Interview published May 23 2011
Release party in Stockholm, Sweden, for HammerFall's new album, Infected. Metal Covenant met bassist Fredrik Larsson and guitarist Pontus Norgren a few hours before the show to talk about the recording process, the new album and the new sound.

Tobbe: What can people expect from HammerFall's new album, Infected?
Pontus: It's a record that doesn't feel overproduced and it sounds just like we wanted it to. On the latest releases, with Charlie Bauerfeind as producer, the production has been a little bit too perfect. (Fredrik): And too German. (Pontus): It's produced a bit like in the eighties. The HammerFall sound is still there, but it's more raw. Charlie is a good producer, but we needed change.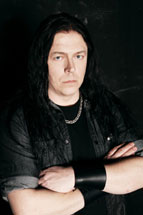 Tobbe: Why did you change your sound right now and not before the last album, and had Pontus something to do with it, since he has co-produced this album?
Fredrik: With our last record, Pontus came in too late to be able to have any influence on it. It was same producer and same thinking in the recording process. Our ambition probably were that the last album really should have sounded like this one, but it was not possible with the same producer and the same approach. If we only have had more time before that recording process, it probably would have turned out different. (Pontus): It would have been different for sure. I was a new member in the band and I didn't know how much space I had. I came up with ideas and the other guys supported me and it evolved to perfection on the new album. This album was exactly what we wanted to do. Earlier they felt safe with Charlie and it worked out just fine for them. To do such a thing that we did now takes a lot of guts, but we did it and it feels great.
Tobbe: Please, tell us something about the recordings.
Fredrik: We started recording the drums in Bohus Studios outside Gothenburg. Anders nailed them in a week. Then we recorded bass and guitars in our own studio / rehearsal room. We had all the equipment we needed to do a great recording and we had Pontus, who has great knowledge about live sound, producing and recordings. It felt really stupid to just give the money away when we could do it ourselves. We had all the knowledge in the band. We just had to use it.
Tobbe: There's always a risk working without an outside producer, because you tend to put the blinders on and you get tunnel vision.
Pontus: Yes, that just how it is, but this time the recording process was fantastic, a bit dreamlike. Just like I always wanted to do it. We got those impulses telling us to do this and to do that. Charlie, who is an outside producer, had his little magic box and what ever came in, it all sounded just the same when it came out. This time we had the magic box ourselves, so we used it and started the recordings and we got that feeling that this was cool. That feeling is missing a lot in today's productions, I think. You have to dare and feel that this rocks. We went overseas to Nashville and Fredrik, but especially Joacim met his role model, James Michael. He has produced and sung on albums, on which he has created a sound that Joacim really loves. When we arrived it only took one day and then it felt like those two had known each other for years. (Fredrik): This was not something we did to get an American sound. This was solely to see what James Michael could do with HammerFall. He wasn't going to make us to Meat Loaf or Mötley Crüe. We have our own thing. We could really see that Joacim gained self confidence when he could sing in front of a person that he thinks sing fantastic, and who gave support to Joacim in return. (Pontus): Before we went to Nashville we had Skype contact with James when we were in the studio in Gothenburg and when we sent stuff to him, he said that this was awesome, perfect and there's no need to change anything. He also told us to continue in this direction and that the recordings were great. When you talk to a producer it usually is the opposite. He understood that we wanted it back to basics. (Fredrik): We already had our sound from the beginning, which maybe is a bit different on this album, due to that we all changed to Marshall. The sound became a tad different, but we knew what we wanted, so we just had to catch it and get it on tape.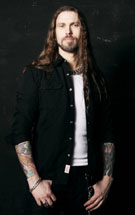 Tobbe: One More Time is the first single off the album. Why?
Fredrik: You will have to ask Oscar. (Pontus): Yes. Probably Oscar will have to answer this question. We have asked ourselves this question too, and I think there is a thought behind it because it is very different. We had the guts to change the production and we have went back to an older sound. One More Time has become a song that sticks out. (Fredrik): Yes, it is catchy and has a lot of elements that people don't associate with HammerFall. The HammerFall sound is there, but if you listen to the riffs, they sound not quite the same to what we usually do. (Pontus): It annoys a lot of people, but I have noticed that many fans love this song. The opinions are very different and I think it's a good sign. (Fredrik): Just to get a reaction is something good.
Tobbe: Any favorites on the new record? You can't pick the single.
Fredrik: I would say Bang Your Head and Let's Get It On. It's going to be a blast to play these songs live, just to see if they go down well. (Pontus): I'm still in the producer's seat, since I recorded it, and I still tend to listen to those things that we thought about changing. It's always like this. On every record. Right now I would say Dia De Los Muertos, but if you ask me next week I will give you a different answer.
Tobbe: HammerFall always have a cheesy ballad on their records. This time it's Send Me A Sign. Why don't you solely record ballads with more power like Remember Yesterday, Glory To The Brave, or even Redemption from the latest album?
Fredrik: This is an old song that Oscar and Joacim have listened to for a long time. They have always wanted to record it, but it hasn't worked out well with guitars and with Stefan Elmgren. Something didn't click. Now they really wanted to give it another shot with Pontus on the guitar. (Pontus): It's a cover song and the first time I heard it, I didn't understand it, but now I love it. The guitar play is genius and sounds like made in the east. In the western world people don't play guitar like that. (Fredrik): I think we like it because we see and listens to the music in a different way than those who just listens. (Pontus): It has something. Something genuine. I won't say east, but it has a touch of east.
Tobbe: Hector, your mascot, is gone. Does it really matter to you?
Fredrik: No, but Hector will always be HammerFall's mascot. He is pictured in the booklet and the reason that he is not on the front cover is that we felt that we have taken such a huge step musically, so then we have to take one step forward on the cover too. (Pontus): Hector will always be there. He is just on vacation, since he has worked real hard for the last 13 years.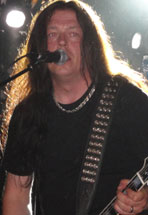 Tobbe: Some bands play their new album live in its entirety. Is it something you have thought about?
Tobbe: 70000 Tons Of Metal. Are you going?
Fredrik: We have been asked a couple of times, but it didn't work out. (Pontus): We were in the States at that time, but breaking the recording process and play live never works out.
Tobbe: What about the cruise in January 2012?
Tobbe: So there is still hope for the Americans? Actually there were mostly Germans there, but that's another story. You have just released your eighth studio album. Is it hard to pick a setlist nowadays?
Tobbe: Liveshows. One city. Stockholm or Gothenburg?
Tobbe: Favorite country to play in?
Fredrik: Well, I like South America. Most countries down there. The people have a special feeling. It is really wild. I think it's awesome. They know everything and they know all the lyrics. Everything.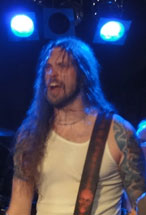 Tobbe: HammerFall and The Poodles plays on the same day at Getaway Rock Festival in Gävle, Sweden this July. Is there any chance for a guest appearance?
Pontus: Oh, I actually didn't know that. I didn't know that we will be playing on the same day. Well, I don't think so. If they ask me, why not? Sure I could play a song. We are still good friends, but they have made two albums without me, which they play a lot from. Of course they will play Night Of Passion, but I doubt that they will ask me. They have to move on too. Sure it's a cool thing, since they are old friends.
Tobbe: Okay, two more questions. In which hair color is Oscar most good looking, blonde or dark?
Tobbe: Last question. Don't chicken out now. Which is the worst HammerFall song, or to make it easier for you, the least good song?
Fredrik: Oh, that's a very tough question. There are a bunch of songs I don't know so well, since we haven't played them and I wasn't in the band for several years. Damn, this was hard. (Pontus): Very hard. (Long pause). Hearts On Fire. Just kidding. (Fredrik): I haven't played on a couple of albums. I can't remember the titles, because I haven't listened to them for a while. (Pontus): We played one song in the States, who was no fun at all. People just stood there. We played it on three occasions, but it didn't work out well. Nothing happened. A couple of songs are like that. (Fredrik): It wasn't the song itself. The song can be great on the album. (Pontus): The truth is that we suck playing it. That's the answer.
Tobbe: Okay, no titles were mentioned, so I guess I will write that you chickened out. Time's up. See you later, guys.

See also: review of the album Infected

Related links:

www.hammerfall.net
www.myspace.com/hammerfall