Interview conducted March 14 2020
Interview published April 6 2020

"I was a bus driver in those days."
Eddy Malm, mostly known for his stint in the Swedish classic heavy metal outfit Heavy Load in the first half of the '80s, is today out with his own band Eddy Malm Band and also with the recently resurrected '70s rockers Highbrow, and when those bands formed a package together with Walmann Combo for a show in Stockholm, Metal Covenant seized the opportunity to talk to this indeed polite veteran for a while.

Tobbe: So what is Eddy Malm up to in 2020?
Eddy: Well, let's put it this way: He's living the life, because I have all the time in the world to do whatever I want. But there's music involved in that, obviously Eddy Malm Band. And I play golf and do other fun stuff, like boules with the senior citizens, because I'm one of those nowadays. [Laughs] So I do a lot of stuff. And it's great.
Tobbe: Was it a big step to retire, or was it just great?
Eddy: It wasn't such a big step, I think. The job I had was sold to another company, who I thought was just shit. So I was glad that I got the offer to get a year with full salary without having to go to work. And this offer happened to come at the time when I had just one year left to retirement anyway, so it felt just perfect. So I took that offer. Getting paid without working, you know.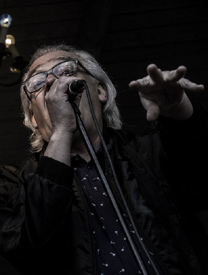 Tobbe: Tell me a little bit about tonight's show with these 3 bands.
Eddy: It was just a coincidence actually, because X Highbrow, or we, came up with the brilliant (said ironically) idea that we were going to be part of this gig. We thought it would be fun if we were 3 bands. So we started to rehearse. X Highbrow rehearses in the same room as EMB, but kind of every other day.

I found an old cassette tape, with the songs that we are going to play tonight, except for A Loser and Roumers, which already were released on a record. But the other 4 songs we found on a cassette that we had recorded and we thought that we were going to play those songs. And that's great fun.

And that Walmann Combo is with us is obviously because Lasse Walmann is in that band as well, which makes things a whole lot easier. But we have arranged this ourselves. We're the ones who have rented this venue. So obviously we hope that we can continue with this package a little bit, that Walmann Combo, X Highbrow and EMB get to play, like, everywhere.
Tobbe: Why did you choose to call the band Eddy Malm Band and not use a proper name?
Eddy: Well, it wasn't really my choice. The thing is that Per [Hesselrud], the EMB guitarist, and current Highbrow bassist, chased me a little bit over the years. When I quit Heavy Load and lived in Solna, he contacted me and we started playing a little bit together, because he's a die-hard Highbrow fan, you know. He loves Highbrow. We were doing some stuff on and off and then all of a sudden he, Micke [Kerslow, drums] and the bassist at that time [Tomas Malmfors], contacted me and wanted to start a band.

So I thought that it was going to be fun, you know. And I got to bring the old songs I had done. So we started recording them and then it just continued. I think it was their idea to call us EMB. That it was going to be Eddy Malm Band, you know. To me it didn't make a difference whatever we were going to call ourselves. But anyway, that's what we call ourselves now.
Tobbe: It's quite common that artists use band names that's similar to the band where they were most successful. In your case this would mean something close to Heavy Load obviously.
Eddy: Exactly. But I also think, to some extent, that you utilize the fact that Heavy Load actually was pretty big, and actually pretty big around the world. I noticed that when I was at that event in Athens, Greece [Up The Hammers Festival, 2016]. There was a Heavy Load tribute band [Heathens From The North] playing and they contacted me to see if I wanted to go there and sing my songs with them. At that point I noticed how big it was, you know. The audience was full of 20-year-olds and that came as a surprise to me. You know, "If they like Heavy Load they must be old men now.". But it wasn't like that.

And at Sweden Rock [2018], when I played there with Heavy Load [Eddy made guest appearances for a few songs], there was a lot of people in the crowd too. So I realized that Heavy Load was a big band. But unfortunately the brothers [Ragne and Styrbjörn Wahlquist] didn't want to let go of the grip. They wanted to take all decisions themselves. We were in contact with major record companies that wanted to market us out in the world, but they said no thanks. So that's why I quit really.

I felt that there was a huge potential, but not as long as they put the brakes on it, because then I thought that it was no reason to do it. Anyway, we were thinking a little bit like Eddy Malm - a part of Heavy Load, because it's kind of well-known, so maybe it's a good idea to call ourselves Eddy Malm Band, because then some people from the Heavy Load days know about this.
Tobbe: It's been over 3 years since Northern Lights was out [2016]. When will we see another record out?
Eddy: Good question. You know, the thing is that all the songs on that record are songs that I wrote 35 years ago. There is some material left from those days, but I haven't been so good at making new material, you know. And I really don't know if we're going to work with even more old material, and maybe some new stuff as well. But this is not so serious, and we do this just because it's fun, you know.
Tobbe: But still, you can always lean back and know that you at least put one record out.
Eddy: Absolutely. I'm really happy with that. I mean, I'm not 25 anymore. It's just something that you've got to realize. It's just great that the career still is there, you know.
Tobbe: Two of the songs on that record were already released with Heavy Load back in the day and if you would make another record there's plenty of other songs that you could re-record, and then bring forth some unreleased material as well. Just saying…
Eddy: Well, that's definitely a way to see it. I've written the songs nevertheless, so I may use them the way I want to. They're mine, so that won't be a problem. And, undeniably, there are a few. But we haven't decided anything yet anyhow. We'll see what happens.
Tobbe: You were in a few bands when you were younger, and then you were pretty much gone for 30 years, and do you sometimes sit down and think about those early days, perhaps more often than regular people do in general?
Eddy: Well, I don't know. I don't think I do really. You know, when I quit Heavy Load, in '85 I think, Andreas Fritz also quit. He played the bass in Heavy Load for a while. He quit just after I did. So he and I started playing together. We started a band called Challenger. Out of all names we could have picked… [Referring to the space shuttle disaster in January 1986.] But anyway, we made some songs and went down to Germany to meet with a record company who had shown interest in us. They listened to the material and said it was great and that they would want to make an album out of it.

So we went home to prepare ourselves, but right at that moment he got an offer from that Danish rock band, whose name I can't recall at the moment, and he took it. So our thing went down the drain. But after that nothing really happened. I focused on my job and stuff like that. There wasn't so much music for me at all, except for the times when Perka got in touch with me and we played somewhere.
Tobbe: Tell me a little bit about those early years with Highbrow.
Eddy: I lived in the inner city [Stockholm] at that point. It was 1977. I honestly don't remember how I got in touch with them. But I at least know that they were rehearsing in a room in a garage out in Skärholmen. I went there and we actually played some Lizzy covers and stuff like that. They had a few songs and they needed a singer, so I thought that it would be fun to try that.

So I did that, and obviously it went pretty good because they were quite pleased. We played some gigs, and I think I was in Highbrow for about two years, but for some reason Mats Dahlberg thought that they would bring in Dave Nerge as a singer instead of me. So basically I got the boot, which was a bit sad, but that's the way it was.
Tobbe: Except for that last moment, was this maybe the happiest time of your days of music?
Eddy: Well, it was a part of it. It didn't top Heavy Load, but it was actually just as fun as the Heavy Load days, because that time was wonderful as well. You know, our gigs, our trips and stuff like that. It was really amazing. But I didn't make any money. When I played with Heavy Load, they took everything, the brothers. They took care of everything and therefore they thought they were entitled to all the money. Well, maybe I got €50 or something like that occasionally.

So I had to work at the same time. It was kind of messy. I was a bus driver in those days. It was kind of embarrassing, because I sat in the bus and some youngsters hop onboard and, like, "Hey! You're Eddy Malm from Heavy Load!" and there I am, driving the bus, which was a little bit embarrassing, you know. So I took a new job after a while.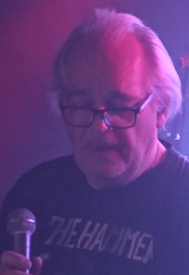 Tobbe: Which one of the EPs and albums, Metal Conquest [1981], Death Or Glory [1982] and Stronger Than Evil [1983] is closest to your heart today?
Eddy: Well, I think Stronger Than Evil is the one that's most fun. It has the most fun and best songs, because I had learned a lot then. When I became a member of Heavy Load I worked on SoundSide [Music store] and saw the poster that they had put up. It was the backside of the first LP [Full Speed At High Level, 1978], where all the instruments just fall out of that truck. I thought it looked really cool. They were looking for a guitarist, so I called them and asked if I could come down and audition and they said "Sure. Absolutely. Do so.", but I didn't even have a guitar.

But I went there anyway and borrowed Ragne's guitar, and they wanted to jam, but I was worthless. So they said "Let's do it like this: We will play one of the songs and then you can sing as well.". So he showed me the chords and we played the song and it went fairly okay, you know. And then I went home and I thought "I never going to get that job.", but the next day they called me and said "Hey. You're in.". So then I bought a guitar from one of the SoundSide boys, Roger Pincott. It was an SG Les Paul '60 and I think I paid less than €50 for it actually. I sold that one for €6000. [Laughs]

So then I went down there, and we started rehearsing and stuff, and I started to learn more and more in terms of the guitar playing, and then I started doing songs. They had a studio, so I wrote the songs there, and started playing my own solos. I wasn't so good at that, but I became better and better actually. In the end I think I did really good solos. So it was a good process, you know.
Tobbe: There has been a few stories about what happened when Phil Lynott came to the studio. So, tell me your version.
Eddy: When we were recording [the Stronger Than Evil album], Anders Tengner [Journalist] was there, and we knew that Phil Lynott stayed at the hotel next doors and that they played at Gröna Lund [Amusement park]. It wasn't Thin Lizzy playing, but that band he had put together. [Phil's solo band that later became Grand Slam.] Anders had told us that he was going to try to get him to come down to the studio and that he had said "Well, perhaps I'll come down. We'll see.". We had just recorded Free, but Tobbe [Torbjörn Ragnesjö] wasn't there so we hadn't laid down the bass yet.

Then Phil came down and we thought it was great and he wanted to hear our music. So he listened to Free and, like, "This is a really great song! But there's one thing missing - The bass." and we said "We were thinking about letting you lay down the bass." and he was like "Me? Sure, why not?". So he steps inside, picks up a bass, listens to the song, and lay down the bass. You know, he knew exactly what to do.

When he was done we listened to the song and it was really great and we were really happy. Then we went out to the lounge, where they had a pinball machine. So we played some pinball, and we talked, and he told us about his life. And after a few hours he said that he probably must go to the hotel and on his way out he says "You know what, guys? You saved my life tonight.".
Tobbe: What I think is special is that the previous record Death Or Glory has 3 different singers. How did that happen, really?
Eddy: You know, Ragne, Styrbjörn and I liked making songs and it turned out that we got to sing our own songs. Ragne was a pretty good singer and Stybbe had a very special voice too, so we thought that it was perfect really. And I think that's one of the reasons to why it went so well. Because there were 3 different categories. We made different types of music and sang in different ways, you know.
Tobbe: Have you heard anything from the brothers about making something new? They told me two years ago that something was about to happen, but it's been quiet since then.
Eddy: Well, one thing is certain, things don't happen quickly when they're doing something. They have built a studio now and stuff. And now they're going to record a new album. But it will take a while, for sure.
Tobbe: Would you make a guest appearance if they would ask you?
Eddy: Absolutely. I've told them that too. Like, "If you want me as a guest, I'll do it. No problem.".

Related links:

www.eddymalmband.com
www.facebook.com/eddymalmband