WIN custom made guitar picks!
Contest closed.
Stay tuned for more pick giveaways in the future.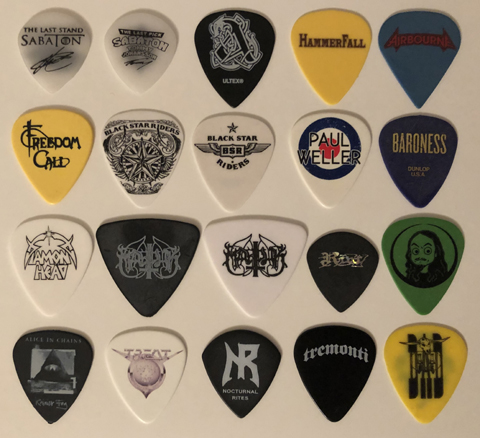 Thanks for contributing: Pär Sundström of Sabaton (Chris Rörland and Tommy Johansson picks) - Ted Lundström of Amon Amarth - Chris Bay of Freedom Call - Ricky Warwick of Black Star Riders - Robbie Crane of Black Star Riders (Also Paul Weller pick) - Gina Gleason of Baroness - Brian Tatler of Diamond Head - Morgan of Marduk and Olof at Skrikhult productions - Mike Flyntz and Nick Lee of Riot V - Nalle Påhlsson of Treat - Fredrik Mannberg of Nocturnal Rites - Mark Tremonti of Alter Bridge - Jesper Binzer of D-A-D - Darren Edwards at Warner Music (HammerFall, Airbourne and Alice In Chains picks).

Attention! One winner will get notified by e-mail, on Facebook and on the website. The picks will be sent to the winner in a standard envelope. We send world wide. If you're from a country where the postal service sometimes tends to "lose" stuff we cannot guarantee a safe delivery.

Previous winners:
December 2019 - Antoine Caille, Switzerland.
November 2019 - Gav Hynes, Scotland.
October 2019 - Kris Mosing, USA.
August 2019 - Alex Hogg, Australia.
June 2019 - Jason Zins, USA.
May 2019 - Antonluigi Pecchia, Italy.
January 2019 - Tom Mallon, England.
November 2018 - Albert Lamoureux, Canada.
October 2018 - Nicky Withford-Eaton, England.
August 2018 - Billy Ser, Sweden.
July 2018 - Kevin Thiery, Belgium.
June 2018 - Thomas Stranaghan, Northern Ireland.
May 2018 - Paul Belcher, United Kingdom.
April 2018 - Per Aage Melby, Norway.
March 2018 - Fernando Menotti, Brazil.
February 2018 - Andrea Martucci, Italy.
September 2017 - Søren Andersen, Denmark.
August 2017 - Daniel Figueiredo, The Netherlands.
June 2017 - Daniel Kajava, Sweden.