| | |
| --- | --- |
| Testament - The Formation Of Damnation | Published May 23 2008 |

*=Staff's pick

For The Glory Of…
More Than Meets The Eye
The Evil Has Landed*
The Formation Of Damnation*
Dangers Of The Faithless
The Persecuted Won't Forget
Henchman Ride*
Killing Season*
Afterlife
F.E.A.R.*
Leave Me Forever
Genre
Thrash Metal

Chuck Billy

Vocals

Tracks
11

Eric Petersen

Guitar

Runningtime
72 Min.

Alex Skolnick

Guitar

Label
Nuclear Blast

Greg Christian

Bass

Release
25 April 2008

Paul Bostaph

Drums

Country
USA

-

Keyboard

Similar artists
Exodus, Anthrax, Forbidden

Henchmen Ride. There, my good friends, is a perfect example of why I love this genre of metal so much. If you love thrash metal you simply have to love Henchmen Ride, otherwise you are no friend of mine, this is bleeding thrash metal extravaganza. This mighty and forceful up-tempo bulldozer knocks you unconscious, and hell, when you wake up you only want to be run over again. My dear friends, Testament has returned - bow to the masters.
It has been nine whole years since Testament released an album with new material (The Gathering, 1999). In addition, with The Formation Of Damnation the line-up of the band is close to the original, the only exception is Paul Bostaph on the drums, and that is only for the better. No foul words spoken about Louie Clemente, but Bostaph is outstanding, his drumming is excellent and perfectly balanced as he simply rolls out the thunder. Moreover, the return of Alex Skolnick on guitar does not exactly drag this band down either for that matter. The new and highly awaited album has truly a classic and unmistakable Testament sound to it, a sound they have forged through the years making them have a unique touch. This is the past and the present represented at the same time. The old-school thrash of Testament is present, and at the same time the album is a perfect continuation of their former release. This is The Gathering meets Practice What You Preach in the new millennium.
Well, first things first, the album starts with a real thrash-anthem with More Than Meets The Eye, and I realise that this is everything and more of what I want from Testament. It is in your face with a galloping rhythm and so god damn forceful, it is bang on target right from the start, and from there it only gets better as the album continues. Even though you sense the old school this album is delivered with a fresh feeling, it is vital and aggressive yet melodic, Testament style. The heavy and sharp guitars come with a sound reminiscent of the Low era and with Skolnick back, the band gets a bigger width in the guitar department and further some especially skilled playing, leaving Testament with two superb string-benders. With the sharp edge you get death metal aggression in the riffs, although they still hold a melodic touch as well in the songs in general. Aggression in combination with a melodic side in perfect symbiosis. You can also rest assured that the solos and the harmonies between Skolnick and Peterson are just as you want them, top of the line, period. Just listen to the track Killing Season that features some great supporting riffing that brings the song forward in a modest thrash tempo but with one helluva groovy rhythm.
The vocals are as sharp and strong as ever, whether Chuck Billy is singing or screaming his voice sounds more balanced and more in shape then in a long time, I start to wonder if he has ever sung better. The track The Evil has Landed comes with the excellent trademark sound of Testament, and a song about 9/11 might feel out of date to some, but important topics can never be outdated, and nevertheless, this is a great song I would not have wanted to be without for that matter. I don't know if I have missed this comparison before, but even if Testament is a "stand alone" band that don't need to compared with others, I find in the most furious moments similarities with Exodus and the sound of Gary Holt's guitar. It becomes most apparent in the title track, The Formation Of Damnation.
The members in Testament can hardly be called youths, but there is a feeling of youthful enthusiasm on the album, although it does not come out as naive as from a younger band, you can literally hear the routine pouring out of the songs on this album. There is no doubt that The Formation Of Damnation comes with an apparent sense of hunger. Last song I would like to mention on the album is my personal favourite next to Henchmen Ride, namely the song F.E.A.R. A head on track with speed and force and a melodic sense in the refrain that ought to make it a damn good live song.
The Formation Of Damnation has surely hooked me for real, I listen through the album, change it for something else, but then it is only a matter of a short time before Testament enters my stereo again, I can not let it go, it is simply a too damn good album. Damn me if this isn't the crop of the cream from Testament, this might be their best album to date. Still though, the most classic songs still outshines these songs, but the straight through high quality on this album and the fact that these songs are so god damn strong in general makes it a top candidate. However, I will give the album some more time before I make that my final judgement. So what stops me from giving the album ten chalices? Well, I miss a song that can become a real classic, the perfectly complete song that stands out and that would probably never leave the live-set.
Finally I just want to say; if Testament is leading the damnation, heck, sign me up, I will gladly follow.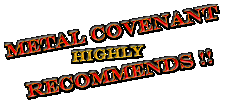 See also review of: Brotherhood Of The Snake , Dark Roots Of Earth , First Strike Still Deadly , Seen Between The Lines

Performance

Originality

Production

Vocals

Songwriting

Summary





9,5 chalices of 10 - Thomas
| | |
| --- | --- |
| Related links: | |