Testament - First Strike Still Deadly

*=Staff's pick

First Strike Is Deadly
Into The Pit*
Trial By Fire*
Disciples Of The Watch
The Preacher*
Burnt Offerings*
Over The Wall
The New Order*
The Haunting*
Alone In The Dark
Reign Of Terror
Genre
Thrash Metal

Chuck Billy

Vocals

Tracks
11

Alex Skolnick

Guitar

Runningtime
49 Min.

Eric Peterson

Guitar

Label
Spitfire Records

Steve DiGiorgio

Bass

Release
23 Oct. 2001

John Tempesta

Drums

Country
USA

-

Keyboards

Similar artists
Anthrax, Exodus

Testament is back, this time the band chosed to do a kind of different "best of/ remixed" album. "First Strike-Still Deadly" are not an ordinary "best of" attempt to earn as much as possible from older goddies. The material on this album has been chosed by Testament fans over the world when the band offered them the opportunity to vote wich songs they would like to hear on the album. After the voting, Testament vent of to the studio! So, on this album there are no remixes, only re-recordings of the bands superb career and history. Recorded at Driftwood Studios, Oakland (U.S) and mixed by Andy Sneap, Backstage Studios (Eng).
The first out of the pit is "First Strike Is Deadly". I´m impressed, the sound is extremly good. And when "Into The Pit" strikes me and I get the old feeling from a certain MTV program. I get the picture what its all about I guess, its not all about great production with the studio techniques of today, its also a marking that the band have improved their music. Testament plays their old songs with the skill of Testament today, wich means a bit heavier, a bit more aggressive. The best example of this is the vocals, Chuck Billy sings as good as always but since albums like: "Low", "Demonic" and "The Gathering" the vocals are much darker, but still it's the characteristic Testament feeling.
The album goes on with "Trial By Fire", "Disciples Of The Watch", "The Preacher" and "Burnt Offerings" etc. The solo parts from Skolnick and Peterson are as tastie and skillfull as it can be when its up to this genre of music. And of course the bass and drum works by Steve digiorgio and John Tempesta holds a very high class. My personal favourites on the album must be "Into The Pit", "The Preacher", "Burnt Offerings", "The New Order" and "The Haunting". Well this was a very pleasant and nice review to do of a band that I have hold very high during the years, and I think this album is worth checking out. This is some of the best material the band ever recorded, in a new and modern shape. This is metal!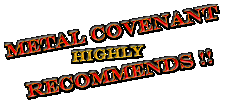 See also review of: Brotherhood Of The Snake , Dark Roots Of Earth , The Formation Of Damnation , Seen Between The Lines

Production

Vocals

Compositions

Summary





10 chalices of 10 - Tim
Related links: