| | |
| --- | --- |
| Desolate Shrine - Deliverance From The Godless Void | Published November 9 2017 |

*=Staff's pick

Lord Of The Three Realms*
The Primordial One
Demonic Evocation Prayer*
The Graeae
Unmask The Face Of False*
The Waters Of Man
The Silent Star
…Of Hell*
Genre
Death Metal

M.T.

Vocals

Tracks
8

R.S.

Guitar

Running time
57 Min.

L.L.

Guitar

Label
Dark Descent Records

L.L.

Bass

Release
November 10, 2017

L.L.

Drums

Country
Finland

-

Keyboards

Producer
Dan Lowndes
Similar bands
Convulse, Incantation, Funebre

The extreme metal underground is filled with bands that release a solid string of albums, but never find themselves unleashing one of those excellent, bordering on classic, collection of songs. Some bands even emit a sensation of standing on the edge to greatness, but never being able to cross over to the truly dark side. Every now and then, though, certain acts surprise the world by taking that final step. Such is the case on Desolate Shrine's fourth album 'Deliverance from the Godless Void'.
The musical components differ little from the bands previous album. We are still talking about modern dark and doomy Finnish death metal right in between the old Finnish scene and Incantation, with a good dose of atmosphere. One of those bands that put equal emphasis on the slow repetitive riffing and the layers of atmosphere. As always, Desolate Shrine engulfs the listener in a dense, suffocating darkness.
The difference between this one and its three predecessors is the notion that all the components finally come together in true greatness. The riffs and the atmospheric layers merge better than ever, without drowning one another. The melodic parts are more memorable. The dual vocals does an even better job in creating both dynamic and unity. The songwriting has finally reached the potential promised since the debut 'Tenebrous Towers'.
In short, Desolate Shrine has been digging for gold for a good eight years and finally struck a vein. It is unlikely this will cause a massive Klondike-styled rush of imitators, but it is sufficient to provide the extreme metal community with precious noble metal to last for a good time to come.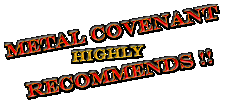 Performance

Originality

Production

Vocals

Songwriting

Summary





9 chalices of 10 - Tengan