Nightwish - From Wishes to Eternity Live 2001 - Dvd

*=Staff's pick

The Kinslayer
She is My Sin*
Deep Silent Complete*
The Pharao Sails to Orion
Come Cover Me
Wanderlust
Crimson Tide/Deep Blue Sea - Instrumental*
Swanheart
Elvenpath*
Fantasmic Part 3
Dead boy's poem
Sacrament of Wilderness*
Walking in the Air
Beauty & the Beast*
Wishmaster*
Genre
Heavy Metal

Tarja Turunen

Vocals

Tracks
15

Erno Vuorinen

Guitar

Runningtime
120 Min.

-

Guitar

Label
Noise Records

Marco Hietala

Bass

Release
09 Jul. 2001

Jukka Nevalainen

Drums

Country
Finland

Marco Hietala

Keyboards

Similar artists
---

I have been in love with Nightwish from day one, and their cd's have been spinning frequently in my player for some time now, so I have gotten used to their creations by now, but - wow... this really blew me away! The word that keeps coming back to me when I am thinking of a way to describe this in a few word is: majestic. This is an outstanding example of highquality metal, splendid acting(towards the audience - which is a big part of their appearance) and a superb vocal performance by the trained operasinger Tarja Turunen.
In a couple of years the youngsters in the finnish metal/operaband Nightwish have taken nothing by steady steps towards the utter elite in the genre, and by now most people with an average insight in the scene know or have heard about them and their work. If there is much of an genre to talk about, actully - I sure can't name many bands that perform this exquisite blend of heavy, wellplayed riffs, good melodies and the oh, so brittle but yet very powerful voice of the charming Tarja on vocals.
I haven't had the pleasure to visit a liveperformance with Nightwish yet, and this liveconcert from Tampere, Finland didn't exactly make me less anxious to do it. In the name of honesty, there ain't much action on stage during their concerts - Tarja is often moving in her mellow, melacholic manner, but just as often is she flirting and seducingly beckoning the audience, and Erno on the guitar most of the time doesn't put on many spectacular shows or outbursts - he is concentrating more on his play - which he does with the honours - and on showing that he loves the harmonies and pounding riffs just as much as the rest of the crowd. Because - how can you not? And how can you not yearn for more after have been sucked into an enchanting world of elves paths, pharao's trips, beauties and beasts? They prove with this release that they have a very quailitative and solid repertoar after a relative short career - there are only pure hits on this one, and yet there are many songs left in their backcatalouge that I could replace with some here, and still give it the highest grade.
I goes up and down with the action on stage - through some sections they let the music and effects speak for themselves - with this kind of material you don't have to do much else, but there are an ongoing flow that almost sucks you in the screen - in my case (i can only imagine how the actual liveaudience feel). But most of the time they show good energy and enthusiasm, with very, very nice stageeffects that keeps coming back in turns throughout the show, and that add those last bits to perfection - big slowburning fires, snow falling down, and magnificent pyros more at the end.
During the extranumbers that starts with Walking in the Air, I get a concrete reaction on how good this actually is. During the song I just mentioned I had a very hard time keeping the tears away - they just do it so damn good, majestic and touching! (Ok - I admit....the tears actually came). The contrast in Nightwish's music is handled with the uttermost perfection. They show that music can be really, really heavy without having to tune down the guitars 1½ octave. And everything is to perfection accompanied by Tarja's crystalclear voice.
The Grande Finale - consisting of Beauty & the Beast (with Sonata Arctica's Tony Kakko on dueling vocals and good counterplay with Tarja), and Wishmaster (with fireworks, pompousness and majesty seldom seen besides Iron Maiden's finale during Seventh Son of a Seventh Son on the video Maiden England) is hardly beaten by much I have seen in my days. On second thought - perhaps visiting a Nightwish concert isn't something to yearn for after all? I think your phsycic health is in great jeopardy when you have to face the fact that it is gonna end sooner or later. If you have entered this magical world, you want to stay there forever......
Give them a chance, if you haven't yet, and for you out there that have already discovered their brilliance: Congratulations! This is as good as it gets. Kiitos, Nightwish!!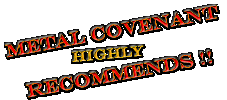 See also review of: Endless Forms Most Beautiful , Made In Hong Kong , End Of An Era , Once , Century Child , Ever Dream

Production

Vocals

Compositions

Summary





10 chalices of 10 - Tommy
Related links: