| | |
| --- | --- |
| Vader - And Blood Was Shed In Warsaw | Published Jan. 27 2008 |

*=Staff's pick

Intro
ShadowFear*
Sothis
Helleluyah!!! (God Is Dead)
Warlords
Silent Empire
Blood Of Kingu*
Out Of The Deep*
Carnal*
Dark Age
Black To The Blind
Intro: Para Bellum
This Is The War*
Lead Us
What Colour Is Your Blood* (video)
Epitaph
Cold Demons
Predator
Wings
Wyrocznia (featuring Orion) *
- Interview with Peter
- Video clip of Sword Of The Witcher
- Video clip of Helleluyah!!! (God Is Dead)
- Wallpapers/Photo Gallery/Band History etc.
Genre
Death Metal

Peter

Vocals

Tracks
20

Peter

Guitar

Runningtime
105 Min.

Mauser

Guitar

Label
Regain Records

Novy

Bass

Release
15 Oct. 2007

Daray

Drums

Country
Poland

-

Keyboards

Similar artists
Behemoth

Vader is to me one of the best death metal bands of all time, not only in the polish scene but also worldwide. This year they celebrate their 25th anniversary and they have during the years been extremely productive and have released many high quality albums and mcd's and have for years been one of the top names in the genre. This dvd was filmed February 12, 2007 at Stodola Club in Warsaw and it was the final date of their Impressions In Blood tour, supporting the album with the same name which was released in late 2006.
I have seen the band only once live before which was a highly mediocre concert, mainly due to bad sound, a soundchecking band on the adjacent stage during (!) Vader's concert and a very static show due to a relatively small stage. The concert on this dvd, however, is nothing less than magnificent. They line up songs from pretty much every album released during their career and they are flawlessly performed. The sound is brilliant and it has a very good live feeling. The show is very nice with nice lights and a nice atmosphere in general. It was filmed with seven cameras and the editing is good and gives a perfect flow.
I consider Peter to be one of the best growlers in the metal scene and his effort in the opening song ShadowFear is nothing less than amazing. The man is a monster and I am completely in awe everytime I see this dvd. His voice is a very vital contribution to why this band is so great. Beaten at brutality by few, but still very articulate and clear. I am knocked to the floor already after the second song Sothis, but the concert just keeps going on at the same high level through the set and there is not one dead second. The band is amazingly tight, which is much due to their extensive touring over the years, leading them to be one of the most frequent touring bands in the genre. When they round off with the fenomenal song Wyrocznia, featuring Orion (Behemoth, Vesania) on vocals, you feel completely run over by this unstoppable tank that goes under the name Vader.
The only thing I can critize is the solos, which in Vader's case always have been pretty lousy. To me they all sound the same and are as useless as Slayer's are, basically just annoying noise. You hear almost nothing from the audience either, but that seems to be an unfortunate ongoing trend on live recordings nowdays. But those things aside, this is a brilliant dvd that shows Vader from their absolute best side. The extra material is decent, containing apart from the usual photos, biography and such, a pretty interesting interview with main man Peter Wiwczarek and a video clip of the good song Sword Of The Witcher, which they wrote for the video game The Witcher. A little bit different than their other material and a tiny bit industrial sounding but it works great. This is a quality release that you definitely should own if you are a fan of the genre.

Trailer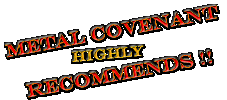 See also review of: Iron Times , Tibi Et Igni , Necropolis , XXV , Impressions In Blood , The Beast , Blood

Production

Vocals

Compositions

Extra material

7

Summary





9 chalices of 10 - Tommy
| | |
| --- | --- |
| Related links: | |