Reviewed by Thomas
----------------------------------------
Tourname: The Neon God World Tour
Special guest: Dyecrest & Dragonforce
City: Gothenburg, Sweden
Venue: Kåren
Date: 16 May 2004
Headline setlength: 85 min.
Special guest setlength: --
*******************************************************
Dyecrest

Sadly I arrived a bit late and only saw the last two songs from Finnish band Dyecrest, it seemed to be pretty good melodic heavy metal that the winners of Young Metal Gods delivered. The sound was terrible at this point and the fact that they have three guitarists didn't matter much since you couldn't keep them apart in the bad sound quality. Unfortunately I heard to little to be able to give a proper opinion on their performance.
Related links:
www.dyecrest.com
*******************************************************
Dragonforce

You just gotta love these guys. Dragonforce delivers speed more than anything else but somehow they manages to come up with a really good melodic sense as well. If you haven't heard them you could describe them as powermetal with one hell of a speed. I was standing through their entire gig with a constant smile on my face, dazzled by the speed and the energy these guys have, they moved around quite a bit on the small stage giving it a lot of themselves. Sometimes I wonder if they isn't too fast for their own good and that the guitar-parts is sometimes endlessly long, but nevertheless I cant help but being captivated by their charming power metal.
The sound was lacking a bit but no more than it was enjoyable and their performance was solid.
You can tell by looking at them that they really enjoy what they are doing and they got a decent reception even if I think they deserved better than that from the Gothenburg crowd, but on the other hand the hall was barely half-full at this time. Metal should be fun and with Dragonforce there is yet another proof of that.

Related links:
www.dragonforce.com
*******************************************************
W.A.S.P.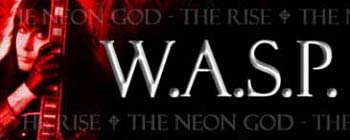 When legendary W.A.S.P. with Blackie Lawless comes to town you can rely on the fact that I'm there.
On some strange reason this was actually the first time I got the chance to see them and there was no way in hell that I was gonna miss this concert.
The concert opens with Overture as intro before the band hits the stage and kicks off their performance with On Your Knees. Already from the beginning it became obvious that it would be an energetic performance from W.A.S.P. You can tell from his face that Blackie isn't new to this world but he has something wild almost mad in his eyes and that this is what he loves to do.
The band was filled with routine and acted secure and comfortable on stage delivering one classic track piled on the other throughout the first amazing half of the show. It seemed like the band wanted much, not least with Stet Howland behind the drums bashing on his drums while standing up at times. And as bassist Mike Duda and guitarist Darrel Roberts appeared to be fully loaded to deliver one hell of a show they seemed to have managed to deliver as much as they wanted, at least I was more or less, well not stunned perhaps but fully entertained at least.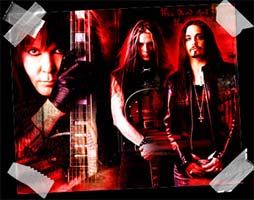 W.A.S.P. might not be as dangerous as they were painted out to be back in the eighties but it was raw and it definitely felt genuine. A simple show with not much of effects or hardly any at all, but it didn't feel like there was any need for it, their music speaks for itself.
One thing that might be counted as an effect was the microphone-stand. A skull with the spinal chord attached to it that bend from the skull down to the floor, complete with crossed bones beneath the skull and handlebars that rose above. It looked really cool and very H.R. Giger inspired the stand that Blackie used to climb up on and it swing back and forth. In My Tortured Soul the light was turned down and a fluorescent light shined up on Blackie sitting on top of the stand smudging himself with green paint that glowed in the shine from the light, a simple but yet very effective trick that gave that song that extra needed element. It was dark and suggestive and even more so when he rocked from side to side while he was singing with his arms and face covered in green.
The first track of the encore consisted of : an electric guitar, Blackie, a single spotlight and a medley from Crimson Idol. That was magnificent, so bare and so pure and yet so mighty.
One of the other highlights in my eyes was Chainsaw Charlie, I actually got cold shivers from when they started to play that one, and it was from that on the concert really lifted and intensified.
I am completely happy with the selections of songs as they delivered most of their classics and more of them than what I had hoped for. It was almost as an "best of" concert, although they are touring in support of a new album they only chose to pick two tracks from The Neon God. Perhaps the concert could have been a few minutes longer so that at least one more of the newer tracks could get some room. But in the end I got what I came for and more there of so who am I to complain?
W.A.S.P. held a really great quality straight through the concert, the only time it went down a bit was with the slower What I'll Never Find, but otherwise the pulse was really high from beginning to end.
The fact that they used pre-recorded backing vocals at some parts didn't bother me much. You can always question the necessity of it, if it really was needed. But as it was it added some strength to those parts, although the performance from W.A.S.P. was really strong in itself so I doubt I would have reacted if the pre-recordings hadn't been there?
So finally in the end there is not much left to say; what could be better than to end your week with a concert with W.A.S.P.? I've seen a living legend, he's called Blackie and by the looks of it he will be around for quite some time longer, there is still hunger in his eyes.
SETLIST

1. Overture
2. On Your Knees
3. Electric Circus
4. Hellion
5. Chainsaw Charlie
6. L.O.V.E. Machine
7. Animal
8. Wild Child
9. My Tortured Eyes
10. What I'll Never Find
11. Sister Sadie
12. The Real Me
13. I Wanna Be Somebody
14. Medley:
(Titanic Overture)
(The Idol)
(The Gypsy Meets The Boy)
(Sleeping In The Fire)
15. Blind In Texas
Related links:
www.waspnation.com