Tourname: Dance Of Death World Tour 2003 - 2004
Special guest: Funeral For A Friend
City: Gothenburg
Venue: Scandinavium
Date: 15 Nov. 2003
Headline setlength: 110 min.
*******************************************************

Funeral For A Friend
Arrived perfectly to see only the last and a half song from this Welch band, but I didn't pay them very much attention. I don't like the stuff that I have heard earlier from this kind of nu-metal band (I can be wrong about the nu-metal though since I haven't heard that much from them) so didn't prior their performance and chose to arrive in time for Iron Maiden instead. And looking at the response from the crowd it looked like I really didn't miss anything.
Related links:
www.funeralforafriend.com
*******************************************************

Iron Maiden
Finally the moment had arrived, Doctor Doctor from UFO faded out from the speakers as the lights went down, the tension was thick in the air as us in the crowd waited for Iron Maiden to enter the stage. And no wonder that there was tension, when the tickets went on sale it was just a matter of a few hours before this show was sold out, so people had longed for this moment to arrive.

The concert started with Wildest Dreams from their new album Dance Of Death and that song is something of the worst they have ever written, there is just a few bad songs Maiden has done and this one is the worst, but who cares when it is Iron Maiden that has just started to play, not me.
It fast got better when Wrathchild was delivered as the second song, that is one of those old classics its always a pleasure to witness live, and many besides me seemed to like it as the atmosphere was almost electric at this point. I Was afraid that Bruce Dickinson would have problems with his voice according to that they had cancelled two concerts earlier on the tour, but was eased to hear that the "air-raid siren" was loud and clear just like it is supposed to be.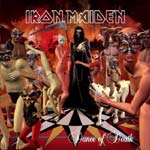 Before the third song it was time for a little speech to the audience but Dickinson had to try several times to be able to start talking, the crowd constantly chanted Maiden and the band seemed to be overwhelmed by the welcoming they received. MTV was the focus for Dickinson this time and the anger he felt since the channel refuse to play their new video for Rainmaker. MTV states that the Iron Maiden fan is to old for them and therefore the video wont get played, to old? Most in the crowd might be between 20-30 years of age and some are older as well, but likewise there are also lots of kids at these concerts and if they are considered to be to old MTV should consider to throw in some Teletubbies between the videos from now on. But then, who cares about MTV anyway?, they are not exactly known to be the network that supports metal.
The stage was large and made to look like a castle with a wall behind Nicko McBrain's drumset for Dickinson to run on, and with backdrops being changed at times to suit the song played it looked really well. With Paschendale I got a new live favourite from Iron Maiden, a great track on the new album that turned out to be amazing live and the impression got improved by the stage-decorations with barb-wire fences on the castle wall, a battle-field backdrop and Dickinson dressed in a military-coat complete with an oversized helmet.
And the costuming for Dickinson didn't end with Paschendale, with a theatrical mask and a black robe he was sneaking around the stage in yet another new live favourite to me, the title track from Dance Of Death went straight to my heart when the melodic folk-music inspired guitarpart started, that was pure magic.
How great it ever was with these songs as well as with the old classics like Hallowed Be Thy Name, Fear Of The Dark and Run To The Hills, at these moments the crowd was wild and it felt like it couldn't get much better, but the feeling I got was that the show was running on air at some points as well. Honestly I must say that I expected a bit more from the guys, don't get me wrong now, I'm perfectly happy with what I got and it was worth every penny spent on the ticket, could gladly have paid much more for my ticket, it really was that good. But it didn't really take off and explode as I would have want it to, the concert slowed down in the middle besides Paschendale with Brave New World, Lord Of The Flies and No More Lies, no bad songs but there is so much more and better to bring out from the vaults of Iron Maiden.
Maybe it is time to dust of some other less played old classics, imagine a Skeletons in the closet tour that Gamma Ray did but with Maiden instead, how great wouldn't that be?
Three songs was given after they had been called back and the first was the ballad Journeyman, not what I expected but turned out great, especially when the as always magnificent light-rig was lowered down over the band that was sitting down to play this one. The last two songs was The Number Of The Beast and Run To The Hills and that is a splendid way to end a concert that was a bit slow around the middle but really great most of the time and absolutely magic at some points. The band promised to return and that I really long for, but then I'm sure that is what they say everywhere.
Bruce Dickinson is the one in the band that grabs the most attention constantly running around on the stage and working the crowd, while the others doesn't make to much fuzz about themselves, they are doing their job smilingly and perfectly while Steve Harris is constantly singing along. Well, beside Janick Gers that is, he poses in every way that is possible for a metal guitarist without looking stupid, it comes out natural for this guy and it is great to see his style of guitar-playing when he is strutting around on stage
And in case you wondered, yes of course Eddie was there this time around as well, a Maiden concert isn't fulfilled without Eddie. Actually there was two of them, one big behind the wall that was decorated with a Swedish flag on his waiving arm that had been thrown upon the stage and one that joined the band on stage, both in a grim-reaper outfit perfectly in order according to the album cover of Dance Of Death.
UP THE IRONS!!!
Setlist :
01. Wildest dreams
02. Wrathchild
03. Can I play with madness
04. The Trooper
05. Dance of death
06. Rainmaker
07. Brave new world
08. Paschendale
09. Lord of the flies
10. No more lies
11. Hallowed be thy name
12. Fear of the dark
13. Iron Maiden
14. Journeyman
15. The Number of the beast
16. Run to the hills
Related links:
www.ironmaiden.com