Reviewed by Thomas
----------------------------------------
Tourname: European Tour 2004
Special guest: Caliban & Devil Driver
City: Gothenburg
Venue: Lisebergshallen
Date: 16 Apr. 2004
Headline setlength: 95 min.
Special guest setlength: --
*******************************************************

In Flames

In Flames has chosen to start their tour in support of their recently released album Soundtrack To You Escape in their hometown Gothenburg and the venue for this evening is Lisebergshallen. There are not many Swedish metalbands that are big enough to play in such big venue in Gothenburg, not sure about the full capacity but In Flames managed to draw a crowd consisting of 2700 metal-heads yearning for melodic death metal. The only band I can recall in recent years that has played there is actually their neighbours in Hammerfall that sold out their concert their in February 2003. Even though it is not packed to the last seat it is fun to see that In Flames and a small genre such as death metal finally is getting some serious attention and the recognition that they so much deserves outside the core of hardcore deathmetal followers. And even if In Flames has widely broadened and progressed their Gothenburg sound they must still be seen as death metal even if they mixes with some other stuff these days, with the honour if you ask me, a great progression and as long as they mixes their older with their newer on stage Im as happy as can be.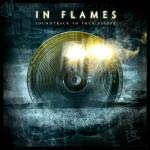 The lights go down and noise is coming out the speakers as an intro meanwhile eight white letters that are about a meter high carved in stainless steel hanging from in chains is blinking as they are lit up forming the words: IN FLAMES. The first track out is the perhaps not so obvious choice of Dead Alone and In Flames is on their way energetic yet a bit trembling, cant blame them for being nervous as it is the first concert on the tour and there are many pieces that shall fall into place. But the pyrotechnics worked with sparks flying up from the stage as well as down on it and fire balls rushing high, you could fell the warmth from them at quite a distance, My guess is that it is only Hammerfall that have used more fire in that hall earlier. The lightning is apart from a ramp in the ceiling done from the back of the stage mostly with swirling shifting lights, and during Dead Alone the swirling lights was tastefully in two different shades of green that matches the cover of their latest effort. It was a simple yet very tasteful stage they had to perform on.
The start was a bit slow even though Pinball Map as second track doesnt exactly lack of speed but it wasn't until about halfway through the show with Cloud Connected the concert really took form. The first half was really good but could have been better, then who could blame the guys for being a bit nervous as it was the opening gig in their hometown?, but with Cloud Connected it more or less exploded everything fell into place and from that on it wasn't just simply a good concert from that point on it was a fantastic concert and the sound that was lacking in the beginning was improved and it turned to have a really good quality.
The newer material matches perfectly with the older when they are delivering live, the best example is when the speedy and heavy Behind Space from the Lunar Strain album (1994) was followed by The Quiet Place the single track from the latest Soundtrack To Your Escape (2004). Even though it is ten years between those songs and quite some progression from In Flames since the beginning it feels natural, the time past doesnt matter when they blends their material it only feels like In Flames. The last time I saw them Behind Space was the real highlight of the evening and this time was no exception, that song is a real killer live and for me it cant get much better from there. And all you none-believers accusing In Flames for becoming a nu-metal band should attend their concerts to be proven wrong, this is death metal extravaganza, not in the most brutal form but its hard and fast at the same time melodic and sing-along friendly at its places, and if you ask me its awesome.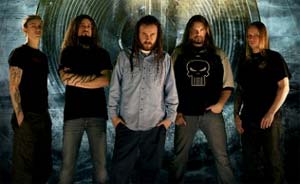 In Flames were good and sometimes almost too good, even if it gets rawer and harder live especially with the later stuff the band plays so tight and perfectly that it sounds a bit to close to the albums. The twin-guitars between Strömblad and Gelotte and the solos were mostly flawless and apart from some beginning mistakes I can find nothing to complain about, if they continues their tour in the same manor as they started with they will be heard of as the tour goes along through the world. It shows that the band has been around for awhile because it is with an obvious confidence they performs on stage, perhaps not the most entertaining for the eye band but highly professional. Vocalist Anders Fridén has calm and relaxed talks between the songs and thanks the audience and letting them know that this is the best night in their life, and thanks the audience for letting In Flames come and play at our (the audience) little party, and as it is the best night in the audience life it is also the best night in In Flames life he further lets us know. He is almost too nice and friendly so it creates a warm and familiar ambience to only in the next couple of seconds be screaming his lungs out. I thought I heard his voice beginning to crack in the later half at the show and got worried, but as it turned out it was a totally unnecessary worrying.
Which song were missing? The constant question about live concerts but leaving the hall straight after the concert I was pleased and couldn't think of anything that I've missed, its first now a day after that I realises that they totally left The Jester Race out, and it would have been nice to have heard at least one track from that album like Artifacts Of The Black Rain. Apart from that Free Fall from Reroute To Remain could have been placed in the setlist and a third of the setlist was not so surprisingly picked from their new album but with their strong back-catalogue some changes could perhaps been done, but as mentioned earlier, I was pleased when I left so why argue?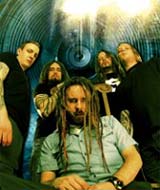 If you don't gonna get the opportunity to see them live on their tour have comfort, they were filming this concert and is gonna film others as well as they travels the roads throughout the world, and all the good pieces is gonna be put together on a DVD. Beware you rest of the world - In Flames is coming and the flames burns high and mighty.
SETLIST

01. Dead Alone
02. Pinball Map
03. System
04. Episode 666
05. Embody The Invisible
06. Watch Them Feed
07. Coerced Coexistence
08. Cloud Connected
09. Touch Of Red
10. Like You Better Dead
11. Square Nothing
12. In Search For I
13. Clayman
14. Trigger
15. Gyroscope
16. Only For The Weak
17. Behind Space
18. The Quiet Place
19. F(r)iend
20. Colony
21. My Sweet Shadow
Related links:
www.inflames.com