Guitarmania - Alingsås Guitar Festival 2003
*******************************************************
Freak Kitchen, Johan Randén Band, Lotus, Eisley and a guitar clinic with Mattias "IA" Eklundh was on the menu for this inaugural edition of Guitarmania.
Alingsås is a small town located about 40 kilometres from the city Gothenburg at the Swedish west-coast. The one thing Alingsås is mostly known for, at least in Sweden is a man named Jonas Alströmer, the guy that introduce the potato to the Swedes in the 18:th century.
And even if Alingsås isn't known as a hardrocking town there is a couple of enthusiastic guys that made this little festival happen with help from sponsors and organisations, and I must say that they did a fine job of putting this together. The festival was held at the cinema Palladium, a venue with approximately 280 seats, might be seen as a little small but at least it is a start.
And here is what happened during the day:
*******************************************************

Mattias "IA" Eklundh - Guitar Clinic
In the early afternoon the festival kicked of with a guitar clinic by one of the most brilliant guitarplayers I know. It might sound boring to be sitting and listening to guitarplayer talking about how to play and showing techniques etc., but this was a really funny time with lots of laughter. If "IA" would give up his music career he could easily be working as a stand up comedian because he is naturally funny as hell constantly making us in audience laugh while he describes his way of playing. I have never played guitar but I found this very interesting and amusing, yet this was just a little warming up for what was about to come when he later played with his band Freak Kitchen that was headlining the festival.
Related links:
www.freakkitchen.com
*******************************************************
Lotus
First band to hit the only stage was the trio Lotus, delivering music that smells a lot of the seventies, groovy and bluesy melodic hardrock with a bit of Black Sabbath riffing. Spiritual Beggars is a band that come to mind, perhaps not a fair comparison but it gives you an idea about the music. Not an easy task for the band to get the crowd going in the early evening since all were sitting down due to the fact that the festival was held in a cinema theatre, but they seemed to get the job done. Not really my kind of music but I enjoyed listening to their set and would have liked them to play a little longer than the fifty minutes that they were given.
Related links:
medlem.spray.se/lotushome
*******************************************************
Eisley

"Combining the best and most steaming, groovy, energetic & spectacular parts out of 70´s rock & Motown-soul, presenting it in an up to date atmosphere, Eisley creates their own musical universe!"

This is how the band themselves describes their music at their website, but I don't know, their performance made no impact on me. Lame music that didn't catch my interest, although I must admit that they were good musicians and the performance was mostly ok, it was just that this isn't my cup of tee. It could have been the local cover-band performing Proud Mary for all that I care, to me this wasn't any better than that.
The fact that they has two vocalists and the female one, Zara has a great powerful voice full of soul didn't help.
Related links:
www.gbg.bonet.se/moseisley/index.html
*******************************************************
Johan Randén Band
I have heard alot about this guitarplaying wonderkid named Johan Randén, but has never got the chance to see or hear him play, and now that I have all I can say is, damn he is good!
At only fifteen years of age he plays like a full grown that hasn't done anything else but to play guitar. I'm not that keen on listening to instrumental music but this time I had nothing against to listen to the bands mixture of progressive metal and fusion jazz.
I'm convinced that we are gonna hear alot about Johan in the future, he has without doubt the possibility to go as far as he wants as an musician, he is truly gifted.
The crowd loved this band and I have no problems to guess why since Alingsås is the hometown of the young guitar-hero Johan Randén.
Related links:
www.johanrandenband.com
*******************************************************
Freak Kitchen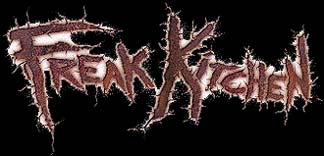 Freak Kitchen is a band that is equally fun to watch as it is to hear their great music.
They are giving it all on stage and combined with the crazy people they seem to be it is always a pleasure to watch them play. Melodic heavy metal with strong melodies, and then we of course have the guitarplaying, truly amazing. Besides the extraordinary guitarparts that Freak Kitchen's music holds Mr. Eklundh spices up the show as always by playing guitar with an Chinese anal vibrator, don't want to know how the hell he came up with that idea.
And if that wasn't enough we also got to hear a guitarsolo on a guitar without strings, think about that one for a while. Together with bassplayer Christer Örtefors that was constantly jumping around on stage with his nipples covered by tape in the shape of two small crosses in a truly X-rated manor, and drummer Björn Fryklund with a cymbal in the shape of the characteristic Freak Kitchen cow this show was completed. Freak Kitchen spreads more joy than even Freedom Call that is constantly smiling on stage, proving once again that metal is fun.
Related links:
www.freakkitchen.com
*******************************************************
To sum it all up I had a pleasant day at the festival, and even if I'm not used to be sitting down at a concert it was all well organised and really hope that guitarmania made some profit so that I can return for a perhaps a bit bigger festival next year.
*******************************************************
Related links:
www.guitarmania.se