Review by Thomas
Pictures courtesy of Emelie Johansson
Gates of Metal, Hultsfred, Sweden - August 2nd 2003
See pictures from the festival »
Hultsfred goes metal.
August the 2:nd was the date for a new metal-event on swedish ground in a little town called Hultsfred. Hultsfred is mostly known for the Hultsfred Festival that has been holding on for nomerous years and has a more variously line-up spanning from every music-genre that attracts the youth of today. But this time it is an all metal one-day festivity named Gates Of Metal.
With a line up with these bands it sets a high standard already in its first year, just take a look at the bands that played: Arch Enemy, Blind Guardian, Freedom Call, Gamma Ray, Iron Savior, Kreator, Lost Horizon, Merciless, Nightwish, Norther, Stormwarrior and Wolf.
Started the morning by waking up wondering where the hell the noise was coming from, until i realised that it was my alarmclock buzzing with an evil sound, had almost forgotten that devilish sound since I was in the middle of my vacation. Got up at 8.30 am dead tired and poured down some coffe to wake up before my friend picked me up to take us in to Gothenburg to the bus that would take us to the Festival at 10.00 am. On the bus we were supposed to get an "exclusive heavy metal breakfast" and my first thought to that was that it had to be a shot of Jack Daniels, the ultimate Hard Rock beverage. Luckely enough I was wrong and calmed by finding out that the breakfast was actually rather nutritious with a piece of bread, yoghurt, lemonade and an apple. After we hit the road the video was turned on in the bus and some sarcastic fellow thought that Disney´s Ducktales should be suitable for a bus full of metalheads, finally after two episodes with cartoon adventures the tape was changed into one with musicvideos that someone had recorded from television, that someone should have his had checked since most of the videos was nu-metal, I really don´t think that Limp Bizkit and Korn is the right way to get yourself in the mood for a festival like Gates Of Metal.
Finally when we arrived to Hultsfred we stepped into the festival area, and just a few steps in I spotted a stage and asumed with Sweden Rock Festival fresh in memory that the stage in front of me had to be the smallest one, started to look around and realized that I was standing in the middle of the whole place for the festival and the stage I was looking at was in fact the largest one, named Stage 1. Later on I noticed that it in fact was big enough and didn´t need to be larger when the ticket sales was limited to 5000 tickets and about 3500-4000 people showed up. Stage 2 was indoors with a small stage but with the floor leaning heavily towards the stage making it easy for the crowd to see the stage even if you should be standing in the back. Stage 3 was also with a roof in a pavilion with a stage just an inch bigger than the one in your local pub, that one should have been bigger in order for the band to get some room on stage.
Well enough about that, lets carry on with the reason why I was there in the first place,
The concerts:
***************************************
Band: Iron Savior (Germany)
Time: 16.00-17.00
Stage 2
Didn´t plan to see Iron Savior but instead of waiting in line before they would let people in to see a delayed show with Norther I found it better to watch them rather then to stand outside waiting. Iron Savior that is mainly the child of producer Piet Sielck has been around a while now and has released four albums and got most of their publicity in the beginning mainly to the fact that Kai Hansen was a part of the band on their first three albums.
I only stayed to watch four songs and I can´t say that I was impressed of what I saw.
Mainman Piet Sielck did what he could to bring life to the music but the guitarist and the bassplayer looked unispired as if they would rather be somewhere else at the time.
So did I, and went on to see Norther instead.
***************************************

Band: Norther (Finland)
Time: 16.00-17.00
Stage 3
Norther is definitely a band that has the time ahead of them. Playing music similar to Children Of Bodom, yet not with the same complexity they surely have the skills to play and to write songs. The guys in the band are young and their inexperience shines through at many times and they sometimes look a bit insecure up on the stage, but if you give these guys a little time to grow I´m sure they have the capability to go very far. The show went along fine on the small stage and I really enjoyed listening to their melodic deathmetal and as the short concert was reaching its end they played their songs Blackhearted and Unleash Hell and got a part of the small audience to go wild. And to finish it all up they served us a real crowdpleaser in form of the old Europe song: The Final Countdown with growlingvocals that made most of the audience go wild as I felt a shiver running down my spine of wellbeeing.
***************************************

Band: Freedom Call (Germany)
Time: 17.00-18.00
Stage1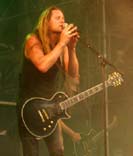 First gig of the day for drummer Daniel Zimmerman also found in Gamma Ray, as well as their touring keyboardist that I didn´t catch the name of. Freedom Call did kind of "a day at the work" performance, not to good and definetly not bad. And something that strikes me is that singer and guitarist Chris Bay always looks so happy strutting around on stage with a constant big smile, and I found myself smiling the same way affected by this happines, what can you say, metal is fun.
Delivering songs like We are one, Metal Invasion, Warriors and The Quest they managed to get the crowd going at some times but it never really lifted to the highs that I would have liked it to, even though it was well worth hanging around and listen to the whole set before it was time to rush on to the next concert. There will be another chance to hear this concert for those of you who lives in Sweden since the national radiostation P3 were there and to record the performance of Freedom Call.
***************************************

Band: Arch Enemy (Sweden)
Time: 18.00-19.00
Stage 2
I have heard the latest record Wages Of Sin many many times so I know how vocalist Angela Gossow sounds, I have seen her on pictures so I know how she looks, but still I get completly blown away when this beautiful blond woman starts to growl on stage, all I can say is WOW. She kicks the ass out of most of the male vocalists that sings with a growling voice.They starts the action with the song Enemy Within and it is a killer performance from beginning to the end of the show. It felt like the entire band was giving all they got on stage, the Amott brothers was nailing the twinguitar parts and solos perfectly while Sharlee D´Angelo furiously was banging on his bass. Angela makes the perfect frontperson for a band constantly getting the crowd going when she wasn´t strongly convincingly screaming out the lyrics. It was a blend of both old and new songs but most of them was taken from the Wages Of Sin album and when I thought it couldn´t get any better it did, with the song Ravenous, magnificent is a word that spontaneously comes to mind.
And we also got the chance to hear the song We Will Rise from their forthcoming album and it felt like a perfect livetrack with its adrenaline raising melody.
Arch Enemy totally blew me away and this was without a doubt the best concert at Gates Of Metal.
***************************************

Band: Gamma Ray (Germany)
Time: 19.00-20.30
Stage 1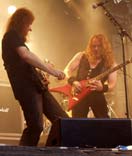 Second gig of the day for drummer Daniel Zimmerman also found in Freedom Call, as well as their touring keyboardist that I didn´t catch the name of.I think the skeletons thing was a really good idea, loved to hear Rich & Famous and One With The World as well as Armageddon. But however fun it was hearing the songs you don´t normally hear, there was something missing, Kai´s singing wasn´t on top and their performance didn´t feel as good as it should´ve been.
And I just wanna say thank you Gamma Ray for dusting of Victim Of Fate and ending the show with I Want Out, killer tracks from the golden Helloween era.
***************************************

Band: Lost Horizon (Sweden)
Time: 20.30-21.30
Stage 2
Lost Horizon seemed to be managing alright on stage without guitarist and main songwriter Wojtek Lisicki, even if you could hear that there was a guitar missing at some parts.
I guess his departure will be more obviuos by the time they will release a new album.
Lost Horizon warpainted in blue gives us a solid performance that kicks off with the track Pure from their second and latest album A Flame To The Ground Beneath, and then follows songs like Lost In The Depths Of Me, Heart Of Storm and my favourite: World Through My Fateless Eyes. Vocalist Daniel Heiman sings perfectly and deliver the highpitch vocals without problems, but the stage was too small for him to run around and sweeping with his gown. The crowd responded well to their performance and the guys in the band seemed likewise satisfied with the show, and they should be satisfied beacuse this was really good.
Unfortunately many in the crowd started to leave before they had finished playing in order to get good places in front of the stage where Blind Guardian was about to start.
***************************************

Band: Blind Guardian (Germany)
Time: 21.30-23.00
Stage 1
You can always rely on Blind Guardian that they will deliver a quality show, and this time was no exception.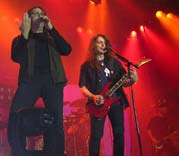 I heard many voices after the show about how it was the worst show of the festival and that Blind Guardian was bad, but I seriously can´t understand that. The band played The Bard´s Song and The Lord Of The Rings two perfect sing-along crowd-pleasers and at the end of the Last Candle the audience more or less wouldn´t stop singing, that was a killer. Those are all good songs but I preferd to hear I´m Alive, Mirror Mirror and Valhalla, that´s when Blind guardian is at their best to my ears. This was not the best concert that I´ve seen with them but it was at least one step better than the one at Sweden Rock Festival. And one should think that when the band brings along a bassplayer with them on the road so Hansi Kürsch can concentrate more on the singing that he could move around a little more on stage and working the crowd better.
***************************************

Band: Kreator (Germany)
Time: 23.00-00.00
Stage 2
Kreator is a thrash band that has been holding on for a very long time and since I first heard the song People Of The Lie and later on the album Renewal I have been a big fan of them.
So this was the concert that I had the highest expectations on and this was also so the concert that was the biggest disappointment to me.
The sound was terrible and Mille Petrozza´s singing was more like croaking this night.
The sound of the two guitars and the bass melted in to eachother so that all you could hear was a roaring noise that made it hard for me to hear the melodylines and solos, and I even at times had trouble telling which song they actually were playing at the moment beacuse of the terrible sound quality. But it wasn´t all bad, the atmosphere was perfect with lots of smoke and the lightning with red spotlights mostly shining on the band from behind through heavy smoke made a perfect ambiance for a killer thrash performance, if they only hadn´t played so bad as they did. Renewal and Servant In Heavean - King In Hell turned out to the best songs of Kreator´s performance so I choose to cling to the memories of them and forget about the rest.
***************************************

Band: Nightwish (Finland)
Time: 00.00-01.30
Stage 1
The show starts with the opening track Bless The Child from their latest album Century Child, and after the intro Tarja enters the stage and it feels like an angel has appeared in front of us, dressed in white with an angelic voice she starts to sing and it feels almost magical.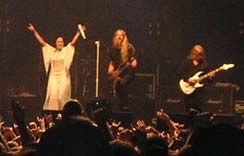 The professionalism from the band is apparent and you can tell that they enjoy what they are doing, and even if they use alot of pre-recordings it still works very well live. The show carried on with songs like: End Of All Hope, Come Cover Me, Sleeping Sun and a cover of Whild Child originally done by W.A.S.P., performed by constantly smoking bassplayer Marco Hietala who really knows his ways on the stage. He also sings in the duet Dead To The World and Slaying The Dreamer which in my opinion was the best song of the set with Marco´s growling, the crunchy riffs and the aggressivness that it holds. Nightwish had also brought a special guest with them in the shape of Wilska from Finntroll to help out with the vocals on The Pharaoh Sails To Orion. And later on the magic took an end with another cover, and this time it was the crowdpleasing Gary Moore hitsong Over The Hills And Far Away. That is always a great song but why do they have to include two coversongs in a set that only lasted about 75 minutes when they have so much of their own material to chose from. After Nightwish had ended all that was left to do was heading back to the bus that would take me home. And thinking back I must say that Nightwish and most of all Arch Enemy was the two best concerts closely followed by Norther.
***************************************

To sum it all up it was a fine day in the spirit of metal that ended late in the night.
To next years addition of Gates Of Metal, I surely hope that there will be one next year, there are a couple of things that I would like the organizers to take under consideration. First off, start the concerts earlier in the day so there can be more time between the concerts. Now it was hard to find time for beerdrinking and eating since one concert started as soon as the other one ended, it would be better if it was at least fifteen minutes between them so you could melt the impressions of one band before you went on to see the next. Second, only one beer tent and not beeing allowed to take the beer with you outside the tent, I would like it if I could see a band as well as drinking a beer at the same time next year.
Apart from that Gates Of Metal was really well organized and something I sure would like to return to next year. And if they choose to not have Gates Of Metal collide with Wacken I´m sure the crowd will be bigger next time.

***************************************