Interview conducted December 19 2014
Interview published December 24 2014
Those Cleveland Warriors Wretch are reborn! Never alone, here they are again ready to rise to power to promote the release of their brand new album on Pure Steel Records. A great deal has changed over the last few years with the band, including the fallen from graceful departure of charasmatic vocalist Colin Watson, and the necessary arrival of unique vocalist Ron Emig, formerly of Zone Eleven.
The new material is quite a departure from the energy of 'Reborn', but still very true to the Traditional Cleveland Metal sound the ones have embodied for decades. Not too long ago, I spoke with Ron about all his endearing sacrifice: his participation in the band, his pensive lyrics, his particular vocal style, and what it means to perform with such an iconic act.

MettleAngel: Hey Brother, it is such a pleasure to speak with you once again. Imagine my surprise when I recieved an E-mail from Pure Steel asking me to interview Wretch. I was not aware that the band had a new album, no less that you were now their new vocalist.
Ron: I was excited when you contacted me.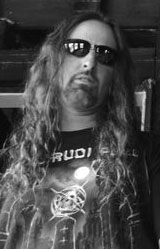 MettleAngel: I had seen Tim Frederick play with Vindicator, when they opened for Artillery and Onslaught. In my Live review, I mentioned that he was wearing a Wretch T-shirt, but I did not get a chance to talk to him after the show. Thus, I was unaware of the band's new album 'Warriors'. I was also planning to see Manilla Road on my brithday in Indiana, because I had heard Wretch was opening for the show.
Ron: Yeah, that was not us, though.
MettleAngel: I realized that, and actually I never did attend, even though I would have liked to have spoken with their drummer Andreas "Neudi" Neuderth, who also plays in Roxxcalibur.
Ron: Maybe we should play a show with this other band called Wretch?
MettleAngel: Maybe, but they are of a different style, altogether. Karl Simon, formerly of Gates Of Slumber is the founding member. I guess he took the name from their 2011 album?
Ron: Fascinating....
MettleAngel: There are several other Metal bands called Wretch, spread all over world-wide. There is even a technical Deathcore band called Wretched signed to Victory from North Carolina, who if I am not mistaken, had my own brother create their logo.
Ron: We should have a show with all these bands, it would make for a fun mix-up.
MettleAngel: I guess, at least the America acts could come to Cleveland. Over the years, Bill Peters has put together shows for charity which feature all genres of Metal. You just recently played for one of those, right?
Ron: Yeah, we just played one with my wife's new band Olathia, Black Death Resurrected, Shok Paris, Midnight, Sunless Sky, Deadiron, Vulgar Devils, and more.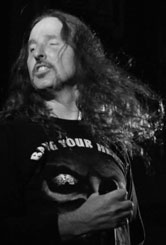 MettleAngel: I sure would have enjoyed attending that! I do like the new Olathia songs I heard. Unlike Chris' former band Cellbound, which had such Metalcore inclinations, she is now singing more straight forward, showcasing her true talent. I have informed fans of A Sound Of Thunder, Sister Sin, and Benedictum to check out their Bandcamp page.
Ron: Thank You! Black Death Resurrected will be releasing new material in 2015. They will join us for our official album release party in January.
MettleAngel: Let us now focus our attention to your involvement with Wretch, how were you chosen as a replacement for Colin?
Ron: Bill Peters introduced me to Nick Giannakos a few years prior to my joining Wretch. I have always been a fan of this very powerful band, and particularly Colin as a vocalist.
MettleAngel: I really appreciate and admire your lyrics. They are very personal, subjective, and thought-provoking. I noticed you seem to write themes concerning children, but you and Chris do not have kids of your own, right?
Ron: Yes, but I was once a child myself, and this is the view for which I am suggesting. I like to write about things which interest and intrigue me, personally.
MettleAngel: Well, that makes sense. I noticed that there was no political or religious agenda, and just a hint of fantasy themes prevalent. I assume like with Exodus, when Zetro re-joined, most of the new music had already been written?
Ron: Before I joined, most of the songs had already been written and recorded with Colin's lyrics and melodies. Once I came aboard, and we added our new drummer Evan Gottschalk, we decided to re-record everything, and rework the material a bit. So I was given the opportunity to write my own lyrics and vocal melodies.
MettleAngel: I find your vocals to be vey unique. I hear Dio, Tony Martin, and just a bit of Ian Gillian?
Ron: I love all those artists, and I was in a Deep Purple Tribute band, too.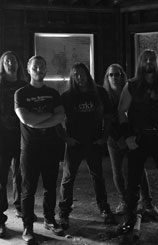 MettleAngel: When did you officially join the band, and what was your first show?
Ron: I think it was around June of 2012. My first show with them was in October that same year, when we opened for Michael Schenker.
MettleAngel: Did you play only older Wretch material, like with your 2013 'Rise To Power' (EP), or did you debut new material from 'Warriors'?
Ron: As I recall, we played four or so new songs that we had been rehearsing.
MettleAngel: So please tell me what is up with the totally lame cover artwork? The music is so good, but then the cover is so bland. What is with the dirigible flying over the battleships, is this supposed to be some sort of Zepellin reference? Why is it all black and white, was this intentional?
Ron: Yeah, I agree, we were not too pleased with the artwork either. This was all part of our contract negotiations with Pure Steel. They were allowed to select the cover.
MettleAngel: This surprises me, as they have some great album covers for so many of their quality acts. I wonder how they decided that this depicted the music found on 'Warriors', in lieu of say something more mythologial and more Metal. This would make sense for say, Sabaton or Hail Of Bullets, but certaintly not Wretch.
Ron: Yeah, it is really not indicative of what we are all about, really.
MettleAngel: How did you get signed to Pure Steel, anyhow? I would have assumed Bill Peters from Auburn Records would have wanted to work with the band again.
Ron: It all came together in 2013, just before we played the "Up The Hammers" Festival in Greece. We had just finished 'Rise To Power', which was our first EP with the new line-up. It was suggested to us that we send a copy to Pure Steel Records, because they may be interested in our style. They offered us a two record deal, shortly thereafter. We all decided that the band could benefit from distribution throughout Europe, as well as being represented by a label based in Germany. We have always appreciated Bill's support, but this time we just wanted to try something different.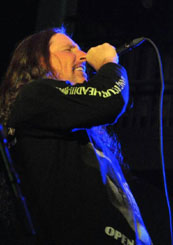 MettleAngel: I respect that! Many great U.S. bands are working with Pure Steel like ASKA, Omen, Steel Prophet, etc. What are some of your favorite new songs?
Ron: That is a loaded question, I should love them all right? If I were to pick my favorites, then I would select: "Sacrifice", Watching The Worlds", Death Of Innocence", Fallen From Grace"....
MettleAngel: I agree with those, but I would include: "The Ones" and "Warriors", as well. I do not enjoy the weak closer called "Rain", though.
Ron: Really - I like that one. That song has had a long life. It was originally an instrumental, when Colin was in the band. They just had me add lyrics to it.
MettleAngel: It is so sappy, it should have remained an instrumental, not that your lyrics are lame or anything. I just feel that after hearing such an abrasive album, that it ends on a rather ineffectual note. Overall, the album is very good, and any fan of Classic Metal should surely enjoy it.
Ron: Thank You! The whole band really welcomes your support.
MettleAngel: I always celebrate the opportunity to promote local talent. I have also enjoyed your friendship over these past few years. I still have all those burns you did for me, a number of years ago, of such rare Cleveland Metal.
Ron: Yes, I enjoy yours as well. Thank You for contacting me, and promoting the band.
MettleAngel: You bet! Now I need to see you live, as I have never seen you sing, but have only heard you digitally on my promo, and other burns you have made for me like with Necessary Evil and Zone Eleven. I have watched your wife perform a number of times, even joining Wretch on stage for duets, but surprisingly, I have never seen you sing in a live atmosphere. I guess it is ime to go to YouTube, right!
Related links:

www.wretchmetal.com
www.facebook.com/wretchmetal