After being consumed by the oncoming tempest, gazing into the eye of the storm, and staring into the eyes of fate, Wendy and I emerge as the winners. Over the past week, we have endured unholy mental wars and heart-retching anguish; yet, Wendy and I defy the guilt, pain, and suffering 'till death do we part. We embrace life and our joy is the journey as we celebrate the moribund dance. We mitigate our sorrow and immerse ourselves in all things metal; for nothing heals our mettle hearts faster; thus, allowing us to become reborn!
We appreciate Bill Peters of Auburn Records for inviting us to the Wretch album release party. We are truly grateful for the wonderful hospitality from the Eternal Legacy family, making this all a reality. After the show, I engaged in a candid interview with Colin Watson, asking him to skim and highlight his illustrious career and his return to Wretch, since it's never too late to play metal.

MettleAngel: Wretch began in the mid 80's and extablished quite a loyal following based on their contribution to the notorious Heavy Artillery compilation. Surprisingly, you left the band, and they never recorded an album, that is until now. Do you care to elaborate on this?
Colin: A while back, Bill Peters of Auburn Records asked us to work on a track for the Heavy Artillery 2 compilation which he was planning. We chose to record Eyes Of Fate. We were in the studio for about three hours, and Bill just loved it so much he suggested that we just record a whole album together. Ho shoots me this E-mail saying that he wants to record a full Wretch CD. So, he scrapped the Heavy Artillery 2 project, and focused on us.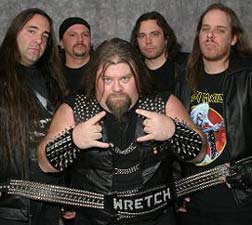 MettleAngel: I know fans sure appreciate this decision. Denis Gulbey of Sentinel Steel was quite pleased that you decided to record an album.
MettleAngel: Hopefully, someday Bill will finally release the Heavy Artillery compilation on CD. Many fans, myself included, still just have the rare cassette version. So what was the recording process like? I know you had a variety of classic songs from the 80's which ended up on the CD.
MettleAngel: Yeah, and tonight you encored with a classic and even debuted a new song which you played for the first time, according to Bill, correct?
MettleAngel: Those songs are not on the new CD which you just released. This shows that you and Nick Giannakos are still full of plenty of new ideas.
Colin: Yes, we are still writing. I love the older songs as well. The Winners is a very special song for me, I love it. Mental Wars is another classic. It's a tradition to always end our set with 'Till Death Do You Part.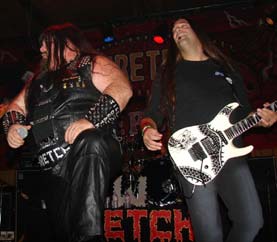 MettleAngel: Yeah, I actually heard you on a college radio show last Saturday mentioning that, they then played 'Till Death as the last song after Savatage, before some Salsa music aired.
MettleAngel: I understand that yesterday you were on Bill's radio show with Eternal Legacy going off on Manowar, but we won't go into that. Tell me about all the favorable reviews Reborn is receiving.
Colin: We are very surprised with everyone's positive attitude. I remember reading one Canadian review which gave me a mixed blessing. It started out with the quote that "Wretch should disband and call it a day...:", so I thought, "here is comes, I was expecting this, the one bad review"; but as I read on I was shocked: "...because Wretch cannot do better than this...:". I was floored. I even contacted Nick just to mess with him. Overall, the only review which was not favorable came from France. I appreciate the way this guy came across as honest, claiming that the music was just not heavy enough for him.
MettleAngel: Not heavy enough, who is he kidding? Well, I hope you enjoy my review. I've had it written in my head for quite sometime now. I've deliberately held off posting it until I could link it to this interview. I really like the songs I Am Storm and Eyes Of Fate.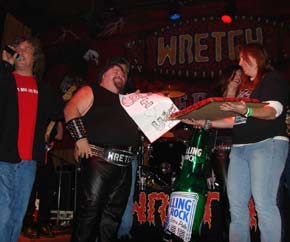 MettleAngel: What is the meaning behind the song Reborn?
Colin: Well, I was at a Disturbed concert, and I noticed this young kid clear in the back. He really wanted to be in the front row, number one in the spotlight, and he was giving it his all. This inspired me to write the lyrics for Reborn. This came early on in the recording process. Just like Eyes Of Fate, Reborn was recorded in three hours. Nick and I wrote it in only two days. The song is very personal to me. The lyrics refect my own journey. I was out of the metal vibe for so long. Now I'm back and I'm reborn! Bill really liked the tune and chose it for the album name.
MettleAngel: So when you rejoined Wretch, you were back in the metal spotlight, then? Do you feel re-established into the whole metal milieu?
Colin: Obviously, speaking with you, I can see that you have remained quite active in the metal world. I was away for so long. Being in Wretch again has raised my quality of life. Nick swallowed his pride to call me up and ask me to rejoin. Well, it's not like he swallowed his pride, really, he just made the right decision.
MettleAngel: You are then referring to the fact that the band dismissed you during the original Heavy Artillery sessions. Subsequently, they found a replacement vocalist to record Life. I assume you were quite reticent to contact Nick, due to past damage and bitter feelings.
Colin: It was all about miscommunication. Really, Nick is the only one who could have called me and asked me back. He's the only one who would get a "yes". I know he's got my back. I owe it all to Nick and Bill. This is how I feel everyday - I'm me - I'm reborn!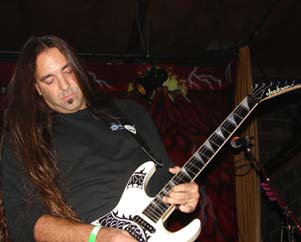 MettleAngel: Now Wretch is getting excellent press and being offered awesome opportunities. They announced tonight that you will be performing at the Headbangers Open Air Festival in Germany in 2007 with Sinner. How does this make you feel?
MettleAngel: Your current lineup, who played live this evening is not the same as those who recorded on the CD. Your bassist Dennis Hayes defected to Ripper Owens' Beyond Fear. Your drummer Jeff accepted the position in Seven Witches. Dave Hayes, Dennis brother has also left the fold. This meant that you and Nick had to search for a whole new band. Judging by tonight's performance, you obviously found the proper replacement musicians.
Colin: It all started when the brothers discovered that Joey Vera was leaving Seven Witches. Jack Frost presented them and Jeff the opportunity. Dennis later realized the potential of joining with Ripper in Beyond Fear. While we recorded the album, we sensed the brother's anticipation, but we have no hard feelings at all. Nick is still in Breaker, but they are dormant, and currently not doing too much. This allows for him and I to concentrate all our efforts on Wretch. The only sad thing is that we had to cancel playing Chicago Metalfest!
MettleAngel: That sucks! I did not even know that you were scheduled to play that event...
Colin: Yeah, well, Nick set out to recruit the rest of our current lineup. I'm happy to be doing this again. I was wondering how we could replace our guitarist and drummer; but, Nick sure did his job. He found the one drummer in the whole area perfect for Wretch - Chris Koshock. We tried one bassist who did not fit the personality or style of the band, then we found Tim Frederick. Now we don't have any doubts or worries. Tim is perfect on bass...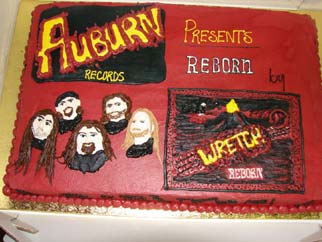 MettleAngel: Tim sure did his best Steve Harris imitation tonight...
Colin: When Tim and Chris came to practice, after they played a few songs, I realized to myself, that we didn't lose anything! Those guys along with Mike Cykon on guitars are just so gung-ho for something they did not even play on!
MettleAngel: That shows great support for the Wretch of 2006. I think it was such a novel and noble idea to include both lineup photos in the CD packaging. On the back of the booklet you see the reformed recording lineup portrayed, then inside after the lyrics, there are new photos of the band who played the release party this evening.
Colin: That was all Bill's idea. Initially on the Heavy Artillery I was not given any writing credits. I'm not mad at him or them for this. This way, though, we represent these musicians who really worked hard on this CD, even if they are no longer active members of Wretch.
MettleAngel: You have honoured their mettle efforts for all parties concerned. This shows true respect and diligence. European audiences will be so excited to see you play the Headbangers Open Air. This is your first exposure and trip to Europe, correct?
MettleAngel: The classic 80's metal sound of Wretch is befitting the European audience. Colin, thank you for taking the time to fill in the gaps of your Wretch educational experience.
Colin: Sure, no problem, if you have any other questions don't hesitate to give me a call... I've heard that you've had quite a week...
MettleAngel: Yes, it's been rough, but I had so much fun tonight thanks to everyone! 'Til Death...!

See also: review of the album Reborn »»
Related links:
www.myspace.com/wretchmetal1