Interview conducted March 5 2022
Interview published March 12 2022

"I fully respect that this is Niklas' baby."
Swedish heavy metallers Wolf put out their new record Shadowland on April 1st. In early March the band played live in Stockholm for the first time in years and Metal Covenant captured this fortunate opportunity to talk with bass player Pontus Egberg.
This interview is in short about Egberg's career in general rather than the new Wolf record. But bear with us, Metal Covenant also talked with main man Niklas Stålvind on the same occasion, so if you want to know more about the actual record, please come back and visit us in a few weeks.
Band lineup:
Niklas Stålvind - guitars, vocals
Simon Johansson - guitars
Johan Koleberg - drums
Pontus Egberg - bass

Tobbe: Tell me a little bit about the coming Wolf record, Shadowland.
Pontus: The new album feels great. I joined the band before the last record, Feeding The Machine, and when both I and Johan [Koleberg, drums] came in all the material was already written and so. We entered in the very end, you know.

But this time I have written some of the music and both I and Johan have been more involved in arrangements and stuff. You know, rehearsed before the album, and when we recorded we more or less recorded the foundations, bass and drums, live in the studio, which felt great.

So that was kind of the pre-production part and then the end result feels great. A lot of good songs and the production feels good and sounds good. So I think all of us are very happy.
Tobbe: Niklas has been the band's main man since the first record in '99, and does it take a man with your experience to be able to go in and show that you've got something to say as well?
Pontus: Well, I don't know. I fully respect that this is Niklas' baby. There's no doubt about that, you know. He has been here since the beginning. I have tried to come up with some ideas and contribute with what I'm able to do. It seems like that has gone down well with Niklas, Simon and Johan and the four of us have managed to bring forth some really good stuff, you know.
Tobbe: Does it feel like you have now become more familiar with the Wolf type of bass playing? Did you also listen to the old stuff to kind of find the style? Yet, again, with your experience, is that even necessary, if you know what I mean?
Pontus: I probably always try to listen to what's been done before, whether it's Wolf or some other band, but then I also to some extent make my own thing out of it. And above all, of course, when it comes to the new songs, where I try to put my touch to it all, but hopefully also sticking to the core and heart of what the band is.
Tobbe: Are you still playing with King Diamond?
Pontus: Yes, absolutely. I mean, more or less every band has had a tough period during the last two years. We did a US tour in the fall of 2019 and now there is a plan to do another US tour in the fall of 2022.
Tobbe: It's been hard to follow if band members come and go during the pandemic. Many bands have been so silent and suddenly two years later they come back with a new lineup. You've been with King for about 8 years and if you now look back at the first time with him, was it kind of strange to join that band and playing that kind of music?
Pontus: Well, you know, I was just thrown right into it, with just a few days notice, when Hal Patino no longer was a member of the band. They were going to rehearse before a gig and I only had a couple of days to learn everything. Let's just say that it was kind of stressful, I tell you that.

I had of course heard King Diamond, but it never was a band that I had actively listened to, so I didn't really know the music, you know. So it was somewhat tough, but there was just such focus on learning the songs, so I guess I never had time to reflect on the situation. [Laughs] But it's music that is very fun to play and the whole band contains amazing musicians, and singer, of course, and we have a great time together.
Tobbe: And finally a new record will be out. Do you dare telling me anything or are the secrets safe with King and Andy [LaRocque, guitar]?
Pontus: Well, to some extent they are. But I know that there has been some progress. I actually don't know at what date we're looking at, but there has been talks about getting a record out before the US tour this fall. But I don't know about that, and I personally have a hard time to see how we will be able to make it to that point. Maybe the choice will be putting out a couple of songs before that, but I don't know.
Tobbe: I feel it's pretty safe to say that this will be a typical King Diamond concept album.
Pontus: King has said, even in some interviews, that he has the story, and as far as I understand it's a story that will extend over two albums. It will be about this thing called The Institute. Well, parallel universes. Like I said I know that he has the story, but now it's a matter of getting it into a coherent form of text.
Tobbe: Fast forward to At The Movies. The band's second record was out about two months ago. What made you interested in playing pop covers from '80s films?
Pontus: Well, it's good music, you know. And we have tweaked it in a way that makes it a bit more rocking and nicer and in a way that maybe most of us are familiar with. We started this thing in a period where no one had anything to do. Chris Laney came up with this idea. He's a good old friend of mine and I have played with him before. Initially we were only going to make maybe a song or two, but then we just continued, and it has been great to just see these songs take form.
Tobbe: Mr. Laney has talked about doing more.
Pontus: Yes, absolutely. We have a record deal now, so. [Laughs] I guess we will have a discussion with them [Atomic Fire] and find out when they think it's time to release another one. The first record we released ourselves and then to the second one the record label came in and released that one as well as a re-release of the first album. So officially two albums came out in January, so I guess it will take some time before another album comes out.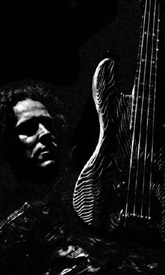 Tobbe: Another band, Treat. You're not playing with them anymore. Was there not enough activity or didn't you guys simply get along?
Pontus: What do people usually say? Musical differences? [Laughs] But yeah, there were a few things we couldn't agree on. And it had a little bit to do with Wolf as well. As that opportunity rose I decided to jump into that instead and try that out. And it has panned out well so far.
Tobbe: It feels like you weren't with Treat for such a long time.
Pontus: Well, I've been with Wolf for, like, two years now, and I was with Treat for about four years, I think. I joined in '15 or '16 and then we did the Ghost Of Graceland album and then the Tunguska album. I left somewhere in the middle of 2020 or something, so I guess I was there for over four years at least.
Tobbe: Time just flies, I guess. And quickly to the next band. To the general public in Sweden the most well-known band you have been with is in fact The Poodles. It's been a while now since you disbanded.
Pontus: It's like you just said about time, and time is just a strange thing, you know. In a few months I have played with King for 8 years and I played with Poodles for 8 years and the latter one feels like a much longer period of time. But maybe that's because we were, and especially in the beginning, very active. We did stuff on and on. Like doing different activities all the time.

And I'm very grateful and happy to have been on that journey. Even if I've been playing hard rock and metal for many years before that band, that was what made me take a step up to bigger stages.
Tobbe: What is your greatest memory from that time?
Pontus: I have a very strong memory from Mello (The domestic Swedish qualifying round for the Eurovision Song Contest). We were in the finals in 2006 and I was standing behind the stage at the Globe Arena and, you know, the stands are so high up above the floor. Like, people are kind of sitting in the clouds. Kind of shaky, if you know what I mean?

So yeah, that whole experience was very special. But we were a good band and many times I believe that people didn't really get it. Perhaps the name the Poodles was too cheesy and the fact that we came from the Mello scene made many rock oriented people unwilling to even open the door, you know.
Tobbe: In the late '90s and early 2000's you played with Lion's Share.
Pontus: That time period was also a very fun time. We fought hard. And we were really young back then. [Laughs] Of course we absolutely didn't have the same experience as we have today, so it was an eye opener, really. It was the first time we were on tour and were out in a tour bus in Europe, you know.

We played with bigger bands, like we were supporting Saxon, Motörhead and Dio, and that was really awesome, of course. We saw a lot and had a great time. Fall From Grace is probably my favorite album from that period and I think it still stands the test of time.
Tobbe: There are actually even more bands on your resume and you are more or less a veteran in the industry by now. How often do you get requests where people want you to play stuff on their songs?
Pontus: Well, not so often, but once in a while some requests come in. Now I've had the privilege to participate on two albums recently with Ronnie Atkins from Pretty Maids. The second one is coming out in just a week or so. Doing this has been great. He's an amazing singer. Well, so not very often, but occasionally they come in, and sometimes it's just for one song, you know.
Tobbe: An often returning question: What's your take in general on playing bass with or without a pick?
Pontus: You know, I play without a pick. From time to time I might think that it sounds cooler with a pick, but I guess it's just a sound thing, you know. But personally it's mostly about that I'm not any good at playing with a pick, because I haven't done that. So it's easier to play with my fingers, which I'm used to do.

Related links:

www.wolf.nu
www.facebook.com/officialwolf
www.instagram.com/wolf_metal_official
twitter.com/wolf_sweden