Interview conducted March 16 2011
Interview published March 24 2011
This month Whitesnake are going to release their new album - 'Forevermore'. I have been very excited about hearing this, as I am a big supporter of 'Good To Be Bad'. After several listens, I can assure you that the burning licks of reigning guitarists Doug Aldrich and Reb Beach will clip your wings or envelop you in a hurricane of rad tunes rising, and I am not lying.
It was truly an honour to speak with Doug Aldrich on the phone and become more familiar with this truly talented musician. He was so polite, and our mettle spirits instantly merged. Doug has had quite the career. He has been selected as one of the guest guitarist for the new season of "That Metal Show", he had the pleasure to tour with the late DIO, and now he has a home in Whitesnake, hopefully forevermore.
I bid you to come into our house of words and wisdom and lend an ear to our personal journey, where love will set you free.

MettleAngel: Hey Brother, I am very excited to speak with you, and I am a strong supporter of your body of work.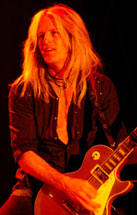 MettleAngel: I realize that you are here to promote the new Whitesnake album, but I would like to begin by discussing some of your other worthy projects.
MettleAngel: Thank you! I just discovered that you once played guitar on Minoru Niihara's 1989 solo album. Interestingly enough, so did Reb Beach when he was still in Winger.
Doug: There was a lot happening in Japan at that time. Minoru was very popular there. Lion was in Japan at the time when Minoru's album was being recorded. We were making several friends, and getting better known. His album was more geared toward a Japanese audience.
MettleAngel: He had just left Loudness, and was soon replaced by Mike Vescera. Ross Valory of Journey also contributed to this album. Unfortunately, I have not heard it. Loudness will be touring the US in May, to celebrate their 30th anniversary. I sure would love to go!
MettleAngel: I also want to congratulate you on the Lion recording of "The Transformer's Theme" from the 1986 animated movie.
MettleAngel: I do not care for those Michael Bay movies, but I do love the original cartoon series and this movie. I have the soundtrack on CD, and cassette. I assume that is you soloing on the song?
Doug: Yes, it is! I was still in Lion when we recorded this. There were several other co-songwriters, and we had issues with the label which released it.
MettleAngel: That song is so Metal. A band from the UK called H.O.D. cover it, and they emulate your style.
MettleAngel: Tell me about it! What was it was like to be in Lion during the '80s.
Doug: Lion was a real hybrid, no frills outfit. We did use hairspray, but we were more rooted in Classic '70s style musical influences. Having a Scottish vocalist like Kal Swan did add an interesting element. I learned to appreciate Whitesnake albums like 'Ready 'An Willing' at this time.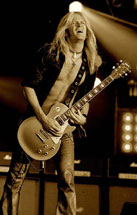 MettleAngel: I assume there was also a strong Deep Purple influence?
Doug: Yeah, and Jeff Beck. The thing is once I began to learn these earlier Whitesnake songs, they helped me to formulate the style I still create today, even on the new album.
MettleAngel: I can clearly detect that, on 'Forevermore'. Songs like "Whipping Boy Blues" or "My Evil Ways" really resonate with the soul of early Whitesnake. I definitely hear songs like "Easier Said Than Done" which sounds like the style of 'Trouble' or 'Lovehunter'.
Doug: This is what we wanted to achieve, a solid new album, with that classic throwback flavour, and appeal.
MettleAngel: I read an article where Dave claims that all the songs are part of the Whitesnake family, so one knows what to expect. I am digging the new album, but it cannot compare to the first one you and Reb worked on, namely, 'Good To Be Bad'. I love that album! That was truly a worthy comeback!
Doug: We were both new to the band, so we had to feel each other out, and decide what to write and play. On the new album everyone is contributing, and adding their inspiration.
MettleAngel: I want to let you know that I also am a strong advocate of your work in Hurricane. 'Slave To The Thrill' is an awesome album. I would not consider that as being "Hair Metal" anymore that I would Tesla.
MettleAngel: This may sound quirky, but when I saw you play with Ronnie James Dio on the 'Killing The Dragon' Tour in Cincinnati, with Kings X and HammerFall, this was the very night our son was conceived.
Doug: Oh really, that is amazing! I recently was married and became a father, so I can totally relate. Gearing up for this new Whitesnake tour is going to be difficult not being with him every day.
MettleAngel: Congratulations on your wonderful family. My anecdote actually gets even stranger, because when we saw you play with Whitesnake in August of 2003, it was two days later when my wife's water broke.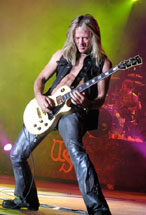 MettleAngel: There is something mystical about the connection to the bands with which you play, and the shows which we are privileged to attend.
MettleAngel: I am sure you miss Ronnie, as much as we all do. I am so grateful that he was able to offer you his awesome opportunity.
MettleAngel: I respect Reb, but I have never been a fan of Winger. At that aforementioned show with Slaughter and Warrant, we just stepped out for Kip's acoustic set.
MettleAngel: No, Geddy Lee, Steve Harris, Billy Sheehan, they are incredible bassists, but Kip can be a total dick. What was it like working with Reb while recording 'Good To Be Bad', and now 'Forevermore'? You both create some memorable solos. Who in the band writes the majority of the music?
Doug: When I initially joined the band, we clicked fast. Although, it was a bit of a challenge, given our backgrounds. Dave and I are the key writers. This allows for a very organic feel. The songwriting becomes a natural process.
MettleAngel: I am sure that Dave appreciates what you and Reb have to contribute when it comes to how you both approach playing the guitar.
Doug: When we recorded 'Good To Be Bad', we had a set vision of how we wanted the songs to sound and feel. However, this time we were more spontaneous, and allowed everyone to provide their input.
MettleAngel: I would imagine adding Brian Tichy to the line-up has allowed the band to expand their horizons.
Doug: Definitely! Dave likes to hand pick his musicians. When Chris Frazier departed, Brian was the logical choice. Since he has worked with our new bassist Michael Devin in several other projects, we accepted his suggestion to bring him on board as well.
MettleAngel: I do feel that this rhythm section does add a new element to the new album, both from a Blues standpoint, and even allowing for that Cajun Southern Bayou sound.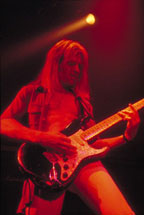 MettleAngel: I can see that. How has your relationship developed over the years while sharing solos with Reb? On 'Forevermore' I am reminded of his work with Dokken.
Doug: Reb is a very talented player. We have begun to appreciate each other's style of playing, and even imitate one another. At first, I was a bit envious of him, and he of I, as can be expected. Now we mesh so well. Stylistically we want to be like each other, but still have our own edge.
MettleAngel: I find it promising that you are willing to recognize each other's strengths and weaknesses. Competition is to be expected when two great guitarist are in the same band. Dave is most likely the perfect mediator, as ultimately, it is always about the music.
Doug: Precisely! With a song like "Love Will Set You Free", Dave was aiming for a harmonic vibe in the vein of the Allman Brothers or Thin Lizzy. Reb played a sweet solo for this. I was so impressed that I wanted to learn how to mimic this, and honour his creativity.
MettleAngel: When you take the time to notice each other's nuances and transitions, this allows for both of you to become more proficient. As they say, "The student has become the master!" Although, you yourself have been in demand as a guitar teacher taking on a large number of lessons. I read you were up to 70 at one time!
MettleAngel: Some of these shredders see themselves as another guitar god. I admire your humility, and willingness to always learn new things. This openness will only make you better in the long run.
MettleAngel: When I saw you open for Judas Priest on the "British Steel Reunion Tour", I was hoping that you would have played some newer material.
MettleAngel: I can understand that.
Doug: It is difficult, because we realize that fans like yourself know our past, and are excited to hear the newer cuts live. With this new tour, we are really going to attempt to mix it up, and hopefully placate everyone.
MettleAngel: There are some good songs on the new album. The single for "Love Will Set You Free", which you released on Valentine's Day, was the first song I heard, and it made me hungry for more.
Doug: Working with our new label Frontiers Records, allowed us more time to compose songs the way in which we intended. When we toured with Priest our label had undergone financial difficulties, and we did not gain much support.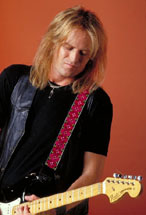 MettleAngel: That was when SPV declared bankruptcy, having signed too many great acts, and thus having bitten off more than they can chew. They are active again and now focused on a smaller number of acts. Frontiers truly champions the '80s sound. I am excited about new Black 'N Blue and King Cobra.
MettleAngel: I actually heard his song "Missing You" when I was younger before I ever heard anything from The Babys. I want to congratulate you on another great album, even if in my opinion, it does not measure up to its predecessor. There is a real chemistry ever present with the band. Any fan of Whitesnake will surely find merit in the music, after all these years.
Doug: We sure hope so! We all gel so well now. Reb and I celebrate our diversity.
MettleAngel: I look forward to seeing you on tour this summer.
Doug: Man, I would love to meet you, your wife, and your son. My wife is a rocker too, but she is into all that heavy stuff. I just went to my first Slayer show with her.
MettleAngel: That is so cool. When my wife and I met, she was into the '80s "Hair Bands", while I was into all the thrash, and Classic Metal. Now we both have a solid appreciation of "All things Hard Rock and Heavy Metal", as Eddie Trunk is fond of saying.
MettleAngel: I agree! I sure hope our paths do cross in person soon. Until then I will wish you all the best!

See also: review of the album Forevermore
Related links:

www.whitesnake.com
www.dougaldrich.com
www.myspace.com/whitesnake
www.myspace.com/dougaldrich