Nathan from Napalm Records has asked me again to research a band of whom I'm not too familiar. This time it's Weltenbrand, a unique gothic cult band whose music and gipsy magic is beyond classification. Several ghostly references to Theatre of Tragedy and Leaves' Eyes can be overheard in their music; among them is the majestic nightingale sonnet singing of Dina soaring above the welkin. She is their new femme fatale bewitched by her boys' bonny. These are my questions for the night, go stay awhile in the whispers of the windsong:

MettleAngel: Weltenbrand has been around for quite some time, but your music is quite novel for me. I just received your promo recently - The End of the Wizard, but I was not quite sure what to make of it. How would you classify your overall sound?
Dina: The sound of Weltenbrand is hard to classify. We don't want to fit in somewhere. We just want to play music, and we don't follow any particular aim. This is just what comes out. I would describe our music as being similar to movie soundtracks with vocals. I think that fits our sound best. When I heard the demo songs of "The End of the Wizard" for the first time I spontaniously had to think of a movie with an atmosphere like "Gladiator" or "Kingdom in Heaven".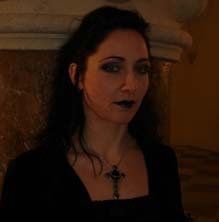 MettleAngel: Recent reviews personify your music as being neo-dark-classic mideival metal. Is this because of both the male and female vocal interchange arrangements and the violin and keyboard structure?
Dina: I think that is because of the "old feeling" that is spread by the songs. It puts you in a special mood and it feels dark and old. Medeival does not fit for the new album anymore. It did fit for the last albums, though. This album is kind of sophisticated, clear but mystic, old, but yet not heard in this form before. And I think that the drum and the bass parts that are mixed into the songs for the first time add a fine metal thrill; yet we are hard to classify as merely metal.
MettleAngel: Your past efforts have all been mystified by the myth and legends from Liechtenstein's sagas. Do the lyrics on the "End of the Wizard" CD continue with this motif?

Dina: On this album we still used the sagas of Liechtenstein. In the beginning the band wanted to represent their country with the lyrics out of the book of the sagas of Liechtenstein. This turned out to be a good idea because it fit well with the composition and the image of the band. So they continued to use sagas. I think it still fits and creates this weird image. You don't know what to make of it, and that is something that fascinates me about Weltenbrand. It sounds sweet but mystical and has these dark lyrics about ghosts and dead folks. But, since the sagas of Liechtenstein turn to an end, we might use some sagas of the place where I grew up in Switzerland (Glarus). This is a small village in between the mountains. Areas like that have a lot of dark sagas with a lot of nature's catastrophies, dragons, ghosts and dead folks. They have a darker thrill than the stories of other areas that are closer to cities. The people are also more nature related and some still believe in such things. City folks lost this kind of thinking. Sad but true!
MettleAngel: What is the meaning of the Weltenbrand? Are there any overt pagan connotations?
Dina: Oliver thought that Weltenbrand just sounded good. It is a strong, dark and mystic name for a special, dark and mystic band. :)

MettleAngel: What is being portrayed on your album cover which has been painted by Ingo Rohmling?
Dina: On the cover are hazeltwigs that are mentioned in the titelsong "The End of the Wizard". In between the hazeltwigs is a human formed out of twigs upside down. This means that men now have a chance against nature's forces. It has nothing to do with "The Blairwitch Project" :) We asked Ingo Rohmling to do the artwork for us because we where fascinated by the work he did for other bands. It has this dark thrill and a very special charisma to it.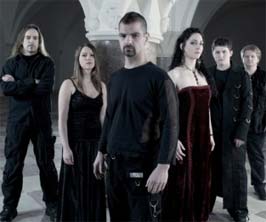 MettleAngel: Your past efforts all have German titles, are they sung in German as well? Is there ever a plan to go back and re-record these CDs with the current line-up?
Dina: All songs are sung in English. Some things sound better in German and some sound better in English. But, personally I rather like to sing in English because it's pronunciation sounds better to me than German. But everybody has his own opinion on that. The old CD's are going to be re-released but we will work on some old songs to perform them live with the new line-up. Maybe there will be some songs re-recorded for the following album for bonustracks or such things.
MettleAngel: You have worked with both Liv Kristine and Alex Krull from Leaves' Eyes and they have been successful in the promotion of your sound positvely. Do you ever plan to record with them on one of their albums?
Dina: Weltenbrand recorded the last two CDs "Der Untergang von Trisona" and "In Gottes oder des Teufels Namen" in Alexander's studio. That is why they are also heard on "Der Untergang von Trisona". We probably will never work wih them again because Oliver and Alex don't want to have anything to do with each other anymore. But, there is nothing more to say at this point.
MettleAngel: Is there a possibility of touring with Leaves' Eyes? Is there any plans to tour North America?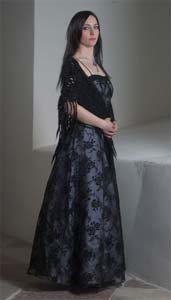 MettleAngel: Dina - Given your amazing vocal range whom do you consider to be your primary influece? What other keyboardists have effectively inspired you and Oliver?
Dina: Thank you! :) hmm...I don't have a primary influence. I figured that my voice is very variable. The sound it has on Weltenbrand is only one facet. In different songs and other music it sounds very different. I am thankful for such a gift but still there is much work to do on it. But certain singers which I like to listen to are Tori Amos, Sharon den Adel (Within Temptation) , Amy Lee (Evanescence) and Alanis Morissette. They are all very different to each other. I like voices that express feelings. Oliver also does not have any primary influences in playing the keys and composing. We both just do everyting by heart and by feelings. If it feels and sound good we do it.
MettleAngel: North American audiences may not be too familiar with your music, but Napalm Records has done a fantastic job in promoting your music world wide. What will be the bonus tracks on the limited edition digipack when the CD is released later this month?
Dina: We are happy with Napalm! They do a good job! We give our best to be worth the effort! The bonus tracks do not differ a lot from the other songs. "Cursed by the Zyprio" sounds a little special because we used more electronic on it. It turned out to be a song that most of the people like a lot. And "A Witch Rerveals Herself" sounds a little more raw that the other songs but it has a genius middle part that sounds like a mix of medieval and Scottish sounds. That is one of my favourite parts of the whole CD!!
MettleAngel: What will the different artwork consist of on the limited edition digipack and will it also be painted by Ingo?
MettleAngel: What overall message does Weltenbrand intend to express to their new found fan base?
Related links: