Interview conducted August 05 2011
Interview published August 17 2011
After 30 years of war and painful loss, those infinite masters of thrilling, technologically advanced dimensional Metal - Voivod - are not to be forgotten in space; but have thoughtfully returned from the outer limits of the cosmic drama with an awesome new live release entitled: 'Warriors Of Ice'. This live form of violence was recorded with a vibrant Rrröööaaarrr at the Club Soda In Montreal, 12/12/2009.
I spoke with founding member - Michel "Away" Langevin about his nuclear warriors of vice, their treasured history, his silly, clandestine artwork, and all new things which Voivod will soon face.
Even the unknown knows that these thrashing ragers are diligently working on a new album, with the Helldriver Jean-Yves "Blacky" Thériault now back in the band, and new guitarist - Daniel "Chewy" Mongrain - creating more ripping headaches.
It just goes to show: life is like an inner combustion of overreaction and missing sequences; such that when we are pushed to the extreme, we gaze into the panorama, and in spite of all tribal convictions, we carry on...

MettleAngel: Hey Brother, how are things. I have not spoken with you since we had breakfast together on the "70,000 Tons Of Metal Cruise". If you recall, you signed my wife's denim jacket, then even drew Korgüll The Exterminator on her shoulder.
Away: Ahhh yes, Michael, you were there with your little boy, right?
MettleAngel: Yes, this is true. I still have the picture Wendy took with you, me and Fernando Ribeiro of Moonspell. I even have this as a screen saver on my laptop.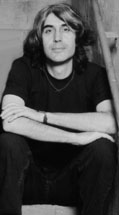 MettleAngel: That was a major Metal moment for me, as well! On the last night of the cruise I spoke with Kai Hansen, and he remarked that Voivod was the best band he saw on board.
MettleAngel: He had not seen you live since he was in Helloween, and Piggy was alive.
Away: That was such a great time for me to meet so many of my heroes too. I enjoyed Trouble, Saxon, Raven, and so many others.
MettleAngel: You also commented on the doppelganger effect, where fans mistook you for Alex of Testament, due to you silver streaked hair. This also happened when people thought that Juan Garcia of Agent Steel was Peter "Peavy" Wagner of Rage, or Bruce Franklin of Trouble was really Uli Jon Roth.
MettleAngel: I myself spoke to Juan, thinking he was Peavy, then I recognized him, and he me. I know you also recently toured the US again with Kreator. This was the first time I saw both bands in the '80s on the "Tournado Tour" from 'Killing Technology'.
MettleAngel: I enjoyed both gigs you played on the cruise. I think your new guitarist "Chewy" from Cryptopsy was very good. I was so pleased to see that "Blacky" is back in the band.
MettleAngel: You just released a new live CD to celebrate this.
Away: Yes, and fans are so excited that we have the original line-up, even without Piggy. "Blacky" was gone for 17 years, at which time we went through so many changes in the band and our sound.
MettleAngel: You had Jason "Jasonic" Newstead" who played on your last three studio albums.
Away: Yes, Jason is great, and we loved touring with him. Now that we are working on new material with "Blacky" back in the band, it just feels right, and what Piggy would have wanted.
MettleAngel: I have always supported the band, even if the late '90s material was not to my liking, and extremely difficult to find in America. I have all of your CDs except 'Kronik'.
MettleAngel: I even have the 3-D glasses which came with my 'Outer Limits' CD and tape. I have always been a big fan of your artwork as well. When I first bought 'Nothingface' on cassette, I was so amazed at the pictures. I would listen to the music and just stare at those accompanying drawings for each song.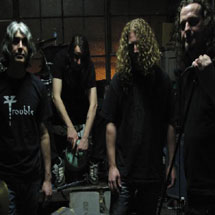 MettleAngel: I know you like the word "concept". I have an old MTV interview on a "Hard 'N Heavy" VHS which you did when you experimented with 'Dimension Hatröss'. You must have mentioned the word "concept" several times. Speaking of 'DH', did you see the recent "Top 30 Best Canadian Releases" list at BW&BK?
MettleAngel: 'Nothingface' was listed, and 'Dimension Hatröss' was in the top five! You were ranked up with Canadian Gods like Rush and Anvil!
MettleAngel: You definitely deserved to be in their list. I just wish they would have included Soothsayer - 'Have A Good Time', and more Triumph albums. They omitted Aldo Nova too! Overall, the list was fair and admirable. Out of all the artwork you have done over the years, which is your favourite?
Away: I am very proud of when I first painted the cover to 'War And Pain'. I also am very pleased with the Probot cover. I saw Dave Grohl last night at a Foo Fighters show. I gave him the new live album, and he was ever so grateful.
MettleAngel: You have always had influential friends like Dave, Trent Reznor, Jason Newstead, etc. Did you ever ask Jason if Metallica borrowed the concept of your 'Astronomy Domine' video for their making of "The Memory Remains"?
MettleAngel: I always thought that in your video, the stage was rotating, but now I can see that it was the oscillating camera. In Metallica's video they are truly on a platform which rotates, and it looks like an amusement park ride. James Hetfield wore shades, because he did not want the camera to see him close his eyes when the set was completely upside down.
MettleAngel: You should just ask Jason, if he was inspired by your original video concept. Obviously back then you did not have the special effects that we have now. That video was always very psychedelic, unlike the videos for "Ravenous Medicine", "Tribal Convictions", and "Psychic Vacuum", which featured your artwork, like the newer videos do, as well.
MettleAngel: That video was played a great deal on "Headbanger's Ball" in the '80s. That and the Pink Floyd cover are your two most popular songs. Although, I can see why you may grow tired of playing it!
Away: We just want to add more new songs into our live set. We did this on the new live album with the songs: "Global Warning" and "Treasure Chase". Also, we got a lot of slack back in the day for the political connotations of "Ravenous Medicine".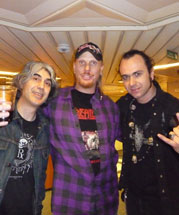 MettleAngel: In the '80's all the thrash bands were singing about Animal rights, environmental issues, and corrupt preachers. That video is just plain awesome!
MettleAngel: I really like the live material and song selections. I wish you would bring "Cockroaches" back into the set, but you do play some Classics, and you even included "Psychic Vacuum". Are you familiar with any of the bands who have covered Voivod over the years?
MettleAngel: I have heard of them. They are from Spain and even have an album called 'War Of The Voivodes"! Have you heard the band Twisted Tower Dire from the US?
MettleAngel: They do a mean Power Metal rendering of "Forgotten In Space". Their vocalist Tony Taylor died last year, but you really should hear their cover. I am sure you have heard Deceased do their take on "Voivod".
MettleAngel: He has been the one to encourage me not to abandon the band when Eric "E-Force" Forrest took over on vocals and bass. I am still not a big fan of that era.
Away: I can understand that, and even our newer fans prefer the original material. We have been through so much over the years, but we keep going.
MettleAngel: I am forever grateful. I will always appreciate all that the band has accomplished over the last three decades.
MettleAngel: Michel, Thank you for your time, and for keeping Voivod alive! I wish you all the best!
Related links:

www.voivod.com
www.myspace.com/voivodband