When Adrian from the End Records offered me an opportunity to interview the iron gang known as Voivod, I instantly accepted; it's as if he had red my mind. When the time to speak with Denis "Snake" Belanger presented itself, I had a ripping headache and my body felt like it had been in a thrashing rage from a tornado. Even though I was feeling under the weather, I was still enthusiastic about asking him so many probing questions, in order to discover his tribal convictions for the cosmic drama. After all, only the unknown knows my extreme overreaction and sub-effect. Denis and I may have felt forgotten in space and time; thus on a expedition to the outer limits of the known angel's wrath and dognation, but we dealt with the odds & frauds of the multiverse, and the horror of war and pain; as well as personal tragedy. We apologize for any missing sequences - please try not to blame us; bear in mind this is not an exercise...

MettleAngel: After being together for over two decades - express to your new and older, loyal fans alike what the concept of Voivod represents to them.
Snake: Voivod will always be a very special band who came from the small industrial town of Morgoth. We have always been slightly different in our musical approach. We have so many qualifying influences. The Voivod character represents a survivor. He, like our music, is always changing and evolving. His evolution is now faster, as now he is mutating more quickly. Michel "Away" Langevin's artwork expresses the reality as seen on TV and the news. It's still a nuclear like era of war and pain.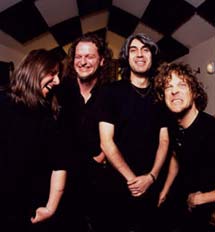 MettleAngel: Yeah, I guess you could say that we are still experiencing aspects of the killing technology and Voivod lives in it's music and mettle...
MettleAngel: The Voivod icon, your musical mascot has always been a key component for the band. I read somwhere that a Turkish Czar was called the Voivod - is this where the band found their inspiration for the namesake?



Snake: Well sort of, in Transylvania there is an older town with great history run by the Voivodian. He is is the prince and count of this historical village of vampires. The voivod for us, then, is a descendent of this caste, who has evolved over time into a nuclear vampire. The science fiction lyrics tell the story of the Voivod's journey on our CDs.

MettleAngel: Michel's artwork has always been perfect for expressing the journey of the Voivod. How has this concept evolved into today's themes? Musically, Voivod has evolved a great deal over the years as well. How do you express these ideas to new fans for the band, as well as those of us who have followed you from the beginning?
Snake: Piggy created a sound and style all his own - never imitated. Now Jasonic adds his own rock grandeur. Overall Voivod is and will always be ripping chords and those flying saucer solos which are Piggy's signature. He always emphasized a more direct and straight forward approach. He was older than the rest of us He was a guitar maestro who enjoyed all those progressive '70's bands like Genesis, Gentle Giant, Yes, etc. and he could play all those songs, himself. We were more influenced by English punk like the Sex Pistols, GBH, Discharge as well as classic metal. Voivod never writes the same album twice. When we were recording Killing Technology, Piggy was listening to several classical composers like Mussorgsky and Stravinsky - he even played the records backwards to listen for any unique raw or primitive sound to inspire him. He also paid close attention to the scores and soundtracks on certain movies. I was just watching the Mel Gibson movie Road Warrior II the other day and there was one part where I just instantly recognized the main riff for the song -Forgotten In Space. Piggy was such an incredible musician you know! He always kept such an open mind when it came to music.

MettleAngel: I sure can tell because Voivod riffs are one of a kind and you just know it when you hear a Voivod CD. Now the new release is called Katorz which is French for the number 14 even if it is not spelled correctly. I counted all my Voivod titles and I only come up with 13 - does this also include the DVD?
MettleAngel: Oh I see! Why did you chose this name as the release title? Was there ever a decision to go with a title which might pay homage and endearing respect to Piggy?
Snake: Piggy had written 'Katorz' down on the demo as a working title for the next release. He deliberately mispelled it in keeping with the Voivod style. We first noticed the demo on the table, but did not give it much thought or consideration. Then after he died, we did not want ot use any sad messages for a title. Then unexpectedly, we noticed the demo 'Katorz' still on the table and thought to ourselves, "Hey why not keep it as it is?". We even used the same handwriting like he penned on the original demo. Piggy had been in the process of writing this music before he became ill; now with 'Katorz' we continue this process of his music.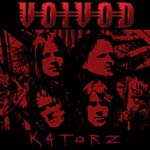 MettleAngel: I've read that Piggy has recorded twice as many tracks than there are on the CD - how did you choose the best ten tracks, and is the band pleased with the songs selected for Katorz? Will the remaining tracks eventually go on a future release?
Snake: Piggy demoed 23 tracks. 13 of those songs have no bass and 10 were recorded by Jason Newstead on bass - so these are the 10 songs we selected. Piggy went to San Francisco to work on songs with Jason. Jason only used a 10 watt amp to record these songs. He was only able to finish 10 because he had an operation on his shoulder and could not play bass for awhile. We just went with these 10 songs which still needed to be reamped. These are the same songs Piggy and Jason recorded while jamming on the porch in California. Everything about the recording of the new album is just an unusual process. Michel re-recorded his drum tracks and I added the vocals. The recoding of Katorz was just not our usual way or process. We will use the other tracks in the future, definitely.
MettleAngel: Strange things do happen you know. On Katorz I detected a songwriting vibe similar to Angel Rat, Nothingface, and even Outer Limits. Was this the flavour for which Piggy was striving when he wrote those tracks?
MettleAngel: That's true and I only really know the classic Voivod sound as I really never listened to the band after your departure. I just found Negatron to be to industrial for me and I missed your vocal nuances...
Snake: When those records came out, I had personal issues to deal with, but the band remained strong and wrote excellent music standing against all that grunge shit - so I have respect for them for that, even if I was not a part of the band or songwriting process at that time.
MettleAngel: Well another unique quality for Voivod is your vocal style and your thought provoking fantasy/sci-fi lyrics. Did you write all the lyrics this time? Does each track stand on its own or is there still a concept ocurring like on the classic releases?
Snake: When you consider the artwork, music style, and lyrics - the essence of Voivod always exists. I wrote the lyrics this time but since it took two and one-half years to write and put together, my influences lyrically came from watching too much television. We did not want to change and alter what Piggy had created. I knew what Piggy loved and I wanted my words to echo what he had written for the demo. The sci-fi concepts are there, but my inspirations were different. I have a lot of frustrations and sense a sign of emergency as the world is spinning in the wrong direction. This really bugs me. I feel it's the mission of the artist and lyricist to become the third voice of reason. I have continued to write about war themes like the debut; but this time my view is more personal and subjective. When I see my surroundings, I realize that reality is stranger than fiction. There are also songs dealing with failed relationships. "Polaroids" is about an expedition to Iceland and how people survive the extreme cold weather in the North Pole. "The X-stream" deals with the idiocy of modern culture. Life is precious - so why do these guys do dangerous things for a laugh or to create a crowd response?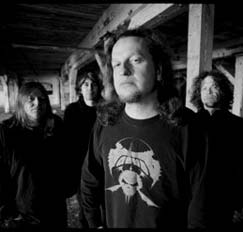 MettleAngel: Oh, you mean the "Jackass" mentality meets the X-games exteme sports. It seems to me that you need to turn off your TV and enjoy life more. My wife and I have not watched television with commercials for over six years. We choose to think for ourselves and not buy into the media lies - seen through their distorted eyes. I love the pun in Silly Clones which underscores this mentality for the lack of individualism in modern society. Now switching gears a bit - what made you choose to sign with the End Records - a label who is known for handling artists outside the realm of metal?



Snake: We had many offers from other labels,. The End really understands and cares about the band. We've been on a major label before - so we know about all the bullshit that goes with that. It was never a question of money, either. The End knew what they wanted to do for the band. Everything was in steps - they are not a company just concerned with putting plastic on the shelf. They understand the band. They are also strongly connected to the underground. We met the owner Andreas and we were quite pleased - no false promises - just one step at a time. We follow each plan and work together in agreement. This company fits the Voivod sound. This goes the same with Nuclear Blast in Europe - they really get the band. They see Voivod as being in a special category. When we told everyone that we were not planning to tour we became inundated with interviews; having to do some 160 interviews in only ten days all across Europe.
MettleAngel: Wow! That's a busy schedule! I'm sure you became tired of being asked the same questions over and over. I wanted to keep this interview celebrating the art and promise of Piggy and not bombard or burden you with questions about his tragic death.
MettleAngel: So to keep his spirit alive - which it is - everytime I play my Voivod tapes, I'm reminded just how much I love Piggy. Are there any plans to reissue the older Noise/MCA titles in the future through The End?
Snake: The End plans to reissue Nothingface, Angel Rat, and Outer Limits with hopefully some bonus extra material remastered!
MettleAngel: I'm sure they will do an excellent job like they recently did with the Dissection reissues. I will definitely want to get those when they come out. I'm staring right now at my tapes of those releases. Outer Limits even comes with 3-D glasses. Nothingface is my favorite, though. I loved watching the DVD and seeing you sing all those songs in your own unique fashion.
MettleAngel: I'm overwhelmed with CDs arriving daily and MP3's files, for which I'm eternally grateful; but the cassettes are how I first experienced Voivod. Now I read in "Revolver" magazine that if you ever did tour, that the only suitable 'replacement' for Piggy would be Andreas Kisser from Sepultura. Is this true?
Snake: In 2003 we toured with Sepultura and Andreas was always telling Piggy what a huge fan he was and how much Piggy inspired him. After Piggy died, Andreas was always sending his consolation and offering to assist the band in any way he could. Andreas has offered us his talent if we play live.
MettleAngel: That's so cool - especially when the possibility of a classic Sepultura reunion is supposedly in the works - now in closing I have to ask you the meaning of the names - Snake, Away, Piggy, & Blacky. Did you get the name Snake because of your hissing vocal style on the early demos? What about Away and the rest?
Snake: Before I joined the band I was doing improv theater imitating a worm. Michel was in the audience watching me and remembered me. So when I auditioned for the band, even though I had never sung, they still liked my performance. However, I was now the second Denis (Piggy being the first) so they dubbed me the Snake.
MettleAngel: Well in the early days of Overkill they were all named Robert so they decided to create nicknames like Blitz, D.D., Rat Skates, etc. What's with the name "Away", not quite your evil metal name now is it?
Snake: That's a funny one. Back then Michel was studying hard in the university so he kept missing band practice. We were essentially playing without a drummer because Michel was always absent and "away". So we gave him that nickname. Also, when he was there he was often daydreaming - away- represents his state of mind as well.
MettleAngel: Well given his incredible artistic talent; he was obviously out there in deep thought creating. How about Piggy? Does that have an affectionate Muppet reference, perhaps?
MettleAngel: I never saw Piggy's name as being in poor taste or perjorative in nature. The name just fit and still does. What about Blacky? I so loved his punk-metal hair cut, in the late 80's. When my hair was long enough I tried shaving one-side to look like him; but I am of northern European descent with long blonde hair so it just looked stupid on me; and I had to cut all my hair off and start over.
Snake: That's funny too. No, actually Blacky was always joking and getting us to laugh - he had a black sense of humour, so that's why we called him Blacky.
MettleAngel: Well now after all this time I know the truth. I've heard other far-fetched explanations - but now I truly know, and for this I am eternally grateful. Thank you so much for taking the time to answer my questions.
Snake: Thank you man - I'm sorry Away could not make it. I really enjoyed our conversation, though, but I got to go!

Related links: